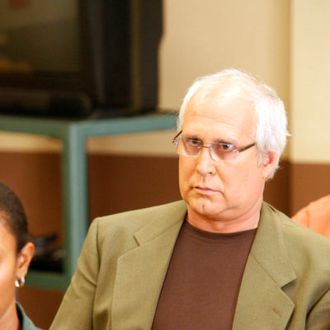 Photo: Chris Haston/? NBC Universal, Inc.
At an event celebrating the DVD release of Community's second season in England, Chevy Chase had a freewheeling chat with HuffPost UK. He had a few middling/positive things to say — Donald Glover's good at improvising, Dan Harmon has never slept in his life — before cranking the dial up to Chevy. Why'd he do Community, anyway?
It was a big mistake! I saw this pilot script, thought that it was funny, and I went into the room where they were casting and said, "I would love to play this guy." Then they mulled it over. Then they hired me and I just sort of hung around because I have three daughters and a wife, and I figured out I might as well make some bread, every week, so I can take care of them in the way they want. My wife has just been in the Antarctic, and Cuzco in Peru, and Lima, and Machu Picchu … she likes to travel. That was about a month of traveling, and that will take about a year of work.
But does he like making TV, at least? A change of pace from all those years of film work, maybe? Or perhaps the solace that he's making that bread?
I prefer movies because the money is better and certainly because you really know where you stand when you are making movies, and I have made a lot of them: 50 something, I don't know. The hours in this kind of show are not commensurate with the actual product. The hours are hideous, and it's still a sitcom on television, which is probably the lowest form of television. That's my feeling about it. I think the reason I have stuck around is because I love these kids, the cast — they are very good.
Got it — sitcoms, scourge of the earth. But back to that bread — Chevy talks money a lot in the interview, actually. An uncomfortable amount. Asked if he has regrets, he confides that he has "many."
I turned down Forrest Gump, I turned down American Gigolo, there are many films — like Ghostbusters — that I turned down … the first one I did was Foul Play with Goldie Hawn, but I turned down Animal House — I turned that down. So all those I regret only because they made huge amounts of money and I would be very wealthy …
For bonus head-scratching, try sorting out this answer regarding what Chase thinks of Louis C.K.: "Yes, I've seen Louis C.K. I wouldn't in any way make a degrading remark about Louis C.K., but the question is do I think anyone is funny? And the answer is not too many people. He might fit right in there." Or the moment where he's asked if he's ever going to stop acting: "Right after this interview."