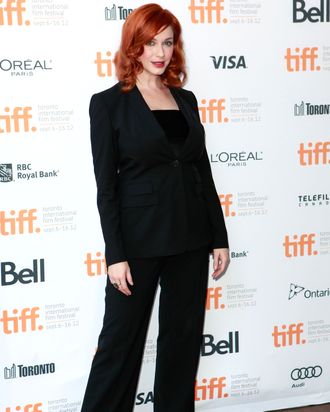 Christina Hendricks.
Photo: Todd Oren/Getty Images
When it was announced that Ryan Gosling would be directing his first movie, a fantasy film that he wrote, and he had cast Christina Hendricks in the lead role, the project quickly became Vulture's new favorite movie before even a frame of footage had been shot. "That's a good place to start!" enthused Hendricks when we caught up with her today at the Toronto Film Festival. So how did the movie come about? Did Gosling ring her up and say simply, "Hey girl, I've got a script for you?"
"I don't think he said 'Hey girl,' but the rest of it's true," laughed Hendricks, who says it was "crazy flattering" to get the offer. "His first big film, and he could have gotten anyone!" she said. "It was very heartwarming and the biggest compliment ever."
According to Hendricks, Gosling first got in touch with his Drive costar a few months ago to say that he was writing a script with her in mind, and would she be interested in reading it? But that wasn't all: "He sent the script over in this cool box with an interesting little key, and cool artwork in it," recalls Hendricks. "It was like the full package! And then I read the script and was in love with it, so I called him back and said, 'Yeah, please.'"
Entitled How to Catch a Monster, the film casts Hendricks as a single mother "supporting two children and trying to provide a home for them and a place of comfort in a continuously harder place to be," explains the actress. "And I find myself working in this very surreal club that gets me into a sort of predicament, and in the meantime, these boys are off on their own adventures and they discover this underground city."
Sounds ambitious. "I don't know what the exact budget is, but I think we've got a nice amount," said Hendricks. "I'm sure it will be incredibly clever, and Ryan already has storyboards and pictures of neighborhoods and homes, and he's already collecting music for it … when you read it, it gives you the feeling, maybe, of a memory. Something from your childhood that you can't really pinpoint."
One last thing: Exactly what kind of club does her character work in? Are we talking "gentlemen's club"? "Book club," perhaps? Hendricks thought the question over, unsure whether she should say. "Fetish club," she allowed. "Fetish club." Yeah, that ought to tide us over for a while.