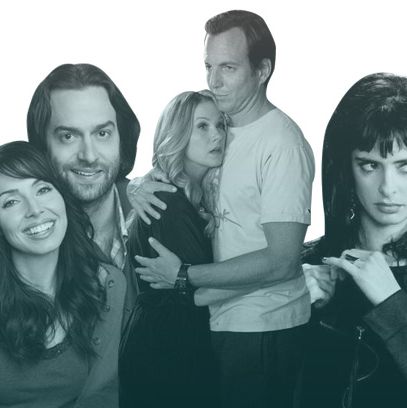 Among last year's new comedies, there are two clear poles: the hits that are returning for season two with sturdy fan bases (2 Broke Girls, New Girl, and Suburgatory) and the failures that were quickly canceled and forgotten, not necessarily in that order (Man Up, Are You There, Chelsea, Work It, etc.). But in between these two extremes of the comedy class of 2011 sits a trio of shows that teeter in limbo between the states. NBC's Up All Night and Whitney and ABC's Don't Trust the B in Apt. 23 all got renewals for season two, but with a far less definitive mandate; the networks decided that their creative and Nielsen potential was worth another bet, but one senses that their future is dependent on seeing improvement this year. Are the producers intent on tweaking their formulas for season two? We called the showrunners of all three shows and asked them to discuss what worked last season, what didn't click — and how they plan to make certain their sophomore seasons aren't their last. (Oh, and if you're wondering why we didn't include Tim Allen's Last Man Standing, well: You must be new to Vulture.)
Up All Night (returns Thursday at 8:30 p.m.)
Season-One Story: Up All Night, starring Christina Applegate and Will Arnett as new parents, started out last fall as a glimmer of sitcom hope for NBC. Initially airing Wednesdays at 8 p.m., the Lorne Michaels–produced show (created and produced by SNL alum Spivey) was a self-starter on a night where NBC had no recent comedy track record; its early ratings performance among viewers under 50 was actually stronger than some of the network's established Thursday shows. NBC eventually decided to try to capitalize on that Nielsen momentum (though perhaps a bit too slowly) by shifting the series to Thursdays. But instead of its numbers going up, they went down, causing one Peacock exec to privately complain to Vulture that NBC's Thursday was now seen as so niche that "Even when we move broader shows to the night, they lose viewers." Yet through it all, Up maintained a core audience, and once DVR data was figured in, it actually ended up drawing bigger overall ratings last season than 30 Rock and Parks and Recreation.
Season-Two Changes: Series creator Emily Spivey knows what you thought of Up All Night's first-season schizophrenia, as the show bounced back and forth from being about once-footloose adults adjusting to parenthood to a backstage comedy about life on an Oprah-like talk show, Ava, where Applegate's Reagan worked as a producer for her self-obsessed best friend/host (Maya Rudolph). "The simple home stories butted up against the scope of daytime talk show. It felt like two different shows," she says. "We enjoyed both. But in the final product, it was two different worlds." This season, one of the worlds have been blown up: Ava has been canceled, and Reagan is now a stay-at-home mom, so the focus is now strictly on her and Chris (Will Arnett) managing parenthood. "I always felt that the heart of the show [was] about a cool couple having a baby," Spivey says. (The cancelation doesn't mean that Rudolph is off the show, mind you. Thanks to the magic of TV logic, the unemployed, childphobic Ava will now have more time to spend with Reagan and Chris, a former lawyer who is now running his own small construction business.) "We get to see all of them on new paths of struggle," Spivey says. However, just because the show will be more about their home life doesn't mean the baby will be front and center: Spivey cautions that viewers shouldn't expect an update of Full House. "What didn't make me laugh last season was when the show was super baby-centric," Spivey admits. A season one episode set at Gymboree had some funny moments, "but that was the opposite of what I wanted to do" with Up, she says. "I want this to be a show about how a baby affects a couple."
Whitney (returns Friday, October 19)
Season-One Story: Deserved or not, there was no bigger punching bag to come out of last season than Whitney, a semi-autobiographical series about creator-star Whitney Cummings, a hot comedian with a potty mouth and plenty of opinions about modern relationships. In a season of acerbic female comedies riding the Bridesmaids wave (2 Broke Girls, also produced by Cummings, Don't Trust the B, and Are You There, Chelsea?), critics immediately singled out Whitney for swinging too traditional, with complaints ranging from the show's familiar, tired sitcom setups to an extra-loud "laugh track" (that turned out to just be an overly enthusiastic live audience). But after bloggers and recappers wrote it off but continued to use it as a reflexive punchline, Whitney quietly turned into something different: The relationship between Whitney and her boyfriend Alex (Chris D'Elia) began feeling real and not just the thing in which to situate the girl who swears off marriage because she isn't that girl. The jokes slowed down a little, the plots became less schticky. "They've done a really good job digging into who those characters are," NBC entertainment prez Bob Greenblatt said in July, and while his decision to renew the show surprised industry watchers, the truth about Whitney is that it was not an outright flop (like Up All Night, it outperformed both 30 Rock and Community and even tied Parks and Recreation among 18–49-year-olds, even while the second half of its season aired opposite ratings kingpin American Idol. NBC sister network E!, meanwhile, remains so high on Cummings that they're giving her a talk show, Love You, Mean It, premiering in November.)
Season-Two Changes: Cummings has said that she was frustrated by the network's initial marketing of the show, which made it seem like it was about a character who was "every man's worst fucking nightmare." This year, she wants to make clear that Mad About You is her template. That means, Whitney and Alex's friends will further fade into the background (the show has even released Maulik Pancholy back to 30 Rock) so there is even more focus on the couple, who tattooed "I Do" on their ribs last season. Says Cummings: "We're in it forever now and there's no option to leave. We're two honey badgers in a cage." More earnestly, though, she says the changes to the show mean "not being afraid of pathos." Cummings pointed to comedies like Modern Family "that really stick with you because they aren't afraid of getting to the truth and to the more emotional things. Mad About You and Roseanne, I mean, I used to cry at the end of Roseanne … We're very interested in doing a show that matters, not just a romp. You can find comedy anywhere all the time. You can go on YouTube right now and watch a panda farting on a baby." As for her show's move to Friday nights, Cummings looks at it as permission to stir the pot (though she was mum when asked for specifics). "We're doing some stuff that I feel like first year I wouldn't have been able to get past the network. I'm actually thinking the network doesn't even read the scripts we send them. I look forward to the lawsuits."
Don't Trust the B in Apt. 23 (returns Oct. 23 at 9:30 p.m.)
Season-One Story: Unlike the previous two shows, which had definitively promising returns in their first seasons, Don't Trust the B still needs to prove itself after only airing seven episodes last spring (the remaining six that never aired will kick off season two). "We're the babiest second year show you can be," says creator and exec producer Nahnatchka Khan. (We're including it on this list mostly because its mini-run in April and May was inconclusive: Airing behind Modern Family, the show performed on a par with previous timeslot occupants Happy Endings and Cougar Town, slightly improving its timeslot vs. year-ago averages.)
Season-Two Changes: Khan and fellow show runner Dave Hemingson say ABC execs haven't asked for major creative tweaks to the comedy about mismatched roommates, one uptight, one scary-crazy; if anything, the plan is to double down on the over-the-top humor. "We're not going to water down anything," Hemingson says. Viewers seem to like the fact that Krysten Ritter's character doesn't shy from making it clear what the "B" stands for. "It's given us the courage and confidence to write the character as strongly as we did" before, he says. That doesn't mean the nine new episodes being filmed for season two won't feature some changes. For one thing, Khan says there will be "less of the serialized stuff" in storylines ("It has to be done judiciously," Hemingson explains). And while meta James Van Der Beek will still have his own celebrity adventures (including a plot to become People's Sexiest Man Alive), he'll now spend more time with Ritter's B and roomie June (Dreama Walker). "We're making him more involved in their lives and vice versa," she says. And we'll also see other characters' universes expand: Ray Carter's smart-ass assistant will now be a series regular, while neighbor Robin (Liza Lapira) will pop up more frequently. Viewers can also expect to see the evolution of sex-starved neighbor Eli (Michael Blaiklock): "He started off as a guy jerking off in the window," Khan says. "That gets a little boring, so we're going to move him away from that."
The biggest challenge for B, of course, is the one the show's producers can't control: Instead of airing behind top-rated Modern Family, their show will air Tuesdays at 9:30, behind the buzzy-but-not-spectacularly-rated Happy Endings — and against highly hyped frosh comedies The Mindy Project and The New Normal. The good news is that ABC's expectations for the Happy–B combo will be modest, perhaps giving B what it needs most if it's going to find long-term success: time.