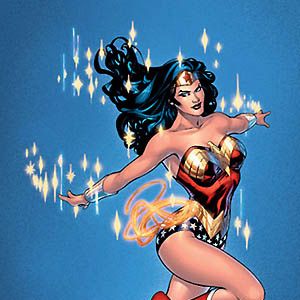 Boom! Wonder Woman may be coming back to TV after all, but not in the way we've been used to seeing her on film. Barely a year after NBC opted against moving forward with David E. Kelley's reworking of the comic book icon, and just as the character is hooking up with the Man of Steel in the comics, Vulture hears that the CW, Warner Bros. TV, and DC Comics have found a new way to revive the legend of Diana of Themyscira. The plan this time: origin story, all the way.
Our sources say the new take on the comic book crime fighter is being written by Allan Heinberg (Grey's Anatomy, The O.C.) under the working title Amazon. Unlike past TV incarnations, it will focus on Wonder Woman as a young, budding superhero, rather than a fully formed defender of liberty. (Think Smallville, but instead of a "no tights, no flights" rule, this show might have a "no bracelets, no crown" mandate.) Heinberg seems a logical candidate for the job: His resume includes work on the kinds of soapy dramas the CW favors as well as comic-geek street cred (he wrote the Young Avengers comic book series back in 2005).
It should be noted that CW is only developing a script at this point; no pilot production has been greenlit or even contractually guaranteed.  (The network, along with WBTV and D.C., declined comment) But if a pilot is filmed, and a show gets ordered, it will be a major accomplishment for WBTV and D.C., since rebooting WW (outside of animation) has proven challenging in the three decades since the campy Wonder Woman TV series wrapped its three-year run on ABC and CBS in 1979. Most recently, there was the aforementioned Kelley take. It was pitched to various networks in the fall of 2010, apparently rejected by broadcasters, but then picked up by NBC in early 2011. After Kelley turned in his pilot, however, the Peacock made the decision to not move forward with a series. Likewise, Joss Whedon had long been attached to a film take on Wonder Woman. That never came to fruition, either, and Whedon is now busy with another comic franchise these days.
But Warners (which owns D.C.) seems determined. This past June, Variety reported, almost as an afterthought, that writer Michael Goldenberg was developing a new feature film centered around the Wonder Woman character. No details of that project have emerged and it's unclear if D.C. would proceed with a film revival if Amazon moved forward. (It's worth noting that Warners launched Superman Returns in theaters even as the origins-centric WB series Smallville continued on TV). If Amazon ultimately takes off, however, CW does seem the right environment for bringing back Wonder Woman: The network has a long history of successful sci-fi/superhero shows (it aired the last few seasons of WB import Smallville; Arrow launches this season) and its female-centric lineup seems a natural home for one of pop culture's leading feminist icons. As long as there's not a campy World War II subplot or any mention of Wonder Woman dolls, we're interested to see what develops.