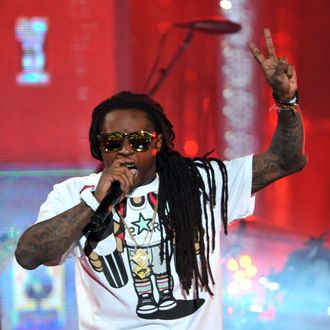 Weezy F.
Photo: Mark Davis/2012 Getty Images
It's been awhile since anyone's heard Lil Wayne sound alternately insane, clever, and breathlessly enthusiastic. It's been a long enough stretch to reasonably wonder if Weezy F. Baby was essentially gone for good, for whatever reason — lack of interest, jail, success, sizzurp, age, an increasing affinity for skateboarding. But now, a year after Tha Carter IV failed spectacularly at any chance of following up its untouchable predecessor, the new mixtape Dedication 4 seems to be a push in the opposite direction. While 2008's Dedication 3 was generally panned, the first and second entries — both from 2006 — were some of Wayne's all-time best offerings. A few listens into 4, which dropped Monday afternoon, and it's apparent that it's not only not worthless, but kind of fun and sometimes impressive.
The rhymes trend toward the juvenility Wayne's been spouting on autopilot for the last year and a half, but there's real hunger here in places. Lil Wayne's Dedication collaborator DJ Drama's callouts are a lot less gruff and omnipresent than in the last rounds. There's a standard-issue appearance from Young Jeezy and an impressive spot from J. Cole, as well as a feature from Nicki Minaj that, while in no way on the level of her canonical cameo on Kanye West's "Monster," is pretty good. Solid track selection, too — Rick Ross's "So Sophisticated," G. Dep's "Special Delivery," Kanye and Co.'s "Mercy" and "I Don't Like," and a long spoken outro over Outkast's "SpottieOttieDopaliscious." It's 52 minutes with one message: Lil Wayne might not be totally back; he's not completely gone.