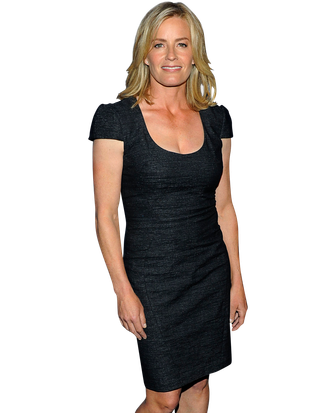 Elisabeth Shue.
Photo: Eugene Gologursky/Getty Images
Back in the day, Elisabeth Shue was pretty much the go-to Sweet Girl Next Door (see The Karate Kid, Adventures in Babysitting, Cocktail, Back to the Future II & III). Even her hooker in the Oscar-nominated Leaving Las Vegas came with a heart of gold. But lately, she's been eager to chip away at that facade. This month, she returns to CSI as Julie Finlay, a blood-spatter expert with a complicated past. And on the big screen, she stars opposite Jennifer  Lawrence in the thriller House at the End of the Street, playing a immature mom concerned about her precocious daughter's creepy new boyfriend. Vulture called the mother of three to ask her questions about parenting Katniss Everdeen, her inaccurate Wikipedia page, and why she can't tell her daughter she met Justin Bieber.
You worked on this movie with Jennifer Lawrence, pre–Hunger Games. Was it weird to see her blow up after that?
Well, this was her second film after Winter's Bone, and that was the moment you knew that she was going to be nominated. I had a very strong feeling she was going to have a quick rise to the top. She also has a really strong sense of herself. She's incredibly confident. I was not surprised at all, to be honest.
Your older kids must've been so jealous you worked with her.
My 11-year-old is really excited. I told her, "Look, you hung out with her. She's like, "I didn't know it was her though!"
What do you remember being around Jennifer's age, when you filmed your first movie, 1984's The Karate Kid?
I came into this business a little more innocently. I didn't get a publicist until after, like, Cocktail [in 1988]. After three major movies, I was like, "Oh, I guess you're supposed to get a publicist?" Girls that are in the business now that are successful are more savvy.
Your Wikipedia page says you turned down a role in Sergio Leone's Once Upon a Time in America to do Karate Kid. Seriously?
Oh my God, that's so weird. Not at all. And why would Sergio Leone have any interest in hiring me? I was a complete unknown when I did Karate Kid. I'd just done a pilot for a TV show called Call to Glory. And I sat down with John Avildsen [Karate Kid's director] and brought still pictures from the show. [Laughs.] I brought pictures! At that point, I would've been happy to be in a dog-food commercial.
This year, you were also in Hope Springs, playing a bartender. It's like you've come full circle from Cocktail.
I think it's funny. I was a hooker in Leaving Las Vegas, now I'm a CSI in Vegas. I was married to a bartender, and now I am a bartender. I basically did Hope Springs to work with the Queen herself, Meryl. It was really worth it.
Going back to House at the End of the Street, how does your parent style different from your characters'?
Mark [Tonderai, the director] was really wonderful. We worked on the script to [create] a mother who's a little more complicated than was originally on the page. We came up with somebody who's, like, a rock and roll groupie learning to be a responsible parent, to recognize the danger in this guy. My parenting style is somewhere in between. I've heard this term called Snow Plow parent, where parents actually get in front of their children and smooth [things] out … so they don't have any bumps in life. I try really hard to give my kids as much independence as I can, caring mostly about their character: Are they kind? Generous? Do they work hard?
What were you like as a teen?
Definitely not very responsible. [Laughs.] I've portrayed people that were. But I was not. I had a lot of freedom growing up, and I took full advantage of all that freedom. Got in lots of trouble. But, uh, nothing ever sent me to jail [giggling].

What could have sent you to jail?
I liked to drive before I had a license. I was a very good driver! I trained on dirt roads in Maine. So I just thought, If I can drive, why do I have to wait? I finally told my mom not too many years ago. And she was horrified.
On CSI, your character is a blood-splatter expert. What kind of research does one do to prepare for that?
It's actually "spatter." I had to learn that! Blood spatter. Isn't that funny? The blood will splatter, a verb, but the actual result of the splatter is spatter. So, yeah, I did a lot of reading and got to know the CSIs who work on the show. They gave me a whole bunch of stuff to research. 
Kyle Richards from The Real Housewives of Beverly Hills tweeted a picture of herself with you. Is she in an episode?
Yeah, she is in an episode. She plays a housewife [chuckles] in Las Vegas. She's a witness to a crime that takes place in her neighborhood. And I got to interview her, as my character, and take her story down. She was obviously an actress when she was younger. She nailed the character.
Do you ever watch The Real Housewives of Beverly Hills?
I have not. I feel terrible that I haven't.  Do you watch it? Is it fun? Is it just so over-the-top? What's so great about it?
Um, it's basically a lot of rich women fighting.
But you can tell Kyle has a good head on her shoulders.
Did you see The Sitter, which was inspired by Adventures in Babysitting, or The Karate Kid, which was an update of the original?
I have a tough time getting to the movies. My feeling is as long as it's different … I hate it when they make remakes of the exact same movie. What is the point? We already did that movie. The movie I'm really excited about that I had really fun doing is Feed the Dog. It's with Nat Wolff and Selena Gomez. It's really fun. It's raunchy like Superbad meets Risky Business, kind of. I got to be a really fun character, an out-there Mrs. Robinson–type character. I get to seduce Nat. It was nice to get out of my comfort zone, and do a comedy, push myself.
Did you meet Selena's boyfriend, Justin Bieber?
I did! My 6-year-old is in love with Justin Bieber. The sad thing is that I did not get her in to meet him. She would've literally died. But it was fun to meet him, and Selena is really sweet — she's a good girl. But I didn't tell my daughter I met Justin because she'd be too upset.