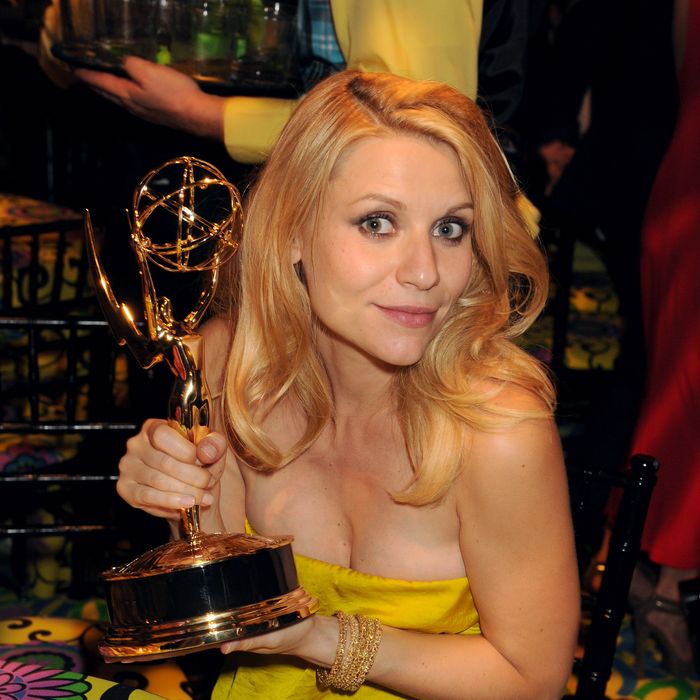 Claire Danes.
Photo: Jeff Kravitz/FilmMagic/Getty
We live-blogged the ceremony, pored over the fashion, and freeze-framed the faces. But Vulture's Emmy coverage would not be complete without a thorough account of what went down after-hours. So we dispatched a team of L.A. reporters to party-hop from Friday to Sunday, and here's what they reported back.
Friday, 9/21: Entertainment Weekly party 

10:03 p.m. Community's Jim Rash is busy texting outside Fig and Olive. "I came as his plus one," he says pointing at fellow Oscar winner (and Ben and Kate star) Nat Faxon, who is making the rounds on the red carpet. "I'm underdressed," he laments. "Remember to dress up — up," he says, mostly to himself.
10:24 p.m. Elisabeth Moss tells us she isn't the best with a blow-dryer. "I just, I can't blow out my hair," says the Mad Men nominee. "You know what I mean? When you go to events, people do it, and they make it look so easy. I don't understand how you're supposed to do it yourself. It's like, I can't." So, does going blonde mean you have to talk about your beauty regimen?
10:56 p.m. Girls' Andrew Rannells and Allison Williams are trying to hear each other speak over the loud music. We wait for him to slap her, but then we remember that this is real life.
11:14 p.m. Giancarlo Esposito squeezes into the photo booth with his date for the evening, his daughter.
11:22 p.m. Mad Men's Rich Sommer ushers Elizabeth Moss outside by the shoulders.
11:41 p.m. Moss is back. (She's not going anywhere, Matt Weiner.)
11:49 p.m. Julie Bowen arrives, grabs Justin Kirk's face with both hands, and gives him a big smooch. "So fucking good," she says, hopefully  referring to his new show Animal Practice. 
12:02 a.m. Top Chef judge Gail Simmons instructs the bartender on how to make her drink. "Only one piece of ice. One."
12:05 a.m. The Mad Men cast has taken over the smokers' section. Sounds about right.
Saturday, 9/22: BAFTA-L.A. Tea Party and Showtime Emmy Nominees Reception
2.50 p.m. At the BAFTA-L.A. Tea Party at the London Hotel Rooftop, Sherlock's Benedict Cumberbatch chats with Lost's Dominic Monaghan and director Paul McGuigan (who directed Cumberbatch in several Sherlock episodes). Just a few feet away is Downton Abbey creator Sir Julian Fellowes. Remember when Cumberbatch called Downton Abbey "fucking atrocious"? Awkward.
3.53 p.m. True Blood's Stephen Moyer swishes in with a male friend, looking surprisingly fresh for a vampire on diaper duty. No sign of wife Anna Paquin, who gave birth to their twins this month.
4.10 p.m. A British talent agent complains loudly that the cucumber sandwiches are crap.
4.47 p.m. Richard Madden greets his Game of Thrones costar Emilia Clarke with an "Oh, hello, darling," a quick squeeze, and a mwah mwah (both cheeks).
7:10 p.m. At Showtime's party at the Sunset Tower Hotel, Beau Bridges makes an entire press line blush by describing the gist of his new show, Masters of Sex. "I spend a lot of time peering at a woman's vagina as she masturbates through a magnifying glass that's attached to a dildo."
7:22 p.m. Damian Lewis ponders the inner-workings of the press line: "Do you just record the other person's interview and say, 'Yes, I got it'? Or do you go, 'Those were shit questions, now it's my turn?'" Then he tells us about pregnant Claire Danes's belly double on the show, and says that he wants one too. "I'd like a belly with a tan. That would be really weird. I'd be really white, and my belly would be caramel brown."
7:31 p.m. Nurse Jackie's Edie Falco says she's not making too much of a "thing" out of Emmys weekend. "I spend time with people I haven't seen, and I try to take it easy to the extent I can," she says. And, no, she doesn't worry about fashion. "It doesn't excite me the way it does some women."
7:33 p.m. Claire Danes has a pretty basic battle plan for surviving Emmys weekend: "[I need] to sleep, which I haven't been doing all that successfully. To eat, because when you finally find yourself at these parties, you don't get to do too much of that. And I'm very lucky to have worked with the same beauty team for over a decade now, so I have my peeps around me. That helps enormously." Peeps, holla. Claire Danes is the best, yo.

8:02 p.m. Michael C. Hall is on the patio with his girlfriend — and his girlfriend is not ex-wife Jennifer Carpenter. (It's book critic Morgan Macgregor.) WHY IS THIS HAPPENING?
8:04 p.m. Guest performer John Legend launches into "Save Room." Howard Gordon and his wife nod their heads to the beat. 
8:10 p.m. Damian Lewis has stacked a plate with salmon, three cheese mac and cheese, and skirt steak. At least someone eats at these things.
8:14 p.m. Meanwhile, Jennifer Carpenter and a friend hold court at the bar. Stay strong, Jen.
8:56 p.m. Jessica Lange is on the dance floor. By herself. She appears to be texting. This woman is the coolest.
Sunday, 9/23: Emmy Night, featuring four after parties: The Governors Ball, HBO, FOX, and Comedy Central
8:10 p.m. Guests and their rumbling tummies are eager to get into the Governors Ball at the L.A. Convention Center. Theme for the night: "A Romantic Rhapsody in Red" — and red it was, from the floor to the tables to the chairs to the light-bulb-shaped wreath of roses on each table.
8:22 p.m. Winner Jon Cryer (Best Actor in a Comedy for Two and a Half Men; that actually happened) says his favorite part of the night was seeing Stephen Colbert. "I think [he] is awesome and it's high time he won … but not in my category, of course!"
8:25 p.m. David Arquette, flying solo, is the first to arrive to the Twentieth/Fox party at Soleto. He stocks up on brisket. As in, a mountain of brisket. And then it's smoking and fiddling with his iPhone for a good long while.
8:26 p.m. Matthew Perry's assessment of host Jimmy Kimmel? "Really funny," he tells us. But, no, he wouldn't want to host the Emmys himself. Does he look like a guy who wants to host the Emmys? 
8:30 p.m. Jon Stewart dances his way around a table to his seat, stuffing bread into his mouth as he goes. If he could win only one award a year, which would it be? He thinks, then tells us: "Firefighter of the year."
9:20 p.m. Jessica Lange arrives at the Fox party and plants many kisses on American Horror Story maestro Ryan Murphy. They pose for photos with Lily Rabe and Zachary Quinto in the middle of the floor. Murphy's accessorized in AHS style, too: his tie clip's got a skeletal claw on one end.
9:24 p.m. Glee's Chord Overstreet is making googly eyes at new acquaintance Alexandra Breckenridge, who played the sexy maid on American Horror Story.
9:40 p.m. Despite Mad Men's total shut-out, Christina Hendricks and Jessica Paré seem in good spirits at the Governor's Ball. They even tell us what's inside their tiny purses: lipstick, lip balm, and an ID for Hendicks; lipstick, iPhone, ID, and Compeeds (the European version of blister cream) for Paré. "If I can breathe or feel my feet at an event, something must be wrong," Paré says. She has a thing or two to learn from Edie Falco.
9:54 p.m. Damian Lewis makes his way to the dance floor for a slow-dance with his wife. Daddy won an Emma.
10:38 p.m. Jeff Ross's snakeskin-like blazer is causing quite a stir at the Comedy Central party. "This is made out of genuine human flesh," he tells us. "I believe it's teenagers, which makes it more precious in a way."
11:08 p.m. At HBO's party at the Pacific Design Center in Los Angeles, Lena Dunham, sitting cross-legged and barefoot at the Girls table, noshes on a plate of kale. One partygoer congratulates her for winning, to which she (as graciously as possible) replies, "But, uh, I didn't win."
11:11 p.m. Thomas Sadoski hints that The Newsroom's Don-Maggie-Jim love triangle might be kaput next season. "I don't know that it will be around," he tells Vulture with a sly grin. Before production on season two gets underway later this year, he'll star in the L.A. production Build at the Geffen Playhouse in October. It will run through the first week of Newsroom filming in November. "Believe me, I cleared it with Aaron first."
11:15 p.m. Andrew Rannells, is stalking the cast of True Blood. He first corners Lauren Bowles, who was there with her husband, Patrick Fischler, gushing, "I love your show. I watch it every week," and later chats up the King of Louisiana himself, Denis O'Hare.
11:18 p.m. Parks and Recreation producer Alan Yang tells Vulture that Chris Pratt is determined to gain 100 pounds, and is more then half way there. "I've seen him knock back three hamburgers at craft services, he loves it," he says. "But he also knows how to lose it! He was in great shape for [Kathryn Bigelow's upcoming film] Zero Dark Thirty."
11:22 p.m. As he exits the Fox party, an adorable Nolan Gould (Luke on Modern Family) tells us, "My friends are asleep right now, and I'm kind of jealous of them! This is all fun and games, but I still am only almost 14, and it's a school day tomorrow."
11: 33 p.m. At the HBO party, Game of Thrones author George R. R. Martin chats up a pair of young ladies by the dessert station. "I knew we weren't gonna win, but I had to come in case we did," he tells them. "If we'd won I'd have felt like a fucking idiot if I wasn't there!"
11: 37 p.m. Homeland's Claire Danes is seated with husband Hugh Dancy and publicist Jodie Gottlieb; she's taking pictures with her iPhone. Say holla.
11:41 p.m. Woah, Kiefer Sutherland is grinding on the dance floor at the Fox party.
11:42 p.m. Luther star Idris Elba is towering over Sherlock's Martin Freeman at the HBO party, and they are cracking each other up for a good long time. We'd like to think they were talking about how the British Office is superior to the American Office.
11:45 p.m. Sofia Vergara and her entourage of NINETEEN descend on the HBO party, squashing two tables together so they could all sit as one.
11:58 p.m. Downton Abbey's Brendan Coyle, a.k.a. Mr. Bates, tries to the leave the party with a drink still in hand. He's stopped — and after a moment of reflection, decides to the stick with the drink and heads back into the party.
12:39 a.m. The Comedy Central party is notably Stewart-less, Colbert-less, and Trey-and-Matt-less. And Wyatt Cenac is not feeling the party, or the Emmys at all: "It just feels like Hollywood prom and I didn't like prom when I was 17. I just found out the Philadelphia Eagles lost in a horrible way. If I were going to be miserable for three hours and I would've rather watched my football team make me miserable than suffer through a three-hour show." Buzz kill! Vulture calls it a night.