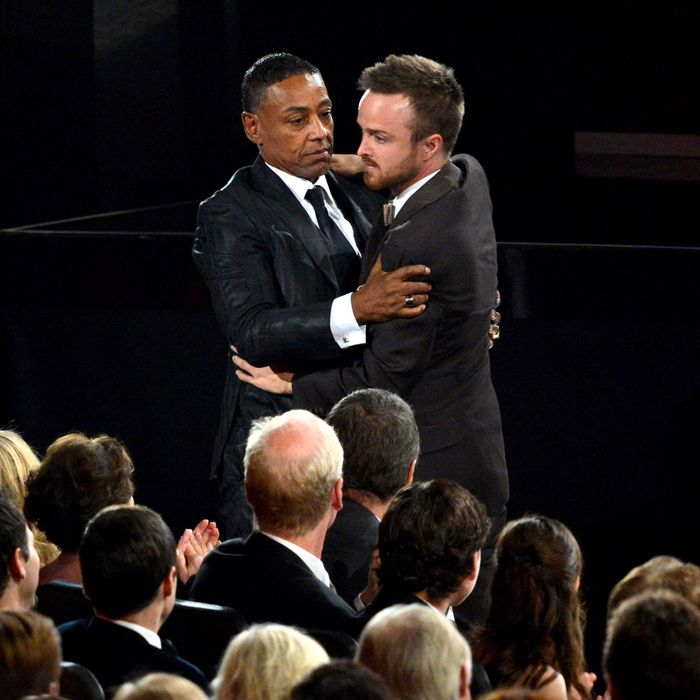 152596149PH00031_64th_Prime
Photo: Lester Cohen/WireImage
Last year's Emmys had the instant-classic beauty pageant bit where the nominees for best actress ran onstage and gave Melissa McCarthy a tiara. The year before, Jimmy Fallon's big opening song lent an air of enthusiastic festiveness to the whole ceremony. This year, no such luck. Everything was just … fine. Nothing bombed miserably, but nothing burned particularly brightly, either. The proceedings came in right on time — thanks to an incredibly aggressive orchestra that played off damn near everyone in the second half of the show — but still felt a little long. Mad Men lost, Modern Family won (see our complete list of the winners here), and Jimmy Kimmel just couldn't quite find his footing. It wasn't all for naught, though. We got these superlatives out of the ceremony:
Best gracious losers: Amy Poehler, Jimmy Fallon, and Stephen Colbert. None of tonight's speeches were particularly memorable, but two bits definitely stood out: first, losing nominee Poehler and winner Julia Louis-Dreyfus pretending to have accidentally swapped acceptance speeches, and second, Fallon and Colbert wrestling in the aisle with Jon Stewart when The Daily Show won yet again. Maybe it really is an honor just to be nominated.
Worst trend in skincare: over-tanning. Between Snooki and Mitt Romney, we should really know better by now, America.
Most loving embrace: Aaron Paul and Giancarlo Esposito. The full-on hug segued into a smooch between Breaking Bad's badass supporting actors.
Dopest shout-out: Claire Danes thanking her Homeland co-star. "Mandy Patinkin, holla."
Least spectacular: Jimmy Kimmel. The opening segment was cute, but just two hours later when Ellen DeGeneres came out pantsless, we'd all but forgotten that the show opened with a joke about her giving Kimmel her slacks. That opening was probably the funniest part of the show, too — and yet totally forgettable. The post-something-on-Facebook-about-Tracy-Morgan joke ate up time in the middle of the show, and even though the faux In Memoriam segment was silly, none of Kimmel's weird two-line introductions were. It all sort of evened out to totally acceptable but not actually that good.
Weirdest meanderers: Tom Berenger and Kevin Costner. Tom Berenger was half in character while thanking his Hatfields & McCoys castmates (and what was that part about being half rabid raccoon?), while Costner rambled about the Olympics and defiantly refused to button his shirt. Fight the system!
Most deserving Emmy darling: Louis C.K. He won two writing awards: one for "Pregnant," which is not even close to being the best episode of Louie's second season, and the other for his stand-up special taped at the Beacon Theater. Modern Family might have won more comedy categories, but C.K. was the night's golden boy. (Not to mention the butt of a few jokes.)
Biggest upset: Homeland. By all accounts, this past season of Mad Men was one of its best. And yet the show couldn't pull off the five-peat, and instead freshman drama Homeland took home the crown — plus awards for best lead actress and lead actor, too. Consider this the show's coronation and bow before your new drama king.
Odd flavor-of-the-month out: Every year a couple of new critical darlings surprise by being showered with Emmys and besting the established favorites. This year there was only room for two, and they were Louis C.K. and Homeland, while Girls left with nary a trophy. (See Judd Apatow's reaction here.) Lena Dunham did get unofficially welcomed into the establishment by being cast in Kimmel's opening bathroom bit. However, considering how few Emmy viewers likely watch HBO's niche favorite, the sight of an unfamiliar naked woman eating cake must have proven quite confusing indeed. 
Most egregious inertia: Modern Family's winning streaks. It's not that Modern Family is terrible, although this third season was not as strong as the first two — it's just not as good as its competition. Julie Bowen beating Kristin Wiig again? 30 Rock going home empty-handed? Modern Family even won for directing! The show is good. But it is not that good.
Most conspicuous absence: everyone from Downton Abbey. Maggie Smith might not have been there, but the rest of the cast was … not that you'd know it, considering they got barely any screen time. Or jokes! There weren't even any Downton jokes. Sigh.