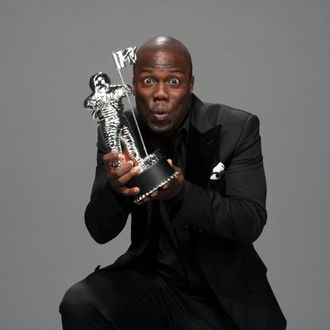 VMAs host Kevin Hart, in happier, more watched days.
Photo: MTV
Holy Mother of Martha Quinn: Ratings for Thursday's 2012 MTV Video Music Awards went in One Direction, and that direction was straight to Nielsen hell. After scoring its biggest audience ever last year (12.4 million viewers), this year's kudos saw a total ratings collapse. Per Nielsen, tune-in fell by more than 50 percent, with just 6.1 million people remembering to watch MTV's big show. How bad is that for MTV? Well, this past June, sister network BET's annual music and culture awards actually drew a bigger crowd: 7.4 million viewers. The show didn't even do well with MTV's core demo of viewers between ages 12 to 34, falling by a similar percentage among that age group as with all viewers.
It's hard to explain such a massive audience drop-off, but there are a few obvious reasons. For one,  the VMAs shifted from Sundays to Thursdays, so perhaps some folks didn't know about the move (though you'd think MTV's social-network-savvy audience would've gotten the tweet). The network also decided to air the show at 8 p.m. instead of 9 (like most years), so as to not go head-to-head with President Obama's acceptance speech at the DNC. As a result, this year's show was possibly the briefest ever, running just two hours and two minutes (compared to nearly two and a half hours last year). That meant fewer big-name musical appearances (though it's not as if Rihanna, Katy Perry, Taylor Swift, and One Direction are chopped liver. Well, maybe One Direction is chopped liver). We're not sure why MTV made the decision to shift back to Thursdays, especially in an election year. But it's hard to see how the network doesn't seriously consider moving back to Sundays next year.

Meanwhile, the aforementioned President Obama speech was, predictably, not as highly rated as candidate Obama's 2008 convention. However, B.O. did beat Mitt Romney's speech from last week: About 29.2 million people watched convention coverage on the three broadcast and three cable news networks last night from 10 until 11:15 p.m.; Romney's acceptance drew about 25.2 million a week ago. Total tune-in for both speeches will likely be a bit higher once ratings for PBS, Spanish-language networks, and a few other cable nets is tallied. Overall, NBC News was the big winner Thursday, with NBC and MSNBC combining to reach well over 13 million viewers. CNN was the cable leader for the speech, with 5.6 million, while Fox News — which walloped rivals at the RNC last week — drew just under 3 million viewers for Obama's acceptance. That's less than one-third the total audience Fox drew for Romney's coronation in Tampa. No surprise that MSNBC also did much better at the DNC than it did last week. It was up from 2008 and was the most watched cable news net in prime time during the Democratic convention.