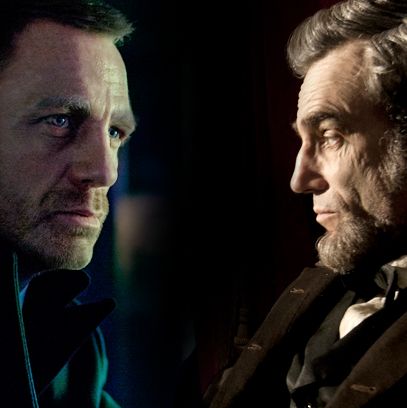 Photo: Columbia Picture, Dreamworks
After wrapping up the worst August box office in half a dozen years, Hollywood is looking forward to the cooler months — with their mix of both prestige Oscar bait and solid box-office reliables. In fact, there are so many movies coming out this fall that there are already some undeniable release date face-offs. Here are the five most interesting:

October 5
The first weekend of Halloween month will see the needless collision of Sinister and V/H/S, two horror films with eerily similar premises. As you might expect from a horror movie produced by Paranormal Activity's Jason Blum, Summit Entertainment's Sinister employs both "found footage" as well as traditionally shot narrative: Ethan Hawke stars as a true-crime writer who discovers a box of home movies that put his family in supernatural peril.
But on the very same weekend, Magnolia Pictures will also release V/H/S (already in VOD release), the hit Sundance omnibus of "found footage" horror shorts written and directed by a gaggle of directors including Ti West (House of the Devil) as well as Radio Silence, the Los Angeles directing quartet of Matt Bettinelli-Olpin, Tyler Gillett, Chad Villella, and Justin Martinez.

Often, horror fans only have one option per weekend, which is one reason why horror movies so reliably overperform, even when their quality is wretched. (For proof of this, see the CinemaScore F-rated Devil Inside, which opened at No. 1 earlier this year.) Admittedly, V/H/S is already available on video-on-demand, so Magnolia's theatrical release will likely be more limited, but it still begs the question: Why pit two horror options against each other on a weekend when Tim Burton's animated comedy–horror Frankenweenie and the Liam Neeson sequel Taken 2 will be cleaning house.

October 19
This weekend has a three car pile-up: Two high-profile crime thrillers — Killing Them Softly, starring Brad Pitt, and Alex Cross (based on the popular James Patterson books), with Tyler Perry in the title role — will go head-to-head against yet another found-footage extravaganza, Paramount's Paranormal Activity 4. "That's a $50 million movie," said one incredulous distribution executive, referring to the Paramount Vantage cheapie horror juggernaut. "If you're trying to cross over Tyler Perry [to mainstream audiences], why would you open up against that?"

November 9
Steven Spielberg's Lincoln should be as close to well-heeled adult catnip as it comes: Daniel Day-Lewis plays the man in the top hat, while the script comes from playwright Tony Kushner, who's no slouch as a screenwriter, either, having been nominated for an Oscar for Spielberg's Munich. But there's one double-0 problem.
Skyfall is a James Bond film above all, but it's also the Bond flick with the most literary pedigree in modern memory: American Beauty director Sam Mendes and a script fashioned by, among several others, Closer playwright Patrick Marber and Gladiator screenwriter John Logan. It also features God's gift to villainy, Javier Bardem as a blonde baddie facing off against Craig's platinum Bond. For this reason, Skyfall might just peel away more adults from Lincoln than any previous outing with 007 could have been expected to. "Opening Lincoln against Bond and expanding [it] against Twilight?" asks one horrified rival distribution capo. "If it stays where it is, this thing isn't going to make it past Christmas."

December 21
By year's end, the bumper cars start sparking again, but with higher stakes: Two distribution chiefs of rival studios note with concern that Paramount's Tom Cruise–starring crime thriller Jack Reacher will be competing for the same male demographic as Sony's Kathryn Bigelow movie Zero Dark Thirty (which opens two days before), which is about the hunt for and assassination of Osama bin Laden.

Cruise is by far a bigger box office draw than Joel Edgerton or any of the other Bigelow film stars (especially internationally) so why face him down when you could go around him earlier in the year? For that matter, with so many big films in release now, why risk getting lost in the Christmas shuffle with a film that lacks mega-star power?

December 28
In the year's final weekend, we see a fight card of dueling sexagenarian comedians: Paramount Pictures will release The Guilt Trip, while Twentieth Century Fox unspools Parental Guidance. A mother-son comedy starring Barbra Streisand and Seth Rogen, Guilt Trip (previously, My Mother's Curse) is based on a screenplay by Crazy Stupid Love screenwriter Dan Fogelman and directed by Ann Fletcher (The Proposal); presumably, generations are gapped, overbearing Jewish parenting unfurls, and comedy ensues.

Not to kvetch, but as one distribution capo notes, that seems awfully close to the same potential audience as Parental Guidance (previously, Us & Them; apparently, Mrs. Doubtfierstein didn't survive focus group testing) which stars Billy Crystal and Bette Midler as grandparents tasked with providing childcare to their working daughter's three recent hatchlings. While Guilt is the bawdier 'R' picture and Parental Guidance is just that (PG), "when you've got Barbra and Bette and Billy," says one of our studio spies without any skin in the game, "there's going to be a perceived overlap in the minds of audiences."