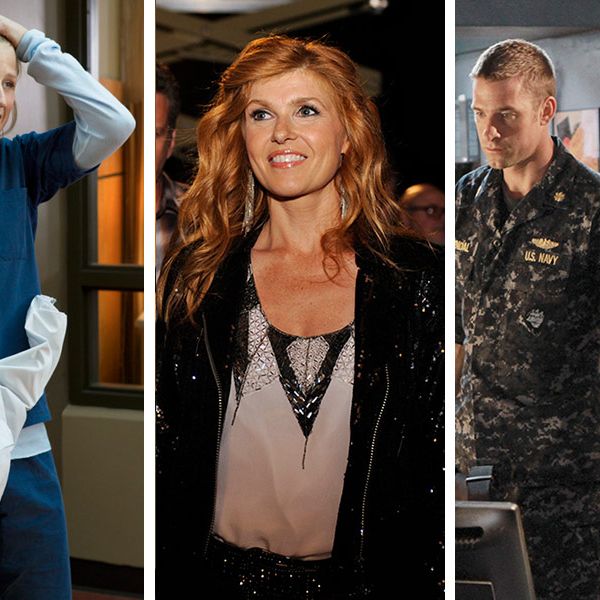 ABC's submarine drama Last Resort premieres tonight, and it's a doozy: action, adventure, shouting, you name it. It's great! But man, the show is heavy on concept: There's a submarine, see, and it's given an order to nuke Pakistan, but the captain doubts the integrity of the order, so he refuses to go through with it, and then they take over an island, and renegades, and the president, and a secret submarine prototype, and on and on and on. It's a lot of premise. Not every fall show has this problem, though — there's the other end of the spectrum, too, the premise-less end, the end where the show is about nothing and has nothing to say. Here are all your new fall dramas, ranked in order of complexity.
ACK! THAT'S A LOT OF PREMISE
Last Resort: See above.
Revolution: A close second. There's a global blackout, and 15 years later, everything is run by scary militias, and there are freedom fighters and people who want to turn the lights back on, and a lady with a secret internet in her attic, and a girl whose parents are dead, and there's sword-fighting and a few jokes. So far, the show is heavy on concept and light on character.
666 Park Avenue: An attractive young couple moves into the Manhattan apartment of their dreams, only to discover that the building and its residents are possessed by dark, supernatural forces. It's sort of like Revenge, but with the devil instead of vengeance.
Nashville: A country music legend grapples with her fading stardom and there's a young up-and-comer who's trying to push her out of the spotlight. Enough of a hook to be a soap, but not so much nonsense that it feels like a bad episode of Melrose Place.
Elementary: Sherlock Holmes is now a British ex-pat living in present-day New York; Watson is now a woman and is Holmes's sober-living companion. It's fancy, but it's still just a procedural.
Vegas: Just a '70s cop show.
Chicago Fire: Dick Wolf made a show about firefighters. It's sort of like Third Watch, except much dumber.
Emily Owens, MD: She's a doctor. Mean girls exist.
The Mob Doctor: She's a doctor. The mob exists.
Made In Jersey: She's a lawyer. New Jersey exists.

ACK! THAT IS NOT ENOUGH OF A PREMISE