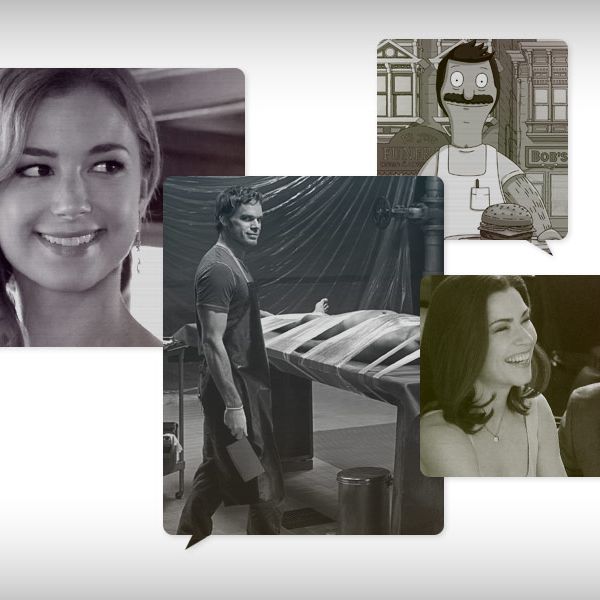 This is it! Our final entry in our week of burning questions. We answered questions on Monday, on Tuesday, on Wednesday, on Thursday, and on Friday, and now, here we are. The networks don't program new shows on Saturday nights, which brings us to the Lord's day. A day of rest. Or if you're ABC, a day of Revenge.
Why Aren't More Young People Watching The Good Wife? We're aware the legal procedural airs on CBS — and that it is a legal procedural — but it's not as though the network hasn't been pushing how honest-to-God sexy and risqué The Good Wife is, and we don't mean in that cheesy, soapy Grey's Anatomy way. Rather, The Good Wife is sex-forward, and the sex is always complicated. In the trailer for the upcoming fourth season, it looks like Kalinda and her possibly homicidal husband might engage in some scary, angry sex, and Alicia has been on the receiving end of both oral (from her ex) and the hands-only kind (from her boss-boyfriend). Tricky! Plus, critics do nothing but rave about how sharp and addictive the show is, seemingly to no avail: Last season, The Good Wife ranked 70th out of 195 shows in viewership among the all-important adults 18-49 demographic. To put that into perspective, Smash ranked 44th, The Mentalist ranked 45th … hell, even the now-canceled CSI: Miami had the edge. So, what's the problem? It's probably a little too late to ask broadcast viewers to get onboard after three seasons, especially since The Good Wife is more of a serialized drama-case-of-the-week hybrid. Plus, it isn't even available on Netflix for those who might want to catch up! And while it's not as though CBS can't bring in young people (see: The Big Bang Theory), The Good Wife has always been an island of edgy storytelling quality, never having a compatible show with which to pair on the schedule. Still, we suggest seeking out the DVDs. The show could be headed for tough times this year, where it will face ABC's Revenge in its new time period.
Are Sundays good for Revenge? Absolutely. In fact, we'll go so far as to say that we think this might be the smartest scheduling move of the fall season. (And not just because we suggested it all the way back in March. Okay, maybe a little bit.) Here's the thing: Revenge was easily one of the most buzzed-about new network shows of last season, but its Nielsen ratings didn't match the hype. It did fine, particularly with younger viewers. But it actually lost its 10 p.m. time slot to CBS's ancient CSI and had a lower overall average viewership among adults under 50 than NBC's Smash. Part of that is because all 10 p.m. shows are struggling these days, and as much as we love Happy Endings, its ratings weren't big enough to serve as a strong lead-in for Revenge. And this is why the new 9 p.m. slot makes so much sense: Its new lead-in will be the red-hot Sunday hit Once Upon a Time, and the earlier time slot (on a higher-profile night like Sunday) should mean more viewers available to check out the show. ABC also has a long history of successfully programming soaps in this slot (R.I.P., Desperate Housewives). We think the move will only result in even more viewers dining out on the tasty dish that is Revenge. As for the show's new time-period competition, the aforementioned Good Wife, well: You do have a DVR, right?
Is Sunday the Darkest Night of TV Ever? On cable, yeah. The shows we're talking about are good shows, mostly, but it's starting to feel like Sundays are carved out for only murderers, sad people, and psychos. The Walking Dead, Boardwalk Empire, Dexter, Homeland, and we'll throw the down-and-out Treme in there, too, even though it's not murder-y: We're pretty much like guests at an antihero bonanza with a piñata full of secrets and a punchbowl of ethical quandaries. Smile big, cable! There's a whole beautiful world out there!
Is Bob's Burgers the next big thing? We sure hope so, just for the Tina stories alone. (Her "Erotic Friend Fiction" is a particular highlight.) Bob's is in a strange position going into its third season, though: On the one hand, of course anyone would schedule it in Fox's Sunday animation bloc. But on the other, the show is nothing like Family Guy, American Dad, or The Cleveland Show, and it's much gentler than The Simpsons. It's not edgy or aggressive, and its paced pretty slowly compared to its animated brethren. Unlike the MacFarlane shows, Bob's Burgers is incredibly nice to its strange little characters; they are weirdos and goofballs, but they stick together, and they often succeed in their kooky little schemes.