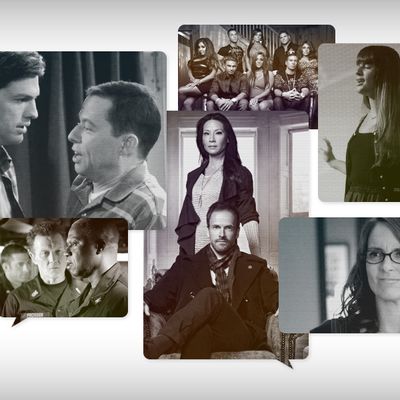 Fall TV season has begun in earnest, so each day this week Vulture is breaking down each night of programming, question by question. So far we've covered Monday's creaky veterans, Tuesday's spunky upstarts, and Wednesday's splashy, splashy series. That brings us to Thursdays, where Must-See TV is a thing of the past — or is it? Can Glee split its time between Ohio and New York? And can Two and a Half Men survive another change?
What's the fate of NBC Thursday after 30 Rock and The Office? NBC long ago lost the battle for viewers on Thursday, falling to fourth place on a night it had pretty much owned since the mid-eighties. But while the ratings were gone, the Night Formerly Known as Must-See TV retained its rep as home to top-quality comedy as late as last year, with Parks and Recreation, Community, 30 Rock, and (depending on which week you tuned in) The Office all delivering the funny. This year, it's all collapsing: Community has been banished to Fridays, 30 Rock will end after a half-season, and showrunner Greg Daniels announced last month that The Office will close in May. The good news about the last two developments is that they seem to guarantee Parks and Rec will be back next season, unless NBC brass decided they just want to completely go out of the comedy business. We also think there's a chance Community might somehow end up back on the night at some point this season, though that may be wishful thinking. And if viewers give Up All Night a second look, it would make a great long-term companion for Parks. NBC does have some comedies on the bench for midseason, including two that seem Thursday-esque: the Josh Gad half-hour 1600 Penn and the very quirky Anne Heche vehicle Save Me. It's also possible NBC could go broad, and return Whitney to Thursdays, paired with the network's new Dane Cook half-hour Next Caller. Or, maybe, one of its new Tuesday or Wednesday half-hours (The New Normal?) shows promise and gets shifted to the night. But the most likely option might be the most radical: We can see NBC cutting back to just a single hour of comedy on Thursday next fall (Parks and perhaps the already-ordered Michael J. Fox half-hour), with a high-profile new drama taking over at 9 p.m. After all, Grey's Anatomy is getting up there in years, too, and NBC might want to make a play for the female drama audience left in its (eventual) demise by putting on something new before ABC can act. If Smash successfully reboots on Mondays, NBC might then relocate it to Thursdays at 10. We'd love to see the Peacock hold on to its four-comedy schedule forever, but if it doesn't have the goods — and if Jerry Seinfeld shows no interest in joining Fox and returning to the Peacock — cutting back to just two half-hours might actually prove a better way to honor the legacy of the night. 
Will Two and a Half Men be impacted by its move to Thursdays? We'd never want to give Charlie Sheen reason to gloat, but here we go: While Two and a Half Men absolutely survived his departure, the show's ratings took a demonstrable hit last season. It's hard to measure the decline when you look at overall ratings for season nine, but that's because last fall's early episodes drew millions of extra rubberneckers/viewers curious to see how creator Chuck Lorre dealt with Sheen's exit and Ashton Kutcher's arrival. Once things calmed down? The numbers headed south, and notably so: By May, episodes were averaging a little more than 11 million viewers in overnight ratings, down from the 13.5–15 million who checked out the sixteen episodes that aired as part of Sheen's last season. Of course, even at that diminished level, Men remains one of TV's biggest comedies and a key asset for CBS. It's just that, entering its tenth season, the show is clearly beginning its descent en route to its eventual series finale. And that's why CBS's decision to take Men off Monday and move it to Thursdays at 8:30 p.m. makes so much sense. The Eye is not only opening up valuable real estate on Mondays (where hot young thing 2 Broke Girls has a shot at higher-profile success), it's also boosting Men by giving it the best possible lead-in, another Lorre comedy (the red-hot Big Bang Theory). Will it be enough to prevent the eventual decline of Men? No, particularly since the show costs CBS much more than a typical sitcom (older shows are always more expensive). But there's a good chance the new slot will slow, if not halt or even slightly reverse, last season's ratings declines. And it might even buy the show an eleventh season. Sorry, Charlie: Men might not be the same without you, but it's still a potent weapon for CBS. 
What's at Risk with Glee's Split-Show Model? Because Ryan Murphy was adamant about graduating kids from McKinley High School in real time, Glee's fourth season will be split between the remaining students in Ohio and Rachel and Kurt in New York. The obvious problem with the "show within a show" model is if one of those locations becomes way more interesting than the other. Will the club survive without its two stars? And will the Rachel and Kurt Show split time equally with the McKinley gang, the latter populated by more than a dozen regular characters? Glee's producers compare the new structure to that time Kurt went to Dalton Academy for a stretch of episodes in season two, a split you either didn't mind (because, Blaine!) or really resented for segregating Kurt for so long. On one hand, in New York, Rachel and Kurt's adventures will be all-new. They'll contend with the cutthroat city and new insecurities about their futures, while those left behind in McKinley might possibly be stuck doing theme weeks with Mr. Schuester into eternity. There are also three new students who need to be integrated with cast. (And they'll need to make an impression and fast if they expect us to stop calling them "the replacements for Rachel, Puck, and Quinn".) Glee has always juggled different tones and tons of characters, but this will be the real test as to whether the ever-expanding show can last beyond the expected life span of a high school show.
Will Elementary feel like Sherlock déjà vu? Other than the Sherlock Holmes stuff? Not really. This American Sherlock is a little more ostentatious and a lot more muscular, and the biggest difference between the Watsons isn't gender or race — it's capacity for and style of exasperation. (Martin Freeman's Watson takes a lot of guff but seems mildly amused by it; Lucy Liu takes a lot less and is less amused by it.) Elementary's strongest resemblance isn't to Sherlock — it's to Bones's early seasons, before it got romance-y. Elementary is a terrifically solid procedural, certainly the clearest and most aggressively interesting in a long time, but it really feels like a cop show, while Sherlock feels more like a weirdo show. Both are good! But they are different beasts.
Is Last Resort Too Dude-ish for ABC? Yes — which is why you've seen it so heavily advertised on ESPN. ABC skews female, and it's tough to advertise to bros during Grey's Anatomy, Dancing With the Stars, or The Bachelorette. ABC is putting the nuclear-sub drama in a tough timeslot, too: Thursdays at 8 p.m., meaning it's up against Big Bang Theory and The X Factor (and 30 Rock, though that's less of a concern ratings-wise). Will America make room for a militarized Andre Braugher and an ever-wistful Scott Speedman? Time will tell!
Has America ever been dealt a bigger blow than the loss of Jersey Shore? Not according to the way MTV is beatifying the series going into its final season. The show has only been on for three years! But MTV has already aired a retrospective special, and we're expecting an endless series of teary "say good-bye to [thing]" promos as the gang wraps things up, which is a very earnest response to the end of a show about incredibly vulgar people being prodded to up their vulgarity on a weekly basis. It's not clear yet how much of a sustained presence the various spin-off shows will be, but hey, we'll always have tabloid covers to keep us up-to-date.