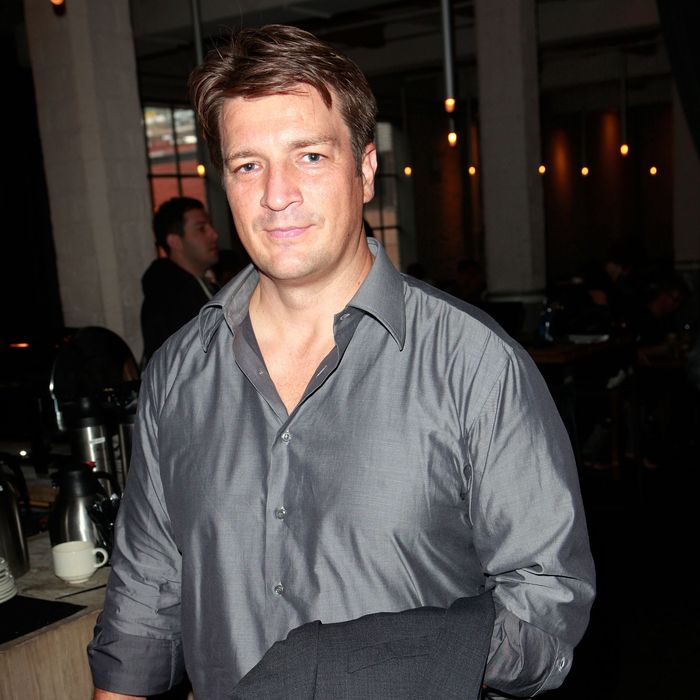 Actor Nathan Fillion attends The Hollywood Reporter TIFF Video Lounge Presented By Canon during the 2012 Toronto International Film Festival at Brassaii on September 8, 2012 in Toronto, Canada.
Photo: Todd Oren/Getty Images
The most delightful piece of casting in the entire Toronto Film Festival may just be Nathan Fillion as Dogberry in Joss Whedon's delightful noir take on Much Ado About Nothing. (The director shot the film, which just got picked up by Lionsgate, in black and white on a shoestring budget at his Santa Monica home during breaks from working on The Avengers). Whedon sees the movie, he said in an introduction to a screening, as "a love letter to what I consider to be one of the strangest and most bipolar texts about love imaginable." He also sees the text as something that required more booze than usual. "There are certain things in this movie that just don't make sense unless the characters are super-drunk."
Dogberry, of course, is not a drunk; just an idiot. (Or an ass, as one of the bastard prince Don John's henchmen calls him.) And who better to portray the bumbling, malapropism-prone night constable than Fillion, who plays a self-satisfied, crime-fighting mystery novelist on ABC's Castle and was the narcissistic Captain Hammer in Whedon's Dr. Horrible's Sing-Along Blog. Vulture caught up with him at the film's after-party. Below, a breakdown of what we learned.
* He missed out on the drunkest night of the shoot.
Since Dogberry's job is mostly grilling people back at the police station, Fillion wasn't around when Whedon threw (and filmed) an actual masquerade bash. "It was legitimately a party," says Fillion, sounding a little forlorn for having missed it. "Joss said, 'There's no way I could get this many people to my house to work and stay this late without alcohol.' And by the end of it, people were going, like, 'Really? We're not done yet?'" Besides, Fillion says he was too deep into the part to be distracted by frivolity. "I was focused. I was like a robot. I was a crime-fighting robot."
* He tried his best to back out.
"I was nervous! I was nervous!" says Fillion, who had never done Shakespeare professionally before. "I tried to get out of it. I tried to chicken out. I called Joss, I said, 'I don't think I can do this, man. Can you find a replacement? Can you get someone else, because I'm really having a hard time just locking up my lines. I don't want to hold everybody up, hold up production. It's going to be embarrassing and humiliating and I don't want to let you down.' And he said all of the great things that a director says, that a mentor says, that a friend will say to encourage you to do well, and then he wrapped it all up with: 'And … I don't have anyone to replace you.'"
* Joss Whedon has Shakespeare brunches.
Fillion, technically, has done the Bard before, in high school and at Whedon's house. "He'll hold a brunch and e-mail everybody and say, 'Who can make it?' Everybody says, 'I'm there,' and he says, 'Okay, you're playing so-and-so. You're playing so-and-so. We're going to use this particular publication of the text and we're omitting this scene, these two characters are one character. That character is going to be a girl instead of a guy. See you guys at 11 o'clock.' And we go over to his house, have brunch and read Shakespeare. It's a lot of fun."
* When it comes to Whedon, just say yes.
When Fillion's phone rang and he saw Whedon's name on the caller ID, he simply picked up and said, "I'm in." Apparently Whedon doesn't usually call to chit-chat, just when he wants to wrangle friends to do something. And the answer is always, says Fillion, "I'm in. You're the boss, buddy."
* Fillion does arrogant and dumb in his off time, too.
He didn't study any particular bumbling cops for the role of Dogberry; it's actually just an extension of a comic persona he pulls out around Whedon all the time. "When I hang out with Joss and that gang," Fillion says, "my comedy character routine is the 'incredibly-vain-incredibly-stupid-but-doesn't-know-it guy.' I won an award one time, it was the Saturn Award [from the Academy of Science Fiction, Fantasy & Horror Films] and it's got a big cresting wave on this enormous base, and I took a string and I wrapped it around my neck and I wore it to his house, and I said, 'Oh, how are you doing?'" He mimes hugging Joss. "'I forget I'm wearing this.' Like, just the vanity is key and the stupidity is key. It's just more of that. More of the Captain Hammer thing."
* Speaking of vain …
"I think I'm going to walk away from Shakespeare altogether now. This was my foray into Shakespeare. A couple scenes. Walk away." He pretends to drop the mic. "Thank you very much, everybody."
* Fillion is a fan of his director's sight gags.
One of his favorite parts of the movie is when Benedick (Alexis Denisof) and Claudio (Fran Kranz) show up at Leonato (Clark Gregg)'s house and have to stay in what is obviously a girls' childhood bedroom. "I love how Alexis is saying some very meaningful words, and he's sitting on a little stool between a dollhouse and a music box."
* Joss Whedon is a surprisingly good dancer.
We didn't get to see Whedon on the dance floor, but Fillion says he's amazing. "Joss has the moves!" he tells us. "Name it, he can dance it. The man loves to dance." We're not talking the running man or the shopping cart. "Nothing kitsch," said Fillion, and then walked away, explaining. "I'm going to find a cable and put my iPhone playlist on the sound system. Just so you can see Joss's moves. They're too amazing to miss." Sadly, he did not find the cable.