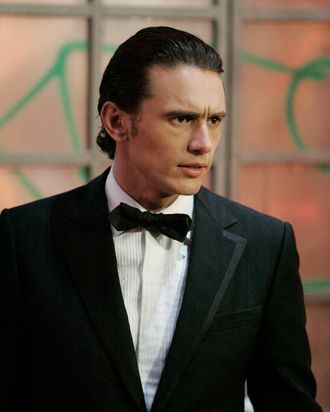 GENERAL HOSPITAL - Starting on Thursday, July 22nd, the wickedly brilliant Franco (Guest star James Franco) takes mobster Jason Morgan (Emmy winner Steve Burton) as well as cop Dante Falconeri (Dominic Zamprogna) and his girlfriend Lulu Spencer (Emmy winner Julie Marie Berman) on a wild ride to Los Angeles where the bad boy performance artist holds an art exhibit at Los Angeles' Museum of Contemporary Art (MOCA). Winner of five 2010 Emmy Awards, GENERAL HOSPITAL airs weekdays (3:00 p.m. - 4:00 p.m., ET) on the ABC Television Network and at 10 pm ET/PT on SOAPnet. GH10 (ABC/Rick Rowell) JAMES FRANCO
Photo: Rick Rowell/?2010 American Broadcasting Companies, Inc. All rights reserved.
Despite posting an August casting notice for "a James Franco type" and "a Lindsay Lohan type," the actor/everything denies that the movie he's currently directing (said to be "about two Hollywood celebrities") is a biopic or anything like that. "That's something I really didn't publicize," he told E! "We just put out a casting call for a Lindsay Lohan and James Franco type. People just saw the casting call and picked that up and made up a lot of stories about it." However, he declined to explain what the film is actually about. (We have our own ideas.) "It's really a project that's really under the radar for now," he said. Well, not anymore.