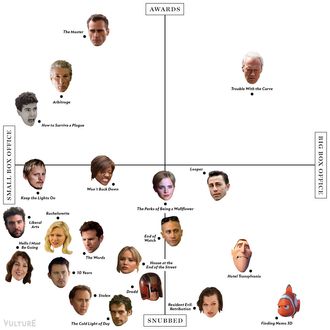 Now that summer movie superheroics have subsided, it's time for a very different fall season of flicks. Which movies look like awards-season stalwarts, which films might set the box office on fire, and which might be both (or neither)? Vulture's gone through the release schedule and plotted the films out month by month on a handy-dandy fall preview grid, so you can check out all the potential over- and under-performers at a glance. First up: September, where we've got movies with Bruce, Emma, and Clint.
Click on the graphic above to enlarge, and then we'll tackle the month quadrant by quadrant.
Let's start with the lower-left corner, since September is filled with smaller movies that shouldn't make much of a dent at the box office or awards circuit. Still, plenty of them are good picks that played Sundance earlier this year, like the enjoyably nasty Kirsten Dunst comedy Bachelorette  (already a VOD hit), dramedies Hello I Must Be Going (with Melanie Lynskey as a flailing thirtysomething who falls for a younger man) and Liberal Arts (where Josh Radnor, who directed, also falls for a young ingenue), and the terrific Keep the Lights On, the story of a decade-long gay relationship marred by drug addiction. While Channing Tatum and Bradley Cooper are some of our newest, strongest leading men, don't expect $100 million grosses from their comparatively smaller movies 10 Years (about a high school reunion) and The Words (about literary theft), respectively. You've still got plenty of action movies in September, but they're lower-budgeted vehicles like Dredd, The Cold Light of Day (a long-delayed thriller starring Henry Cavill, the new Superman), and Stolen (the latest Nicolas Cage entry), with the Jake Gyllenhaal cop drama End of Watch most likely to break out of the pack. And if you're more in the mood for some recently Oscar-nominated actresses, horror movie The House at the End of the Street will attempt to capitalize on the heat of Hunger Games star Jennifer Lawrence, while drama Won't Back Down teams Maggie Gyllenhaal and Viola Davis to take on failing schools.
Phew! Let's move on to a comparatively underpopulated quadrant, shall we? Take the upper-left corner, where we've got some awards bait that will strike a chord with critics, if not mass audiences. AIDS activism documentary How to Survive a Plague is one of the most acclaimed films of the year, and looks like a potential Oscar contender in its category, while financial drama Arbitrage will be riding Richard Gere's well-received star turn as a compromised hedge fund magnate trying to elude imprisonment, though Best Actor is an awfully crowded category this year. Dominating all awards-season talk, though, will be Paul Thomas Anderson's The Master. Early word is that the movie may be too out-there for staid Academy voters, but the film is a Venice Film Festival frontrunner and the performances from Joaquin Phoenix, Philip Seymour Hoffman, and Amy Adams are all garnering huge buzz.
Can any of those movies earn a buck, though? The September awards contender with the brightest hopes at the box office may be Trouble With the Curve, as long as star Clint Eastwood hasn't turned off audiences and critics with his recent RNC shenanigans. The 82-year-old didn't direct this baseball drama, but Eastwood has been a longtime Academy favorite regardless, and his last starring role in Gran Torino helped push that drama to over $100 million. A sprightly supporting performance from Amy Adams should only help matters.
As for September's biggest grossers … well, it's all relative. Let's hope that quality-starved audiences can make a modest hit out of the very smart sci-fi film Looper, starring Bruce Willis and Joseph Gordon-Levitt, or the winning and worthy Perks of Being a Wallflower, with young talents Emma Watson, Logan Lerman, and Ezra Miller. (Each is well-written and could find some traction in the screenplay field, too.) Meanwhile, Resident Evil: Retribution continues the sorta-successful Milla Jovovich franchise and the animated Hotel Transylvania will attempt to goose the fading Adam Sandler brand for family dollars, but both may fall to a movie that's nine years old: Finding Nemo, refurbished this month in 3D.