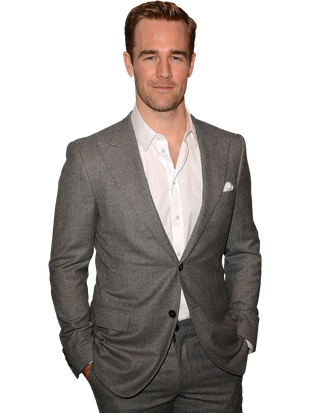 James Van Der Beek.
Photo: Jason Merritt/Getty Images
When James Van Der Beek discovered he'd become an Internet punch line, he didn't go on a drinking binge, make a sex tape, or convert to Evangelical Christianity. Instead, he laughed loudest, and launched one of the most enjoyable celebrity comebacks in recent memory. Playing an outlandish version of himself on Don't Trust the B in Apartment 23, Van Der Beek has competed on a fictional Dancing With the Stars, engaged in a fictional feud with James Franco, and, on the season two premiere, will contemplate a fictional Dawson's Creek reunion (with the help of actual former cast members, including Busy Phillips). That said, Van Der Beek can still pull off a romantic lead, as he does in the new indie drama Backwards, the story of a competitive rower (the refreshingly unglamorous Sarah Megan Thomas) who attempts to start over as an athletic coach, with the encouragement of her high school sweetheart. Vulture spoke to Van Der Beek about the film (opening today in select theaters) and his TV alter ego, whom he has affectionately dubbed "Fake James."
Backwards tells a story I haven't really seen in a film before.
That's what I liked about it when I read the script. It was a world I knew next to nothing about, and because Sarah had rowed competitively and knew this world, it just felt authentic to me.
Tell me how you got involved.
Sarah and her team offered it to me, and it came with the introduction that this girl had written the script, and had gone out and gotten the funding for it, put it together, put a director on it, actually had a go movie, and was now making casting decisions. And I thought, Well, this sounds like somebody I definitely want to meet. So I decided to jump on board. And I was really impressed by how Sarah pulled this together, and how she served the film as producer, and an actress, and a writer. On multiple fronts, she was just so graceful.
I'm impressed that you took a chance on it. I'd have thought that after Varsity Blues, you'd have a separate trash can labeled "Unsolicited Sports Movie Scripts."
[Laughs] I love sports and I love sports movies. But, yeah, you can only do one every so often.
And you're also shooting the first full season of Don't Trust the B in Apartment 23. What is your relationship with fictional James Van Der Beek like? It seems like he's taken on a life of his own.
It really has taken on a complete life of its own. It's funny, people say, "He's playing himself," and I think, Well, I'm playing this demented version of — I don't know what. It has echoes of me in maybe, like, my worst day ever. But most of it is just completely made up with little kernels of truth: behavior I've seen from other actors, or some of the writers have seen. One of the things we realized early on about Fake James was that his complete lack of awareness of any other human being other than himself, was actually really funny. We talked about: What are his blind spots? What are his things he's good at? And a part of the recipe was, as long as this guy is actually talented at what he does, that makes him fun. And it also keeps you from feeling sorry for him. So he's talented in almost a savant-ish kind of way. But what are his blind spots? Well, you know: other people. [Laughs] Recognizing a world outside of his own existence, that's a big blind spot.
Has playing a character based on yourself changed your relationship with the world?
It's actually made my relationship with the average person on the street so much friendlier and warmer. People just kind of appreciate that I'm doing something completely ridiculous, and they feel more comfortable around me now. It's interesting. When it was Dawson or it was movies or whatever — I mean, with Dawson, girls would kind of shake and scream and not know what to do — but now, I feel like people view me as a lot more approachable. Really, it's been nice. Although I was on a red carpet the other day, and somebody screamed out, "Hey James, I love you! Fuck James Franco!" Not exactly what we had in mind when we wrote that episode.
You recently tweeted a picture of something called The Houdini, which would seem to hint at a nude scene …
I can tell you it will be featured in an episode that centers around People's Sexiest Man Alive issue. Fake James is very upset that People will not consider him for the Sexiest Man Alive. He calls it "a yearly slap in the face." Let's see, what can I tease … I promise I will be wearing less clothes than I've worn up until this point on the show. I may disrobe and do some push-ups in somebody's room. That's all I can tell you. [Laughs]
Everybody's talking about the Dawson's Creek reunion that's happening on the season premiere. I was a little surprised to hear that Busy Phillips is involved, because when I spoke to her last year for Vulture, she had some residual bitterness about her experience on Dawson's. Did you personally talk her into doing a reunion?
I did. They were all big fans of hers in the writer's room, and they pitched to me what they wanted to do. So the first thing I did was call Busy myself, because we're friends, and said, "Listen, you're going to get this offer, but I just wanted to let you know — if you don't want to do it, I totally get it. But we'd love to have you." And she did it. And she came on and was hilarious.
What was it like to revisit your Dawson days?
It's one of those experiences that it's just — being on something like Dawson's Creek is something that maybe five or six people in the world understand. And it's not that it was hard; I mean, coal mining is hard. Being a soldier is hard. But being on something that has the impact that that did, it's just — I don't know. There's almost kind of no place to put it in the realm of normal, sensible life experience. It's just one of those things that just does not compute in a lot of ways. So it's been really interesting to touch base with a lot of those guys this many years out, and laugh about some of the things we thought we knew, and just kind of joke about, Boy, how crazy was that? It was just a very unique experience. But we've all kind of come to a good place on it.
We just did an interview with Penn Badgley where he talked about how he's kind of ambivalent about his experience with Gossip Girl and trying to figure out how to move on from it. Just wondering if you had any advice for someone in that, as you said, unusual situation.
Oh boy. Part of me wants to say, "Don't take too long of a hiatus, like I did." But then also part of me says, "You know what? It was the best thing in the world for me. I'm not in jail. I came out all right." So I guess, do whatever you need to do. Invest well. Do what you need to do for your soul for the next year or two.