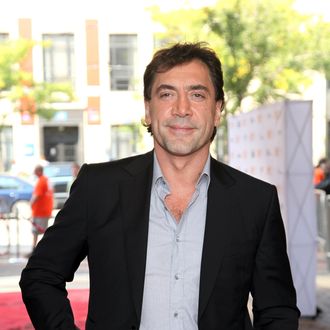 Photo: Sarjoun Faour Photography/Getty Images
Javier Bardem is artsy, politically active, and so unbelievably committed to his craft that he almost became "delusional" while filming Biutiful, according to GQ. And what of Eat Pray Love, Javier? "I needed to give myself a cake," he says. Fair enough. But not everyone in the entertainment industry is so art-focused.
There's a Hollywood story that Carlos tells about his brother. Though a huge star in Spain and a multiple winner of that country's Goya Award when he came to Los Angeles, Bardem started anonymously. The brothers were standing at a Hollywood party, drinking, working up the nerve to say hello to a hero of theirs, Sylvester Stallone. When they finally approached and asked Stallone for his best acting advice — it being unclear if Stallone knew Bardem from the valet out front — Stallone paused and then said, "Never forget about the money."
Ladies and gentlemen, The Expendables!