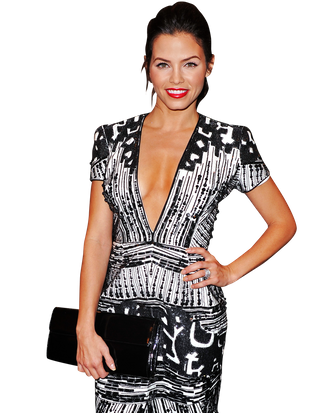 Jenna Dewan-Tatum.
Photo: Stephen Lovekin/Getty Images
In 2006, Jenna Dewan met future husband Channing Tatum when they co-starred in Step Up, a dance-mance movie about how busting a move can bump-and-grind down socioeconomic divides. The now-married couple (she has since taken on the surname Dewan-Tatum) is retesting their onscreen chemistry in 10 Years, as a duo whose perfect relationship may be girl-interrupted by an old high-school flame (Rosario Dawson). Vulture phoned Dewan-Tatum to ask her about working with her husband, as well as how her real-life dalliances with ghosts will culminate this fall on FX's American Horror Story: Asylum.
Let's just skip to the burning question: Have you and Channing ever had a dance off?
We have completely different styles of dance, so it would be a hard competition because I don't know who you'd pick. But it would be hilarious. I should challenge him.
You're classically trained. So, no offense to him, but I think you'd crush him.
Oh, you're sweet. But I don't know, though. Channing has some serious hip-hop freestyle moves that I can't even do. This would, at least, be very fun to watch.
What's interesting is that there is dancing and singing in 10 Years, but you two don't do either.
I know! We were like, "How is it that we're not dancing or singing in this?" I think it's nice — it's a little less expected of us.
What elements of your onscreen characters were inspired by your off-screen relationship?
Well, I think there's obviously a natural ease between us. Jamie [Linden, the writer-director] was really smart; he worked with that.
In your first scene, you and Channing share a piece of gum. Do you really do that?
That actually was a completely improv'd moment. So, yes, I guess we really do that. We figured some people would be like, "Oh my god, we do that too!" And others that would go, "Ewwww!"
Are there any pitfalls of acting opposite your husband?
You know, we started working together in Step Up. So we know how to work with each other. I think we were both curious to see how it would be [again]. To our surprise, it was immediately easy. But that's kind of how the shoot was, in general. It was truly, like, a bunch of friends filming in the same hotel, going from the hotel bar to a scene.
You were drinking at the bar between scenes?
During lunch break, we would all go to the hotel restaurant, have some food, have a drink, chill out, and then they'd be like, "All right, next scene up is Jenna and Channing." And we'd just walk into a scene. Why can't every movie be like this? It was the most fun experience ever.
A lot of this movie is about surmounting embarrassments past. What's your most embarrassing high-school experience?
My first go at drinking did not go so well. [Laughs.] I ended up getting sick in front of everybody. You know that Ginuwine song "Pony"? It was playing at the party while I was getting sick. My entire senior year, everyone sang that around me. For a year. I would like that erased from my memory.
And then the song wound up in Magic Mike! With your husband dancing to it. What is it like seeing straight women and gay men fawning all over him?
[Laughs.] I know! I'm just proud of him and glad everybody else agrees with me. It's been a very exciting year for both of us. Myself, Chan, Joe Manganiello, and a couple of the producers actually snuck into a theater in L.A. the night it came out. And then word came out that they were there, so they did a little introduction. As soon as they got up there, half the theater rushed the stage. Security had to come. It was literally like the Beatles came onstage.
Tell me a little about your role opposite Adam Levine in season two of American Horror Story.
It's hard because I'm sworn to secrecy. I had to sign a confidentiality thing. I think pretty much all I can tell you is, "We're lovers." We sort of … I can't tell you anything, to be honest. I can tell you that it's really scary and quite shocking.
Kate Mara, your co-star in 10 Years, was on the first season of American Horror Story …
Kate Mara is actually one of my really good friends. So I started watching it last year for her. Then, of course, I became obsessed with the show. When it came around to the second season, we were laughing about it. I got a call about it — I don't even think Kate had spoken to Ryan about it. I don't even think he knows we're friends.
Did you audition?
Yes, I read with Adam [Levine] for a chemistry test. Chemistry tests are always so funny. Hi, nice to meet you. Let's be intimate. But, you know, as far as chemistry reads can go, this one was really easy to do. He's just a super-nice, friendly, open guy. Our personalities matched right away.
Do you believe in ghosts?
I definitely believe in ghosts. I've definitely stayed in a few old, creepy hotel rooms, especially on tour with Janet [Jackson] in Europe. The lights would turn on and off. I would just think, This can't be randomly happening. But recently, I was filming a movie up in Vancouver in an old insane asylum, which is hysterical to me because this was after I filmed American Horror Story. There was a fourth floor that they won't let you film on or go up to. Of course, if you tell me not to do something, I'll immediately go and do it. So I walked up to the fourth floor, and I kid you not: There was a cold blast of air that felt like something switched by my hair and down my back. The fourth floor is where they did all the lobotomies. There were hand scrapings down the side of the wall, fingernail marks, dried blood. I ran out of there so fast. There was no air on, no windows open — nothing that could've created that feeling.
Were there any superstitions on the American Horror Story set? Like if you're filming about spirits, maybe that would invite spirits?
I am a big believer in sage. Chan calls me his Little White Witch. [Laughs.] Every hotel room, every apartment we rent, I am sage-ing. And I have crystals that I travel with. It just makes me feel better. But we didn't [do anything] while filming American Horror Story. But this is a really good point. I don't know if they had any problems this season, but I did hear last season cameras were shutting down and stuff like that.