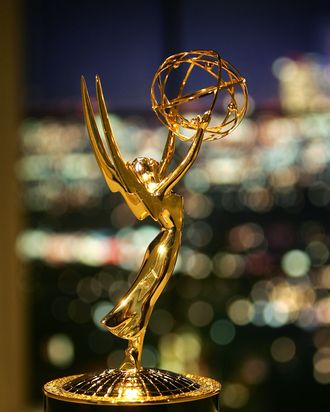 An Emmy statuette is seen in the Architectural Digest Greenroom, where celebrities will wait to go onstage during the 57th Annual Primetime Emmy Awards show at the Shrine Auditorium, on September 15, 2005 in Los Angles, California. The Emmys will take place on September 18.
Photo: David McNew/Getty Images
Sunday, Sunday, Sunday! … Vulture has all of your ceremony needs covered for the 64th Annual Primetime Emmy Awards. Our TV critic, Matt Zoller Seitz, will be live-blogging the show at 8 p.m., we'll have full coverage of the red carpet with a comprehensive gallery of all the stars' finery, and you can follow us on Twitter @Vulture during the show for even more up-to-the-moment Emmy delight. And then once the show's over, we'll have our usual post-awards analysis, party coverage, and another Frozen Moments slideshow, in which we scrutinize the proceedings frame by frame to find the real celebrity subtext. In the meantime, brush up on our Emmy predictions and get extra-excited for a few races in particular. See you Sunday night!