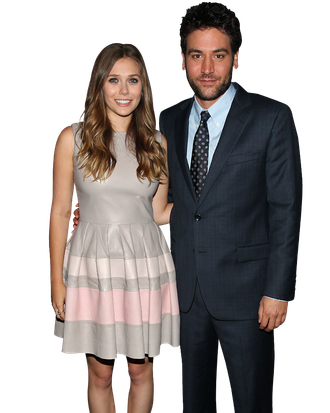 Elizabeth Olsen and Josh Radnor.
Photo: Rob Kim/Getty Images
Josh Radnor, who may be nearing the end of his How I Met Your Mother run as Ted Mosby, is hoping to have a long career writing, directing, and starring in movies. His second effort, Liberal Arts, involves an adrift 35-year-old New Yorker, Jesse, who goes on a nostalgia trip to his alma mater in Ohio to visit a favorite professor (or two), but spends most of his time falling for a 19-year-old college sophomore (the ever-luminous Elizabeth Olsen). Does this mean she's advanced, or he's stunted? he wonders, as he navigates college life once more. Radnor and Olsen sat down with Vulture to chat about virginity, vomit, and vampire books.
It seems that a premise of the movie is that some people connect over mutual taste, and then they confuse their love of that artist for love of that person.
Radnor: I think on some level, it's a valid point of connection, "Oh, we love the same musician, we love the same authors," but at the same time, maybe it can mask over some areas where you're maybe not as compatible. And for Jesse, when they get in the big dust-up over the vampire novel, he's uncomfortable with their growing intimacy, so he's looking for a reason why they don't make sense, and he seizes upon this book and says, "Aha! You read this trash."
But you never actually call it Twilight. Why?
Radnor: That was a great fun kind of in-joke of the movie. And Elizabeth [Reaser, who plays Esme Cullen in the Twilight films and a bookstore clerk in Liberal Arts], she loved that.
What did your girlfriend [Julia Jones, who plays Leah Clearwater in the Twilight films] think?
Radnor: I didn't know her then! [Laughs]
Olsen: You have a girlfriend? Oh my God, who are you dating?
Radnor: Don't worry about it! We'll talk about it later! It's Kristen Stewart. [Laughs] That's cool I said that, right? She's not. But there are a number of reasons. The things I do say in the movie — Beethoven, Wagner, Wordsworth, Blake — these are public domain. And I wanted the movie not to be dated by modern references — there's no Facebook or Twitter. And there will always be books that Jesse-types will think are evidence of Western civilization declining.
So where do you actually stand on Twilight? Love it? Hate it?
Radnor: I tend to read things that are a little more on the nourishing side, but if I don't enjoy something, I'll put it down.  
Olsen: I would never take the time to read those books, unless it was for a movie! I wouldn't read them for pleasure.   
There's a theme of attempting to lose your virginity that runs through Liberal Arts and one of your other upcoming films, Lizzy, Very Good Girls …
Olsen: That was like the most frivolous, fun thing. I literally got back from doing a period piece and I was like, "I'm ignorant, naïve, and have no idea what's going on! And I like a boy!"
Radnor: "And I like it!"
Olsen: [Laughs] But losing your virginity is not that big of a deal in Very Good Girls. It's just an easier tagline. I don't know why they ever said that, because it never happens. [Dakota Fanning] and I just like the same guy.
Radnor: Did you just singlehandedly kill the marketing campaign for that movie? [Laughs] For Liberal Arts, she's calling the shots.

How is Josh as a director?
Olsen: Josh gave me the most specific direction I've ever received, well, you and Rodrigo [Cortés] from Red Lights. And I'm someone who combats with that, but I like structure, and the more structure you have, the more freedom you have.  
Radnor: All the emotional stuff, you were on your own, and I was just capturing that. It was more like very specific, comedic things. She's funny.
Olsen: I'm a lot funnier when I'm hungover! [Laughs]
Radnor: What? Oh, in that scene. Yeah, you're really hungover. You look a little green.
Olsen: You actually wanted me to be a little more hungover [when her character goes to the bathroom to vomit]. It's like having your stomach pumped or something.
Radnor: "What'd you talk about in your interview?" "Vomit."
Do you feel like you're graduating each time you move on to a different director? Because you're about to work with Spike Lee on the Oldboy remake.
Olsen: He's only seemed like the most collaborative, actor-friendly director so far. I'm so game for it. It's like a mind thing you have to adjust for that movie. It's going to be really mental. And really exhausting. In the original, my character is the token beautiful woman, object of desire, and in our movie, she's more like someone who is a real human being, someone with psychological issues, and they both need each other. It's a little more interesting role to play. We're not trying to remake that movie, but there are certain things that are so clearly representative, so we'll do throwbacks to that, but we won't do a redo. It's also going to be Americanized, so it's a totally different culture, and a totally different time period. It's ten years later. So all those things have to come to play. You don't like violence, do you?
Radnor: Well, yeah. As a person, I'm anti-violence. [Laughs]
Do you want this to be the last season of How I Met Your Mother, so you can concentrate on being a director?
Radnor: You know, I have four, four-and-a-half months of the year that I can play with, even though if I'm shooting a movie, I'm editing while I'm doing the show, which is tiring, but invigorating. If the show ended at the end of season eight, I think we would all feel a sense of great accomplishment that we even did eight years on a television show. So few shows get to claim that.
Olsen: Full House.
Radnor: Full House does. What do you know about that show?
Olsen: [Laughs]
Radnor: Did you know they're both Bob Saget shows? Bob Saget does the voiceover for How I Met Your Mother. But if they work out a deal and we go nine seasons, I think that's also something great. But they have to let the writers know very, very soon, because they have to finish the series in a fairly elegant way. But either way, being on the show certainly hasn't hurt me!