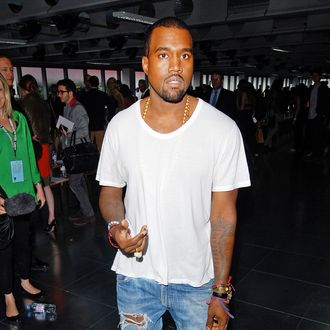 Photo: Stuart Wilson/Getty Images
Like a great novelist poking at a meaning-of-life theme and never quite offering a concrete answer to remedy the thorniness, Kanye West — likely aware of the waves of discomfort radiating from his titling a new song for Kim Kardashian "Perfect Bitch" — took his Twitter account for a stroll on Sunday. The real-talk session was primarily question-based, and it certainly led to the feeling that Kanye either isn't completely comfortable slinging the B-word every which way or that he's been browbeaten into wondering if he's really down with it. Take it away, 'Ye.
I usually never tweet questions but I struggle with this so here goes… Is the word BITCH acceptable? To be more specific, is it acceptable for a man to call a woman a bitch even if it's endearing? Even typing it in question form it's still feels harsh? Has hip hop conditioned us to accept this word? Do we love this word as much as we love the word NIGGA in an endearing way? correction, Here's the age old question, would we refer to our mothers as bitches? Would' we call our fathers niggers or better yet NIGGAS? If nigga is such a positive word, why do we feel so uncomfortable for white people to say it, even with a hall pass? Is it ok to use bitch as long as we put BAD in front of it? Like you a BAD BITCH. Perhaps the words BITCH and NIGGA are now neither positive or negative. They are just potent and it depends on how the are used and by whom? #FREETHOUGHT.
There was more on bitch ("Stevie Wonder never had to use the word bitch to get his point across") and some other non-bitch gems ("THE ONLY RACE IS THE HUMAN RACE, WE ARE ONE" and "Feelings are the only facts") before Kanye closed it out by saying he knows he doesn't know the right answer, or if there is one; he "just wanted to think out loud with you guys today." All in all, a one-person discussion worth reading. If you're going to release a bitch-titled song every year (2011's "That's My Bitch" on Watch the Throne, "Perfect Bitch" ostensibly coming in 2012), it's just good form to talk about it a little bit maybe.