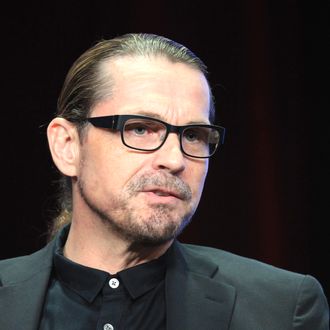 Creator/Executive Producer Kurt Sutter speaks onstage at the "Sons of Anarchy" panel during the FX portion of the 2012 Summer TCA Tour on July 28, 2012 in Beverly Hills, California.
Photo: Frederick M. Brown/Getty Images
Kurt Sutter is expanding his empire from the murder-happy motorcycle gangs of Sons of Anarchy to a murder-happy clown and his mom. Sutter has signed a deal with FX for a pilot script called Diva. Clown. Killer., a half-hour sitcom about a washed-up eighties rock star and her adult son, who is a party clown and assassin. Katey Sagal, Sutter's wife and one of the stars of Anarchy, could play said mother, depending on her SoA duties. Let's see, twisted comedy? About a guy with issues? And there's murder? Yeah, between It's Always Sunny, The League, Archer, Louie, Wilfred, SoA, Justified, and American Horror Story, this really does sounds like it will fit right in at FX.