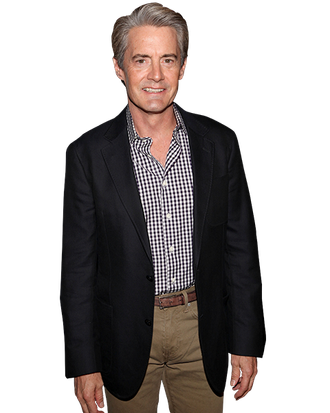 Kyle MacLachlan.
Photo: Patrick McMullan
Kyle MacLachlan, who has made his mark on television with such indelible characters as Agent Dale Cooper, Trey MacDougal, Orson Hodge, and the mayor of Portlandia, has a new one premiering tonight on CBS. As Donovan Stark, he's the lead partner of a law firm which employs Jersey girl Martina Garretti (Janet Montgomery), and because he's impressed by her ability to solve cases with her beauty knowledge — a pair of pliers is not a murder weapon, it's a tool to pull up the zipper on your skinny jeans!  — he gives the first-year associate her first big break and becomes her unlikely mentor. MacLachlan chatted with Vulture about reality TV, his new love of improv, and plying David Lynch with alcohol.
Made in Jersey is part Working Girl, part Legally Blonde, with its girl-power, don't-underestimate-me message. Why do you think it is that you keep ending up on these girl-centric shows?
I think it's less me pursuing them as opportunities as them coming to me. Which is very flattering. In both instances, they saw me as a good fit for the actors — Kristin Davis, Marcia Cross — and a nice counterpoint. And Darren Star and Michael Patrick King were both fans of my early work, Twin Peaks being the most obvious, and because they loved whatever I did as Agent Cooper, it started the relationship and made it possible. So David Lynch has been responsible either directly or indirectly for all of it. [Laughs]
No wonder you give him wine!
Yes! David and I are neighbors in Los Angeles. He lives down the hill, so I usually go over for a nice cup of coffee and we reminisce. I just brought him the latest vintage of my wine. We share this funny tradition where we drink Lynch-Bages, which is from Bordeaux in France. He first learned about it because of the Lynch part of the name, but it's a great wine, so he presented me with a bottle after my first screen test. He sent it over to my hotel, and I didn't even know him well then, but it was an extremely kind gesture, and so ever since then, we've always traded back and forth.  
Do you watch or have you seen any of the Jersey-centric shows that created the stereotypes Made in Jersey is trying to combat? Real Housewives or Jersey Shore?
Nothing extreme. Maybe a clip here or there. We've gotten a lot of early comparisons to those reality shows, but the extremes, or the caricatures, are not going on at all. The only reality show I watch is Project Runway, which is a terrific show, which my wife [Desiree Gruber] works on. And outside of reality television, I've gone back to Breaking Bad and I watch The Good Wife and SNL. It's always a kick to see Fred [Armisen].
I was actually just on set for Portlandia a few days ago, but I missed you there.
They had me just for a three-day flurry. I was in and out very quickly.
While you were there, you had an encounter with a Twin Peaks fan, who posed with you as the Log Lady. Did you know she stole the log afterwards?
That's hilarious! [Laughs] She did seem a little eccentric. And there is a great enthusiasm there for all things Pacific Northwest. Plus, it's a bit generational. But I love it when people are huge fans. And she was not a casual fan. She had everything with her. This was a big deal to her. Portlandia is the most fun show. When I get a breakdown of what the arc of the story is going to be, I could never in my wildest dreams anticipate the direction.
It looked like from your Twitpics that the Mayor has gone Amish.
He's sort of gone off the grid. The concept is that he slips far, far from reality in such a fun way, and we knew it was going to be on a farm somewhere, and all the hair and stuff happened on that day. We thought, "Hey, can we do this?" and the makeup department totally came through. We decided to do a beard and not a mustache, and we thought the beard should just expand to a funny, inappropriate point. So that's how that happened! We just run with it. I didn't have much experience at all with improv, other than this movie I did with Mike Figgis in 2000 called Timecode, and the film I just shot with Drake Doremus, but now it's something I enjoy. I like the spontaneity in it. It accelerates your brain, because you have to be so focused, and so in the moment, it's exhausting.
So Made in Jersey, any less exhausting? Or do you use any of your newfound improv techniques to make suggestions for your character?
It's two different worlds, and the scripted stuff in Made in Jersey is very specific, but the writers and creators are very open to my suggestions and thoughts, so we've had a dialogue which has been both a little unusual and helpful. I think it's healthy. 
Are you still hoping to bring back Twin Peaks as webisodes? Whatever happened with that?
[Laughs] I was at a TV festival in Monaco to represent Desperate Housewives, and the first day I was there, it was going on forever. I had eight cups of coffee just to keep going, bang bang bang, a new interview every five minutes. So I was highly caffeinated, and I think I was rambling, and I said something to the effect of, "One thing you could do would be a more scaled-down version," and I left it at that. Well, the chunk they pulled from what I said was, "Kyle wants to do webisodes." So you get that news story from a mix of talking to the wrong people, under the influence of jet lag and a woozy brain, and I've paid the price for a few years now.
There's still a tremendous interest in the show all these years later, so that's a testament to its staying power, which is very flattering. I think that show is going to live on as it is. But it opened doors for shows like Lost and The Wire — I'm a late adopter of that program and I just love it. We signed up for a grand experiment, and there were so many people who thought there was no real way we were going to make it past the pilot. If it didn't go to series, it would be a movie of the week. And ABC was like, "We call your bluff. Make more of these." The history and mythology of that pilot episode is so interesting — how Frank Silva became BOB — and it was just a happy accident. But David Lynch is the kind of director who is open to possibilities, which is one of the pleasures of working with him. It almost felt like improv, in a way, because you feel free and encouraged to make contributions.
So not likely to come back after all.
That's a long shot — don't count on it. [Laughs]