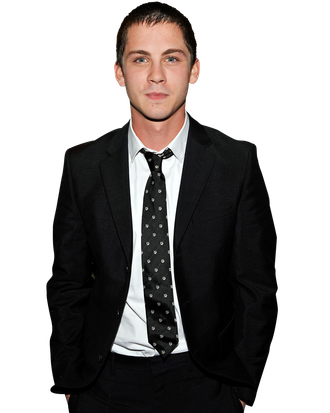 Logan Lerman.
Photo: Jerod Harris/Getty Images
Logan Lerman's got a lot to live up to as the troubled lead character of The Perks of Being a Wallflower, since the film is based on a beloved 1999 book and many viewers will come to the movie with their own idea of how his sensitive Charlie should look and behave. Fortunately, Lerman has got Charlie's creator on his side, since Perks author Stephen Chbosky wrote and directed the adaptation and surrounded Lerman with a host of other promising young actors, including Emma Watson and Ezra Miller. The result is that rare teen film full of feeling, anchored by Lerman's tremulous outcast. Last week in Toronto, we sat down with the 20-year-old actor to discuss his work (and learned a little bit along the way about how not to make a love mixtape).
You've been on a pretty big press tour for this movie, and you recently took it to the Hamptons, where Paul McCartney came up to you afterwards to praise the film. Surreal?
It was! It was probably one of the coolest moments of my life. I knew that he was there — I was prepped — and when I went out to talk to the audience beforehand, I thought, Oh shit, I'm talking in front of Paul McCartney. But it was great. I was able to meet him afterwards, and he was very complimentary. It was the biggest honor in the world because I'm a huge fan, and he's one of the most inspirational people alive, for me at least. Just to know that he saw a film that I was in was insane! But he's a very kind and humble and sweet man.
As an actor who grew up in the business, you tend to work almost exclusively with adults. Did it make a big difference to finally work with performers your own age?
Yeah, it did. Something about the young cast in this film … they're all actors who I wanted to work with over the years, actors I really appreciated. It was nice to be involved in that process of throwing names out there, because Steve and I would meet up a lot in the year that it took to get this film into production, and we'd shoot the shit and talk about actors who we thought would be right for these roles. We all became very close on this film.
How had you gotten to know actors like Ezra Miller and Johnny Simmons over the years? Did you ever go up against each other for roles?
Probably, but I don't know. I'm not the competitive type in that regard, though I am in other ways. If someone else gets the role, they're probably better for it. That's why they're doing it, because they fit the role. But no, all these guys, they're incredible actors, and I just wanted to collaborate with them.
When most of your castmates are former child actors, too, is there some sort of similar work ethic or attitude you all have?
Definitely, yeah. All I can really say is that we had an appreciation for each other and we all supported each other and became a unit. We supported each other's comfortability to go all out and give 100 percent without holding back anything.
I hear that Steve originally wanted you to play Patrick, the role that Ezra was later cast in.
Yeah, when we first met, we were meeting about Patrick. He's a great character and I really like him, but I responded more to the role of Charlie. There was something specifically challenging about Charlie that scared me, that made me think, Shit, how am I gonna do this? That puzzle was kind of exciting, but there were times that I doubted myself.
Charlie is very internal. Were you worried about finding active ways to portray someone so reactive?
Pretty much. There's a lot of subtext, so I had to try to balance those feelings but still have a clear arc from beginning to end. If we'd shot the film in order, it would have been easier, right?
Have you ever gotten to do that?
No, not really. But you hear about those rare times, like The Shining, where they were able to do that. When you can't [shoot in sequence], you have to really understand that arc, and what's happening in each situation.
When you perform opposite someone as unpredictable as Ezra, does it draw something new out of you as an actor?
I don't know. I wonder! He fit that role so perfectly, and it's nice to work opposite a really talented actor. That's always great, to work with someone who you can play with and experiment with and roll off of, to try spontaneous things. That really helped, but overall, we'd had a good amount of time to sit and talk and figure out what we were going to do beforehand.
You and Emma were both cast in Darren Aronofsky's Noah, as well. Do you play love interests in that, too?
No! She plays my sister in the film. It's definitely a completely different challenge, but it's nice to have the support of a close friend around on set on that project. We went into this crazy huge film with all these amazing people working on it, and we were excited and intimidated at the same time, of course. But our relationship on Perks, it helped us.
Many of the characters in Perks like to make mixtapes for each other. Are you the kind of guy who does that?
You know what? I used to be, up until this girl I really liked when I was young. I gave her a mix once — actually, I think it was just one song — and I was in love with that song. It was "She's Electric" by Oasis, and I thought, This explains everything! And then I gave it to her, and she was like, "This is so creepy. Stay away." So I stopped doing love mixes, but I still do make playlists for my friends all the time.