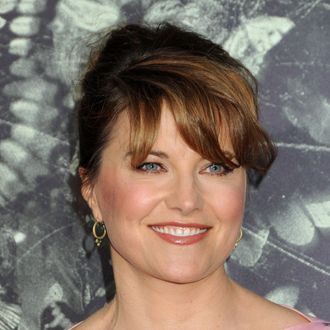 Photo: Byron Purvis/Corbis
Lucy Lawless has filmed her role as Ron Swanson's new love interest on Parks and Recreation, and she says it went pretty well — except for the part where Nick Offerman accidentally called her a giant. She tells Interview magazine:
The funniest thing happened the first day. Nick Offerman — he's a lovely gentleman — but this Freudian slip came out where he said, "I'm relieved to see you're not as humongous as I thought you were going to be." [laughs] And then he compounded the problem, saying, "No, no, no. You're a nice size." I'm never going to let him live that one down. I guess he thought I was going to be a scary Amazon woman, that I might emasculate Ron Swanson. [laughs] As if that were possible.
"You're a nice size" really does seem like a Ron Swanson pickup line.