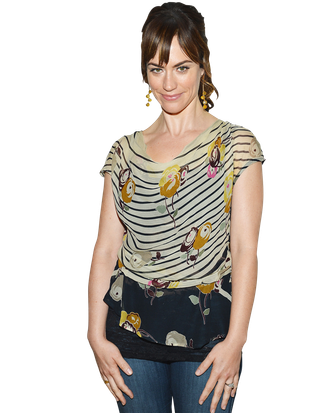 Maggie Siff.
Photo: Frazer Harrison/Getty Images
Dr. Tara Knowles suffered a huge loss to her career last season on Sons of Anarchy, and when we meet up with Jax's old lady this season, premiering tonight on FX, she's still got the cast on her hand to remind her that life with SAMCRO (Sons of Anarchy Motorcycle Club, Redwood Original) is a risky proposition. Will the prospect of danger, ever increasing, dissuade the good doctor from raising a family with her true love? Not a chance. Maggie Siff, who plays Tara (and once upon a time played Mad Men's Rachel Menken), is planning some nuptials of her own (she's getting married next month), and was happy to chat with Vulture about bikes, guns, and wedding bells. Spoiler ahead in the second to last question.
So when are we going to see Tara ride? Do you ride?
No, I can't. I pitched the idea to [showrunner] Kurt [Sutter], "Can I ride?" He scratched his beard and he said, "Maybe we can see her away on a scooter at one point." That's not what I had in mind. We met Sonny Barger, one of the founders of Hell's Angels, and his partner rides. She's tough. So I thinks there's a precedent. I think people figure, Tara's got kids, she's driving the hybrid SUV, but that doesn't mean she can't also ride. I could learn.
Tara's more of a badass biker chick this season as she takes the mantle of First (Old) Lady anyway.
It's been a slow progression, but you know what I like about it, it's pretty subtle. You can't push her too far in that direction because it starts to strain credibility about who she is, fundamentally, but we are edging towards Gemma's style. I don't know if Tara can pull the same quality of leather, but certainly the tight jeans, the heels, and the sexy tank tops with a little bit of cleavage. Our makeup artist is thrilled because she can give me just a tiny bit more eyeliner, because Tara hasn't been allowed to wear as much makeup until now.
I don't know if you saw this, but Tara made the top of a list of the hottest women in fiction.
No, I didn't! I'm honored. That's nice; they like the tough girls — or some combination of tough and sensitive. That's the allure with Jax; he's sort of a bad boy with a tender heart.
Certainly her hand injury and her loss of surgical abilities is a tragedy. But there are a few good things that have come out of it.
She's a little freer to do what she wants. She originally came from this world, so it's a slight regression for her, but I think she's doing it in a way that's unconscious. People have asked me, "Is it hard to move over to the dark side?" because she's more aggressive and there are violent parts of her nature that are starting to surface. But to me, it doesn't feel like a difficult transition. It feels easy. The things that she used to keep herself in check, in control, are going away, and we're seeing the parts of her that have always been there. And you don't get out of this injury without serious shit happening. It alters who you are. Shit happens that changes who these people fundamentally are.
Is it a pain to wear the cast, even though it's fake? Does it last the whole season?
The hard cast doesn't last, but yeah, it's been a pain in the ass, because I'm doing a lot of things — carrying babies, trying to go out and do my job and other duties, getting into physical skirmishes. So I have a lot of questions, "Wait, can I do that? Would this really hurt?" Because it may in fact be used as a weapon. You use what you have on hand, and if you're not packing heat …
I thought Tara had a gun even when she was taking a bubble bath.
[Laughs.] But it might not always be on her person when she needs it. And having the prospects protecting her doesn't help. I've always noticed that when Jax leaves the house and he's worried, he leaves one of the scrawny prospects on the couch with a gun. I've never found that comforting myself. And the one he left at the end of season one who was supposed to be looking after us didn't do a good job, I think.
Still, wouldn't it be fun to have some prospects do your bidding in real life?
That might be one of the benefits of being queen of the club. I live on a very big hill in Los Angeles, and if I had prospects, they would be my personal finocular, one of those mechanical tracks where a chair goes up by itself. They would be my pack mules who would carry everything up and down. They would do my grocery shopping. They would go to set and pick up scripts for me. They would be my errand boys. They would be my bitches. [Laughs.] I would get a dog, just so they would walk the dog. I think I'm going to have to get my fiancé to join a motorcycle club now.
Tara and Jax are raising two kids together, so it's probably not too much of a spoiler to talk about the inevitable wedding.
I liked that scene. Getting married by the seat of your pants in a brothel is so unromantic, but I felt that the scene, the way it was written, was actually very sweet and moving and got something about the show that I love. The spirit of family comes through. The circumstances are gnarly, but you always have to have escorts and prostitutes running around on Sons of Anarchy. [Laughs.] Tara doesn't feel threatened by other women these days, I have to say. She's more confident in the relationship and should anything transpire with any of the scantily clad ladies, she can handle it. She laid down the law with Jax in season two or three, so he knows that's not okay. I think Kurt [Sutter] has done an interesting job of making the question of marriage and partnership a real one. 
Did it inspire you for your own wedding?
It inspired me not to get married in a brothel! [Laughs.] I've decided to do something different, but I have to say, this is the way to go. Simple, bang it out. Maybe I do need to look for a brothel — I'll tell my fiancé.