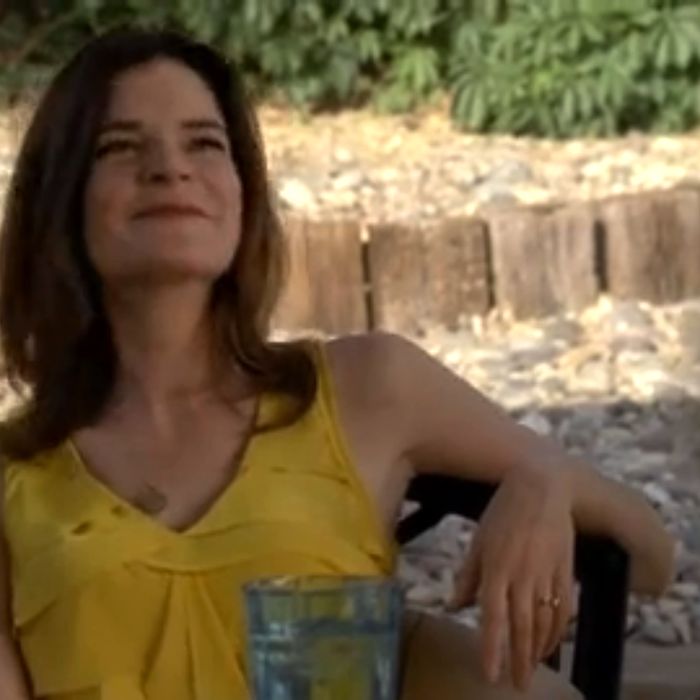 Breaking Bad's Marie, in a startling lack of purple.
Photo: AMC
As Breaking Bad fans continue to parse Sunday's mid-season finale, extracting anything that smacks of foreshadowing, one particular detail has emerged as a talking point. In the words of a widely reblogged Tumblr post: "The most shocking thing about last night's Breaking Bad finale was Marie's yellow shirt." As sure as baby Holly is always dressed in pink, Walt's sister-in-law is forever wearing purple. Yet in the nail-biting domestic scene that closed out the episode, her blouse was yellow — literally, the color on the opposite end of the spectrum. A "wearing yellow" meme quickly emerged on Reddit, where a heated discussion is taking place about the color's significance. (Is it a "danger color"?  Or might it symbolize a "link to the past"?) On Vulture, where Matt Zoller Seitz noted the costume choice in his recap, the dominant theory seems to be that Marie is pregnant. "The mention of prenatal pills + the yellow shirt (spring, rebirth, things blooming)," theorized commenter MGE.
Not wanting to experience another lily-of-the-valley moment (how did we miss it?), Vulture rang up Breaking Bad costume designer Jennifer Bryan to try to ferret out the significance, but she was amused by the curious yellow obsession. "I use yellow as a relief color for her, so it's not purple, purple, purple all the time," Bryan explained. "You'll notice sometimes she wears a yellow tank underneath something. There's no deep hidden meaning — not this time." Marie's shirt, in other words, was an un-purple herring, meaning nothing. (Either that or next year we will find ourselves sitting on the toilet, realizing that Bryan had duped us.) But for now, if you'll excuse us, we're going back to searching out death references in Leaves of Grass.