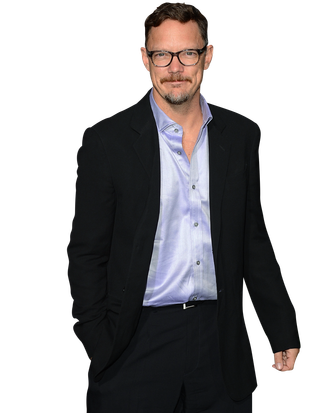 Matthew Lillard.
Photo: Jason Merritt/Getty Images
Matthew Lillard thought making his directorial debut, Fat Kid Rules the World, would be as easy as getting a fat kid to eat cake. (He'd had a steady stream of sidekick gigs since the late nineties: Scream, Scooby-Doo, She's All That.) But he was wrong. It wound up taking ten years, a Kickstarter campaign, several called-in favors, and an audience award at the SXSW Film Festival to get the story of an overweight suicidal high-schooler — saved by punk rock and a dysfunctional friendship — to the moviegoing public. (The film opens. Oct. 5 in New York, Oct. 12 in L.A., and Oct. 25 on VOD.) Vulture caught up with Lillard after an L.A. screening last week to discuss the lengthy transition to director, his musical tastes, working with Clint Eastwood, and being Shaggy for life.
You were asked to do the Fat Kid audiobook in 2002 and immediately decided to make the movie. What drew you in and warranted sticking with it for so long?
When I read the book, I had tears running down my face. I connected to his sadness. I was that kid in high school. He finds the drums and I was saved by drama. I feel like that's most everyone's experience. At some point in high school, most everyone feels like a loser who doesn't belong.

Did you ever think it would take this long?
Hell no. I thought because I was an actor and had connections that someone would hand me $10 million to make the movie. My fairytale story in my mind was that my whole life built toward this moment and people were going to be excited to see what I come up with. It's definitely easier for me than some kid in Iowa staring in the abyss, but it still took ten years. No exaggeration. It's tough in Hollywood as an independent filmmaker, even if you know Alexander Payne. Sundance, Toronto, and SXSW are filled every year with hundreds of filmmakers with good movies who have not made enough money to pay rent or feed their kids.

How do you not get discouraged?
I've had my moments but I believe in the product I'm pushing. When it didn't just take off, even after winning at SXSW, we went back to work to figure out how to get it to audiences. I'm very blue-collar like that. And next time will be easier. Now I have something I can be proud of and show.

Between this and SLC Punk, people probably make assumptions about your taste in music.
They'd be wrong. I can sing any song from Wicked and Les Mis. At the beginning of every school year, I make my daughters a musical theater mix CD. That's about as far away from punk rock as possible.

Planning some Jean Valjean in your future?
I wish, but I'm one falsetto away from being a triple threat.

Do you still want to act?
Directing and teaching are more rewarding. I enjoy acting, but I have been doing it since I was 14 and I'm 42 now and the kind of parts I usually get aren't that challenging. I wish they were. I wish I was Phillip Seymour Hoffman.

Maybe The Descendants will change that. That was a lot of people's reintroduction to you.
My career is an example of what doesn't kill you, makes you stronger. I have been working the whole time, but nobody saw those bad movies. I don't apologize for that. I have kids to feed. Then The Descendants happened and I got to have the Oscar experience. I drank a lot and spent a considerable amount of time admiring George Clooney's handsomeness up close. I've had worse days at work. Every career ebbs and flows and right now it's a good time to be me. And [the Oscars] was a moment of true glamor I can recall whenever I stop getting hired again.

It already helped you score a part in Clint Eastwood's Trouble With the Curve, your second baseball movie.
True, although Summer Catch is a very different movie. It's like comparing seersucker and a tuxedo. They're both suits, but one has an air about it and is way more fancy. Working with Clint is a dream realized for sure. I got yelled at and called a cocksucker by Dirty Harry. It didn't make it in the movie but I know it happened. It's on film somewhere.

Did you have flashbacks when you saw him taking down the chair at the Republican convention?
[Pauses] We're certainly going to test the theory that there is no such thing as bad press.

If all else fails, at least you have that Shaggy gig on lockdown.
I hope to be buried in that green shirt. In all seriousness, that's one of the great jobs of my life. The voiceover world is filled with funny, electric people and once a week we sit in a room and read scripts in funny voices.