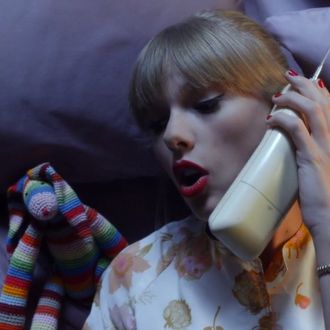 The early evidence — that lyric about an indie record, the time that Jake was spotted in Nashville even though he and Taylor had called it quits — suggested that Taylor Swift's "We Are Never Ever Getting Back Together" is about ex-boyfriend and noted worm-eater Jake Gyllenhaal. But please consider this recent quote that Taylor gave to Billboard about the song's backstory:
"I was in the studio, and this guy who walked in was a friend of my ex's. And he made some comment about how he heard how I was gonna get back together with my ex. And after he left I was talking to Max [Martin] and Shellback [the song's co-writers and producers] and was like, 'we are never ever getting back together!" And after that happened I just grabbed my guitar."
The key phrase here is "in the studio." Is just anyone allowed to walk into a studio where Taylor Swift is recording with Max Martin? Absolutely not (or else, you know, Vulture would already have done it). This "friend" had to be an industry type, some sort of producer or label exec or at least the person who dusts Max Martin's Magical Hit Wand. And who is more likely to have friends high up in the music industry: Jake Gyllenhaal, who only pals around with French bands, or Grammy award-winning guitarist John Mayer? How about Parachute's Will Anderson, who Taylor reportedly dated in late 2011? While we're at it, you know who also probably has one or two friends with a studio keycard? Adam Levine. Think about it.