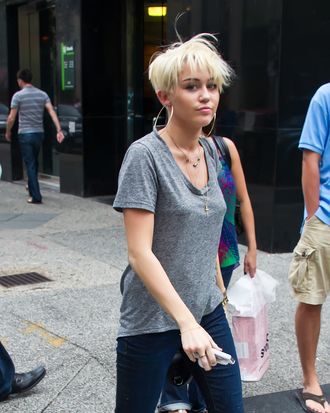 Miley Cyrus is seen leaving Tumi store in Philadelphia, PA.
Photo: Ouzounova/Splash News
Miley Cyrus is reportedly talks to star in a Bonnie and Clyde biopic for Lifetime. Well, nothing inspires confidence like the phrase "from the people who brought you Lindsay Lohan as Elizabeth Taylor." According to THR, Cyrus is "said to be meeting with directors" for the miniseries, which will air on both Lifetime and the History channel. Man, it feels like a long time ago that people were up in arms about Hilary Duff taking on Faye Dunaway duties.