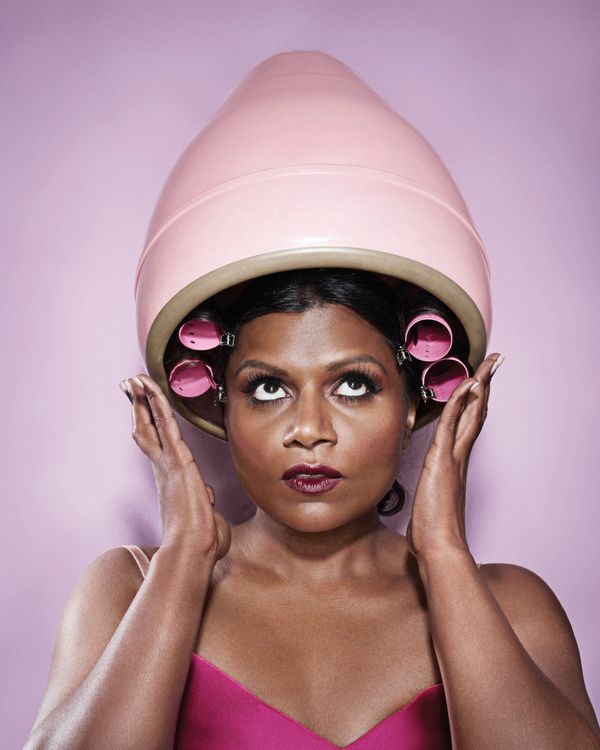 Photo: Photography by Zachary Scott/New York Magazine; Styling by Gillean McLeod; Prop Styling by Kendall Faeth; Hair by Carlos Ortiz for Shu Uemura Hair Products at Cloutier Remix; Makeup by Kayleen McAdams for Yves Saint Laurent at the Wall Group; Pink Dress by Lanvin and Courtesy of Barneys; Houndstooth Dress by Trina Turk; Photographed at the Original Smashbox Studios in Culver City
The set goes quiet. The take is about to begin. Mindy Kaling, as her character, Dr. Mindy Lahiri — excellent at being an OB/GYN, disastrous but still hopeful at love — stands at a receptionist's desk, fussing with paperwork in front of a computer screen filled with happy, smiling baby photos. Then Kaling looks up and catches a glimpse of the babies. She pauses. This isn't in the script. Something's amiss. She can't hold it in. She laughs.
"Weren't we going to have some babies of color?" she asks the crew. "We're going to have all white babies?"
She doesn't sound upset, just surprised and amused that the shot isn't as she'd imagined it. Kaling is, after all, filming a world of her own making — the fake doctors' office of The Mindy Project, the new Fox comedy she created, writes, produces, and stars in. When it debuts this month, it will make Kaling one of the only women of color to be both the face of and the creative force behind a network TV show. Every detail of this set, not to mention every word of every script, has had to pass through Kaling's brain and reflect her unique worldview as a self-described "chubby" 33-year-old Indian-American female comic by way of Cambridge, Massachusetts; Dartmouth College; and eight years as both a writer and a cast member on NBC's The Office.
Since the start of Mindy's production, Kaling's job as a showrunner has turned into that of "a professional question answerer," she says, on things like the color of the walls and the books to display on set. "There have definitely been times when I've wished I could ask Tina Fey, 'What do you … ? How do you … ?' Because, like, all you're doing is answering questions! If I could make a device where people could just intuit everything you are thinking — a little cable you plug into, like, a USB port, I would make a billion dollars."
That device would probably be downloading a lot of soft lighting and montages of Kaling running across New York from a botched date to a delivery room, but set to something kind of kick-ass, like M.I.A's "Bad Girls" — which actually does happen in the show's pilot. (They plan to do one montage an episode.) Kaling has a deep appreciation for romantic comedies — she practically has You've Got Mail memorized — but also knows that when most people think of them, they "think of how crappy they are." The show is filled with record-scratch moments of inflated expectations meeting reality, like her meet-cute in an elevator with Bill Hader that ends with him dumping her for a blonde Serbian "bagel girl" because he "wanted someone with more years to share."
Those babies on the computer screen are just a device to keep her character in one place long enough to have a run-in with her frequent workplace foil and potential love interest, Dr. Danny Castellano, played by Chris Messina (recently HBO's The Newsroom's James Murdoch stand-in, Reese Lansing). She catches him trying to leave the office early, forcing him to spin an awkward and ever-expanding web of lies about visiting the notary public. He's actually going to the DMV to get his driver's license because, embarrassingly, he never got one. Messina manages to say the words "notary public" so many times, in so many ingeniously stuttering iterations, while Kaling tosses off insult after improved insult — "I can't listen to these boring words coming out of your sweaty face!" — that by the time the final take is over, the entire crew bursts into applause.
But before any of this can happen, we've got these babies to deal with, and Kaling is curious to know how this rogue band of Caucasian infants sneaked past quality control.
Alas, the cameras need to roll. "All right!" she yells out, grinning. "Start on the image of all the white babies!"
If this makes her sound like a p.c. warrior for diversity on television, the truth is that she's not nearly that politicized. "Oh, I was joking because we have another computer that's almost too racially integrated," she explains. But because of what she looks like, and because of the scant number of her TV ­predecessors — Wanda Sykes was perhaps the last woman of color to be the creative force behind and star of her own show, in 2003; Margaret Cho had starred in a show based on her stand-up, 1994's All-American Girl — ­everything she does will be viewed through such a lens. It's just one more detail she can't help but be aware of.
If your only exposure to Kaling has been watching her as The Office's resident airhead, Kelly Kapoor, it might be confusing that she, seemingly suddenly, has her own show. Kaling thinks of the character, who delivered maybe one line every couple of episodes, as "a mean 13-year-old girl … this Shakespearean-level villain." Kelly has implied that Jim Halpert (John Krasinski) is a product of inbreeding; bragged about the tapeworm she'd swallowed as a diet technique; and prattled endlessly about her dysfunctional, slightly stalkerish relationship with Ryan Howard (played by Kaling's real-life best friend, B. J. Novak, whom she has dated on and off).
Kelly's lack of screen time and zero character growth, though, were by design. Like Novak and Paul Lieberstein, who plays Toby and was The Office show-runner for two years, Kaling had been hired in 2004 as a writer-­performer — emphasis on ­writer — and the more tertiary Kelly was, the more time Kaling had to churn out scripts. By the time she left The Office, she'd written 24 episodes (that's a lot) and directed two episodes, along with three webisodes; gotten an Emmy nomination for "­Niagara," the wedding episode between Jim and Jenna Fischer's Pam that she co-wrote with The Office creator Greg Daniels; and been promoted steadily from staff writer to executive producer.
Kaling was just 24 when she started on the show and had no experience writing for television and no connections to Hollywood. Her mother, Swati, was an OB/GYN, her father, Avu, an architect; they'd met working in Nigeria and emigrated to the U.S. just before Kaling was born. Daniels had hired Kaling after seeing her in a play, Matt & Ben, that she'd written with her college roommate; Kaling played Ben Affleck, a transformation she made just by wearing a track suit and sitting with her legs open.
She was the show's least experienced — and only female — writer, although Novak and Michael Schur, who went on to co-create Parks and Recreation with Daniels, were both pretty green, too. "What was sort of remarkable about Mindy," Schur recalls, "was that she was the first one who started acting confidently, like she knew what was going on." Then he realized she didn't actually know what was going on any more than he did. "I think that she just decides she can do something and then does it."
To people who know her, it makes perfect sense that she would now have her own sitcom. It was simply a matter of course, on par with how, at 30, she decided to write a book of memoirish essays and observations called Is Everyone Hanging Out Without Me? (And Other Concerns). What's interesting is that the book exists at all. In the introduction, Kaling apologizes for its not being Tina Fey's Bossypants, anticipating that the two will be compared, even though Fey published her book amid huge anticipation as the fortysomething lead and creator of 30 Rock who was also starring in movies and thriving off her Sarah Palin impersonation. Kaling wrote hers amid demand from herself and her publisher. One of the chapters is a detailed breakdown of just how famous she'd like to be, which is to say, famous enough that teenagers will copy her look and, when she's old, she'll be used as a sight gag on TV shows.
Of course, all that truly manic will to succeed in the world only works if (a) you actually show you can succeed at stuff (the memoir became a best seller); (b) you want to be in charge ("It doesn't seem profound to anybody but me, but I never got to make the final decision on anything in the eight years that I was in The Office," Kaling says); and (c) your goals sync up neatly with someone else's: in this case, Fox's desire to create a different kind of Tuesday night, one that takes over the highbrow comedy territory NBC appears to be abandoning, with The Office and 30 Rock both in their final seasons and Community moving to Friday nights. And the network seems to be betting on Kaling to do just that.
The sign reads STAKES MOTIVATION TURNS ESCALATION. It's taped inelegantly to the office wall of Kaling's three-bedroom West Hollywood home and printed in gigantic, 48-point type. Daniels once told her that those were the four pillars of every good comedy story, and, she says, "It really stuck with me." She consults the sign like a checklist for every episode of television that she writes. She has another copy on the wall of her ­Mindy office in Universal City and a third copy she put up in the writers' room. She's as devoted to this sign as she was to transcripts of Saturday Night Live, which she'd study as a teen to try to understand the rhythm of the jokes and the comedy beats. (Incidentally, when she recently told Daniels about the sign and how much it had influenced her, "He was like, 'Meh. I don't know. Does that even hold up? I don't even know if that's real,'" she says.)
Kaling likes rules she can learn and puzzles she can solve. Her rebellious streak seems to start and end with stealing props from the set of The Office: "I have envelopes for life." She was a good kid; she did her homework (as she put it in her book, "I kind of killed it in college"); she talks about her parents often. Her character has the same job that Kaling's mother had, and this was just her way of writing a world that she knew. And by the way, she says, "I feel like if I had my personality but was an OB/GYN, you would be psyched. You'd be like, 'My chatty, pop-culture-interested but plainspoken, wants-to-talk-about-clothes-but-­serious-minded doctor.' I feel like I would clean up with patients." She laughs. "That's kind of a cocky thing to say."
She did hit one patch of self-doubt when she wrote the Mindy pilot under a development deal with NBCUniversal, only to see NBC pass on even making it (rather than shelving it after seeing the finished product). "I was definitely disappointed," she says. "NBC was the only place I'd ever worked, and I didn't know if anyone else would want it." But then it landed in the hands of Fox's Kevin Reilly, who'd been a champion of The Office during its poorly rated first season when he was president of NBC, and he had it green-lighted.
When I asked Reilly why he'd given Mindy the network's best prime-time slot for a new comedy, after last year's breakout New Girl, he invoked the B-word. Yes, Bridesmaids (and the C-word: "crossover" potential), explaining that he thought their dynamic hour could re-create the magic of Kristen Wiig's movie by appealing to both sexes. And the biggest asset is Kaling herself: "Look, she has a very contemporary voice," Reilly says. "She's really smart about how open she is to being a mixture of both vulnerable and strong; she's a woman that I think other women relate to."
In fact, she seems to inspire a near-cultlike devotion among the people who kept her book on the New York Times best-seller list for weeks and the 1.84  million people reading her stray thoughts on Twitter, ranging from "Who will Robert Pattinson have angry rebound sex with does anyone know?" to "People talk about mumblecore but I prefer bumblecore, hyper-realistic bee movies about how bees really are." She's approachable; she's not a stick figure; moreover, as her show's one other writer-performer, Ike Barinholtz, formerly the Russian pitcher on Eastbound & Down, puts it, "She can definitely do very highbrow, but she's not past making a boner joke. I feel like one of the first things you notice about her is like, 'Whoa! You're like Will Ferrell or Danny McBride, but you're this cute little Indian girl wearing cute little red short-shorts.'" Both the mainstream and the marginalized can identify with her; by defying easy categorization, she's become the contemporary Everywoman, both a Mary and a Rhoda.
Her character on the show also seems to represent a version of singledom not being explored on TV, one that is very different from Zooey Deschanel's Jess on New Girl, who is so presexual in her girlishness that she spends an entire episode getting over her discomfort with saying the word penis. And unlike Girls' Hannah, played by Lena Dunham, she's found her life path, and she has had sex with more than a couple of people. "I just wanted to do a show that is kind of about dating, about someone who thinks about love all the time," Kaling says. "One thing that is different than other shows is that my character is weirdly, extremely confident. She feels like she should be dating Chris Evans. That's something I learned from writing for Michael Scott. He thought he was going to marry Teri Hatcher, even though he was constantly being told that was not the case."
In the pilot alone, she has an imploding relationship with Hader, goes on a first date (that she kind of ruins) with Ed Helms, and has a romp with her British co-worker sex buddy, played by newcomer Ed Weeks. And it's not insignificant that the woman they're all attracted to looks like Kaling.
The show doesn't shy away from Kaling's ethnicity (when a car nearly runs into her as she's drunkenly riding a stolen bike the wrong way down a street, she shouts out, "Racist!"), but it isn't heavy-handed about it, either. Kaling isn't interested in having ethnic humor, or her skin color, or her gender define her. "I never want to be called the funniest Indian female comedian that exists," she tells me. "I feel like I can go head-to-head with the best white, male comedy writers that are out there. Why would I want to self-categorize myself into a smaller group than I'm able to compete in?"
"Are you okay that I'm in my Spanx?" Kaling asks on a balmy Saturday afternoon. I have walked into a fitting in her living room — for Emmys dresses and Mindy press appearances — to find her clad only in nude thigh-to-chest shapewear, a black strapless bra, and towering platform stilettos. The question is meant to protect my modesty, not hers. "I actually had to start doing that recently, where I'm like, 'Is it okay that I'm [changing in front of you]?' Because I think technically it's sexual harassment at work." She laughs. "I'm very weirdly comfortable with being naked. More so than, like, maybe an employer should be."
Kaling used to write a shopping-­obsessed blog called Things I've Bought That I Love, but this is the first time in her life she's in the spotlight enough to warrant hiring her own stylist. ("If it were up to me, I'd look like a Vegas showgirl.") The most nerve-racking event is the ­Emmys. She's presenting; the last time she went, when she was nominated, she spent the entire ceremony "half-hidden by Conan O'Brien's head." All she wants, she says, is "to look superhot and to wear something I can move in that you won't see sweat in."
While trying on shoes, she cheerfully mentions her mother's impeccable style and adds, "Even when she started chemotherapy and had to stop wearing heels, they had to be, like, the coolest flats."
After the two-hour fitting and over BLTs, the conversation keeps turning to her mother. The chemotherapy started in May 2011, when Swati went to the doctor with a backache and ended up with a diagnosis of stage-four pancreatic cancer. There'd been no history of cancer in the family. Mindy took two months off from preproduction of season eight of The Office and moved back home. She wanted to be there to go with her mother to her chemotherapy appointments, to help her buy her first wig, to sit with her and watch the entire season of Modern Family, which Swati loved so much she was constantly telling her daughter that The Office should be more like it. "I was like, 'Okay, Mom,'" says Kaling.
Kaling's book was coming out in November, and she was living at home for the first time in over a decade. Reading through the sunny interviews she gave during that time, you'd never suspect anything was wrong.
The day her mother died, at age 65, less than eight months after her diagnosis, when Kaling was living in the hospital in a cot by her side, Reilly ordered the pilot for Fox. "And when my mom passed away and my dad was like, 'Can you tell everybody?' I went to get my phone, which I had not looked at for, like, 36 hours, and it was filled with e-mails and phone calls," she says. "And I thought, How do people already know about my mom? But it was about the pilot, because the news had already gone out while I had been in this cocoon of this hospital with my family. It was the weirdest thing."
"My relationship with my mom is really the single most profound relationship that I've ever had in my life," she tells me. "By the way, it seems like I'm … I'm just blowing my nose. It's not because I'm sad." She has allergies and a cold, she promises. But her voice breaks when she starts talking about how she sat down with a pen and paper and asked her mother to give her all the advice she could possibly give her before she died, and Kaling realized she'd never be able to ask her mother for advice again. "I said to her, 'Mom, I'm going to be so lonely without you.'" She's crying now but keeps going. "And she just said, 'You have to be your own best friend. If you always remember that, you will always have someone there with you.'"
One gets the sense that Kaling hasn't given herself a chance to grieve, nor does she really want the chance. "Maybe I'll be able to look back in a couple of years and understand," she says. If she gets too reflective, she'll get bogged down in sadness and anger thinking about how much her mother would have loved what was happening to her right now. "I like to move forward … I don't know how much it would help for me to think about things too much. It just seems so fucking unfair. So I get on my elliptical machine and listen to some Rihanna and try to forget about this bullshit."
Two days later, on set, Kaling rips through a conference-room scene — a specialty of hers on The Office — impressively rewriting jokes in her head with every take. Her character is making a speech about forgiveness, and Kaling has decided to punch it up with references to Halloween. "Sometimes forgiveness is the most frightening thing of all," she tries. "Holidays are a time for forgiving the monsters that haunt us." "Sometimes monsters are real, and sometimes they're metaphorical, like you, for me. You are a monster, but I forgive you."
While the rest of the cast is on break, she goes to another building to meet a "show cat" she'll have to do a scene with the next day. The cat's only job is to look like a stray and jump on her lap and lie down. But at first he won't jump. Kaling mutters, "I need to be wearing my tuna-fish skirt." After they finally get him to jump up, Kaling is informed that if they want to do a shot of him lying down, they'll have to use another cat, because this amateur feline can only do one thing. Kaling smiles, then goes back to her office and trash-talks the cat: "That cat, for the record, was a scam."
She takes lunch in the writers' room, working on scripts, but has paid for a pizza truck to provide lunch for the crew, something she'd been doing weekly.
Later, she'll do the scene with Messina and all the white babies, followed by a scene where she finds out that her ex-boyfriend's wife is pregnant, which will lead into the next day's filming of a montage of her trying on wacky Halloween costumes like "Tinker Bell Tailor Soldier Spy." When she's done with the day's shooting, she heads back to the writers' room to punch up lines. She'll stay there until 3 a.m. "I don't understand how and when she sleeps," says Barinholtz. "There are nights where she'll be taping until two in the morning and I'll come in earlyish, and she'll already have been there, in a good mood."
"I've never seen her more calm and confident," Novak tells me. "This is her element. I think it was honestly more stressful and anxious for her to be on The Office not doing her own show."
 Talking to her co-workers on the show, I learn that she's also found a little time to goof off. Once she led a group that sneaked into the Universal City theme park near their studio and sweet-talked their way to the front of the line for the Simpsons Ride. Another night she and some cast members did karaoke. Her song was "Country Roads" by John Denver, she tells me, "which I fucking destroyed."     
This article appeared in the September 17, 2012 issue of New York Magazine.