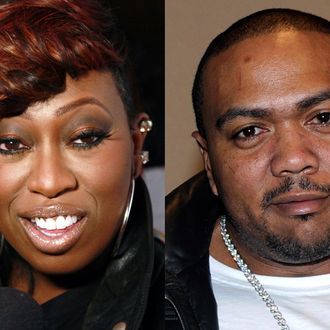 Last night, Missy Elliott and Timbaland showed up on Hot 97 to debut Missy's highly anticipated new singles, "Triple Threat" and "9th Inning." They also threw some shade at Drake. So, Choose Your Own Adventure Time: If you would like to hear Missy and Tim's first collaborations in like a decade, scroll down to the bottom of this page, where pianos, violins, and large amounts of self-confidence await. If you would rather hear Missy and Tim's latest thoughts on the Drake Aaliyah album, step right this way! Here's Timbaland on whether the project is even happening: "I don't even know if it's an album, I don't think that's in the works … I haven't spoken to Drake yet." And Missy chimes in on the weirdness of a posthumous album: "We don't know what her reasoning for not putting those records out. Maybe she didn't feel like they were her best work. We just don't want to tap into that, just spiritually something else you know … very very touchy. Unless her parents came in and conducted that." And then here they go Drake's Aaliyah tattoo:
Timbaland: To me … the tattoo part, did that man come in here and show y'all? Like lift up his shirt? I mean they said pictures are online.
Missy Elliott: I think that the tattoo is real, I did see a picture of it. You know what, let me be quiet … you know what it is, because he's a human being too. A lot of people may not have met Michael Jackson, but feel they have a connection with him.
So, in conclusion: Timbaland does not follow Drake on Instagram. New songs are below; enjoy.