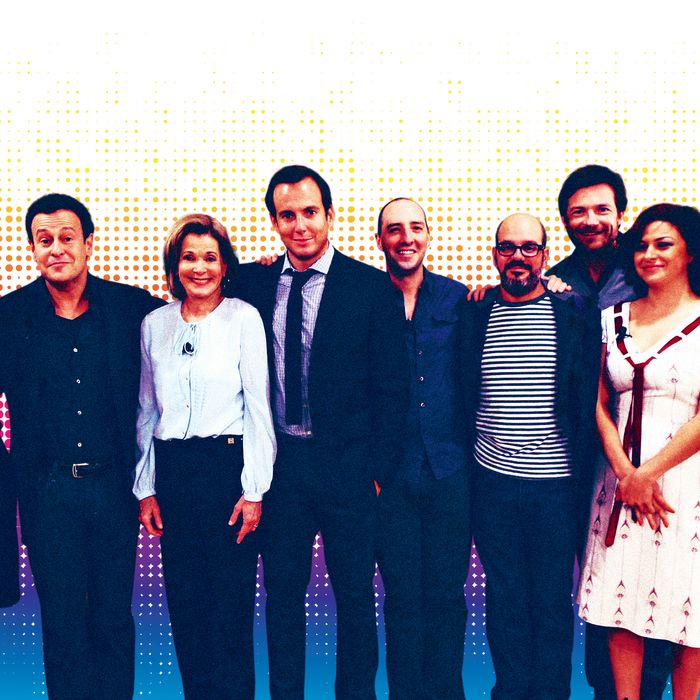 Jeffrey Tambor, Portia De Rossi, Mitchell Hurwitz, Jessica Walter, Will Arnett, Tony Hale, David Cross, Nancy Franklin, Jason Bateman, Michael Cera and Alia Shawkat attend The 2011 New Yorker Festival: "Arrested Development" Panel
Photo: Neilson Barnard/Getty Images
The long-prayed-for resurrection of Arrested Development is now under way: Filming began last month at various locations around Southern California for a new season that will premiere next spring. In his first interview since production on the series resumed, Mitch Hurwitz, responding to our e-mailed questions, was loath to reveal many specific plot details, save for a tidbit about exec producer/narrator Ron Howard appearing on-camera again ("He's reprising his role as Ron Howard," Hurwitz said. "We own the rights to Ron Howard completely. I've got $20,000 coming in from a Ron Howard pinball machine.") But while he was sparse with the spoilers, Hurwitz was candid about the emotions behind the reunion, the possibility of an even longer life for the Arrested franchise, and why this experiment may lead to even more TV revivals.
Tell me about the moment when the director of the first scene shouted, "Action." Did you get choked up?
Actually the first scene was incredibly uninteresting. Jason walks through automatic sliding doors. Dammit, I should have said "spoiler alert." Okay, [Michael Bluth] walks through some sliding doors — and since the cat's out of the bag I might as well tell you he walks away from camera in the shot. But no, I didn't get choked up. Maybe if he was coming toward the camera?  
Because of the nature of the new series — it's almost an anthology version of the show with each episode focusing on a particular character and where they've been since the family fell apart six years ago — we didn't really have many of our principal characters together until the twelfth or thirteenth day of shooting.
However, I will admit that the day a bigger group of the cast did get together really was amazing. We were in an old set and hearing some of those voices together. I think everyone involved was kind of dumbstruck by it. It really wasn't supposed to happen in a way; shows don't "come back." And this was the moment we realized it had.
Can you give us a hint to what the scene's about? 
The Bluth family tries to get through a revolving door. Most of the plots this time around deal with trying to get through or around doors …
Are you shooting on the same lot where you did the original seasons? Same sound stages?
We're back at the lot we were on the first year, so that feels special. It is fun seeing how much of this small studio lot we've used already: the commissary where we did the "Michael takes Buster to a business lunch" scene, where they blew through Buster's nap time. The pet store where Gob pushed on the door marked pull and killed the dove he'd secreted in his jacket in lieu of buying a cage. The outdoor prison where George Sr. reached through the cyclone fence to tweak the hidden camera that he mistook for Jane Lynch's nipples. Plus tons of Cougar Town stuff, but that really has nothing to do with us. It's just where they shoot Cougar Town.
Which of the stars gets the best parking space on the lot? Is it a different actor than it was during the show's original run?
Well, we need more now because Michael [Cera] and Alia [Shawkat] can drive. But I think those will open up when Will Arnett loses his license and/or Jeffrey loses his glasses.
How many of the old props were restored? Or was everything rebuilt from scratch? Is it hard to find a Segway these days?
One of the lesser known realities of the shrinking television [business] is that studios strip the walls and sell off the props when shows are cancelled. So many of the elements we're revisiting have needed to be rebuilt or made. So some of the changes are subtle. For instance they discontinued the carpet we used in Lucille's penthouse as well the one we cut Tobias's moustache from. But we found a new paisley that works for both. Also the original Segway is out of production so we had to put some old pieces on a new one. But I've always been known for my awkward segues. If you get a chance I'd love to get a picture of you as a baby.
Are you still making only ten episodes? Some reports indicate that there might be more.
Our initial order is for ten, but the beauty of Netflix is that we theoretically have an opportunity to provide more material for them. We're definitely shooting some special material just for them. But their whole outlook completely mirrors the ambitions of this show. [Netflix chief content officer] Ted Sarandos and I have really spent a lot of time finding the ideal way to tailor the show to their platform and I think we have something that embraces the new medium. When we did the show the first time we were just out ahead of the technology. I was doing a show that was all about re-watchability before there was technology that really provided that opportunity — before DVRs, etc. In fact, the first season we didn't know for sure if they would release us on DVD. So in retrospect it was more than audacious, it was "foolish." But this time we're going to be way out in front of the next trend, unless, and this is a longshot, it ends up being "reading it off paper."
Did you end up writing these ten episodes as a farewell to the Bluths or the beginning of a new chapter? 
The episodes are an outgrowth of the design of what we hope will be the movie. They precede it. They function as an act one of a movie that we all want to do, but haven't "sold" yet. The episodes take the audience through the experiences of the characters since the family "fell apart" and how they're brought together to deal with their new problems. I would give you a hint as to what those problems are, but, really, why rob the fans of being disappointed when they see it on Netflix.
Are these still self-contained episodes focusing on one character each, or is it more like the original show's season-long arcs.
Each episode is about a character — but we'll see them in each other's shows.
On Fox, Arrested Development was governed by network standards and practices and it had to toe the line in clever ways (i.e. all the swear words were bleeped, and some shockingly dirty jokes were cloaked in triple entendres). Does the fact that the new season will be on Netflix, and free of those rules, change anything? How do you push limits when there are none?
No, we're doing it as tastefully tasteless as we always have I guess. And there are still standards you can't violate. For instance I can't say "Joe Adalian is a (SENTENCES OMITTED)" unless I can actually prove what you and I both know I know.
You've said that the new episodes will all be made available at the same time on Netflix. Given AD's status as one of the most Internet-celebrated shows ever, did you consider what you might be missing out on by releasing them that way? Like if they were released one by one each week, the Internet could watch them together "live" and an instant party would break out on Twitter. Releasing them in one lump sum seems like it might just overwhelm the Internet's episode recappers and animated-GIF makers.
I actually think the strategy for release is up in the air. I know Netflix at one point was talking about streaming them all at once, because that's how they've done it with other shows, and it's their choice. I know it'll be in the spring of 2013, or what the Mayans would call the spring of "1." But I just love the opportunity we have to be creative with every part of this, from the concept to the delivery. We're trying to embrace both the obstacles, like lack of cast at our disposal, and the advantages — storytelling freedom, lack of commercials — and it's just great to be part of something that will hopefully become another option for original scripted material. If this works it could lead to a lot of other people getting a second shot. See if Apatow and Feig can squeeze out another couple Freaks and Geeks. Andy Richter could go back to controlling the Universe. Maybe David Lynch could make a third Peak.
The cult of Arrested has only grown over years, to almost mythic proportions. What part of you wanted to rest on the three amazing seasons — and what part wanted to risk that legacy with new episodes?
Hmm. You're making me rethink going back into this. No, look, we all went back into this because of the devotion of the fans, and a desire to bring some fun to them — and to ourselves. It definitely did start out being somewhat daunting, but I think for all of us we just got back into the groove. Oh, and we have this new JarJar Bluth character so there's no way anyone will be disappointed.