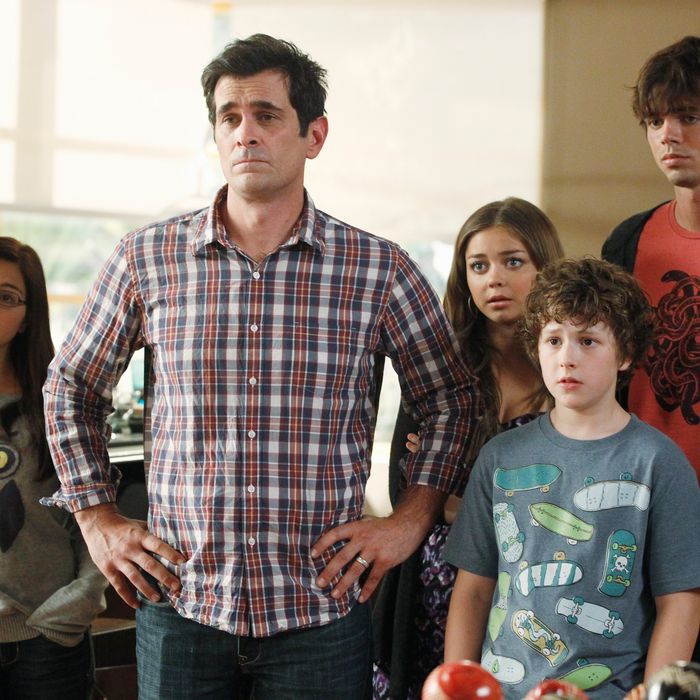 Photo: Peter "Hopper" Stone/ABC
"Hey, so did you guys catch the Modern Family Awards on Sunday night? The show swept the comedy category of the 2011 Emmys so decisively that now there will surely be legions of haters poised to cry 'overrated!' or 'meh' if Modern Family doesn't consistently prove to be as sharp and cutting edge as Julie Bowen's clavicles." -Vulture recapper Maris Kreizman (who is fantastic, and who I am a different person than — hi!), this time last year.
 The Modern Family crew must have heard enough of that brand of exasperation last autumn to know that as soon as they dominated the Emmys again in 2012, they'd better have an exemplary premiere in store. And they totally did, nailing the balance between goofy and sentimental, cramming in the jokes, showing a willingness to let the characters grow, and introducing non-tedious new plot points.
Things get rolling when Jay's well-cast buddies we've met before (Ghostbusters's Ernie Hudson and Chazz Palminteri of The Usual Suspects and A Bronx Tale) come to capture the man via hood and ziptie on his 65th birthday, the one he wanted to spend quietly and sans surprises. Miles's open obsession with his falcon is a so-so gag, but Shorty's beardlove is top notch. (And only too relatable — my sense of social propriety is at its worst when I encounter any guy, strange or familiar, with a great beard. Next to impossible to avoid initiating discussion about it.) Maybe I'm biased, but Shorty's beard riffs — that Phil would look like an off-season Jon Hamm were he to grow it out (no way this didn't come from real life, with Ty Burrell often growing his beard when he's on hiatus, just like Hamm), that a soul patch "is like a beard's crap," and "the more I look at you, the angrier I get that you don't have a beard" — are terrific.
Cam and Mitch aren't at each other's throats for the sake of jokes or plot for once. In fact, they're so aching from their bungled attempt to finalize an adoption of a baby boy the night before that they're reduced to pleasantries about the roast of their coffee and the percentage of the milk within. The elephant in the room can't go unacknowledged for long, though, mostly because it's an actual enormous stuffed elephant. Lily enters to announce that she won't be just another face in the family or an occasional punchline giver/receiver this season but a realistic 5-year-old kindergartener who really wants that baby brother. (Progress from last season's premiere, when her plan was "I wanna make the baby dead.") Lily had already named her little bro Larry, but a kitten will suffice in his stead, as long as the name is transferable. "You are really comfortable playing that card," Mitch tells Lily as she pushes the if-I-can't-have-a-baby-brother-then-can-I … requests.
Haley's prom is over and she's ready to hopscotch past the high schooler/parent parameters and directly into a mature college-kid/non-overbearing mom situation. A miffed Claire proffers Haley the ultimate remedy for a mother seeking vengeance against an entitled daughter: egg, bell pepper, sriacha, relish, herbs, and a bunch of other riffraff blended together in the guise of a hangover cure. Cold and calculating, but it's worth a chuckle. (Not at all humorous is the notion that by the episode's end, Phil will indeed grow that beard and Claire will inform him he's shaving it. Of all the unflattering controlling tendencies the show prescribes Claire, does vetoing her husband's awesome facial hair have to be one of them? I know Phil was nothing less than supportive when Claire experimented with dyeing her hair brown that one time.)
The first person to hear Gloria's baby news is, sweetly, her son. Her face flickers between terrified, thrilled, and nervous. Manny, who's nurturing a youthful interest for once, daydreaming about a summer camp full of amorous ladypoets, can't shake his responsible side enough to consider the joy of a baby and realize maybe he won't have to take care of it like he does the family salad bowl. And we get the bonus factoid that Manny, an old soul since birth, potty trained himself. "I just did not get the appeal of intentionally soiling one's pants. That said, I will admit to missing the kisses on my tummy."
Luke gets a good one on Manny, commiserating that of course Manny needn't worry about an adorable newborn sibling. "You're right. You're way cuter than a baby. I'm gonna go check on dinner." Not exactly an airhead Luke line, either — cerebral meddling is in play, he confirms in an aside: "Sometimes I just like to toss a grenade and run away."
Getting a cat's far from easy, Mitch and Cam learn. It's actually exactly like the frustration of adoption. "I'm just sad, Cam," Mitchell says in an understated human moment. Despite these guys being bound in a world where sitcom hijinx must ensue no matter how heavy the circumstance, they do a wonderful job playing the aftermath of not getting the baby they'd wished and prepared for. (HOWEVER: Why aren't they just getting a different baby, again? Is there a logistical reason aside from their crestfallenness? Will this thread pick up next week? I didn't think I'd say it, Modern Family, but we need answers. What's in the hatch?)
Dylan is still thick enough that in fabricating a hypothetical scenario designed for pity, he opens with "my cousin Dylan said." Dude. (He redeems himself at the end when his new made-up friend is "not so much of a friend as a raccoon." Brilliant.)
Jay wastes an uncharacteristically supportive response on Cam and Mitch's kitten news, and the emotional dominoes of confusion start toppling from there. Gloria's night-winning "he's talking about: I am pregnant" gives way to a slew of hilarious lines ("Oh, gross, I didn't know Grandpa could still do it." "Don't be disrespectful, Luke," Phil chides. "Anyone could do it with Gloria.") that melt into one of the most deservedly sweet moments in the show's life. "That's the greatest news I've ever heard," Jay says, his characteristic bluntness enthusiastically directed in a positive direction this once. A spinny cinematic move cuts through the summer and guides us through a great one-take finish. The 22nd minute is here, the baby is a few months closer, everyone is happy and funny.