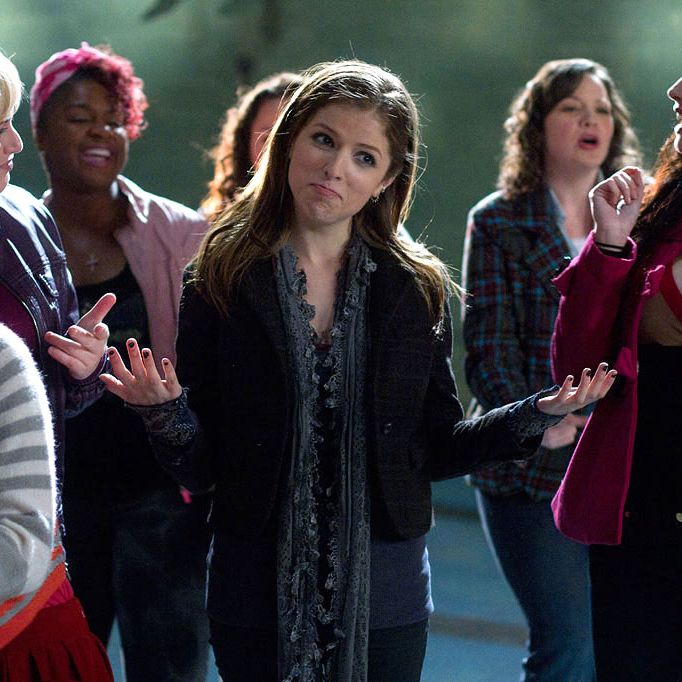 Photo: Peter Iovino/Universal Pictures
Before you have a chance to yawn at the old-hat premise — national performance competition, untraditional heroine who knows she'd bring new life to the act if she could overcome her institution's moribund ways — Pitch Perfect starts giving you the sweetest buzz. This a cappella college musical comedy, based on a nonfiction book by Mickey Rapkin, turns out to be the year's most exhilarating pick-me-up. The screenwriter, Kay Cannon, is an improv comedienne who also writes for 30 Rock, and my guess is she's so used to trying to top her colleagues that, left alone, she has to keep topping herself, with all that madcap invention carrying over into the singing and dancing. She has the perfect nervy, nerdy, needy alter ego in Anna Kendrick.
Twenty-six when she made Pitch Perfect, Kendrick at first looks too put-together for Beca, a college freshman who wants to be producing records instead of wasting time in school. But acting overly self-sufficient is part of Beca's problem, too, and Kendrick's mask of incredulity (as if to say, "What am I doing in a dingbat a cappella musical?") makes Beca's surrender to the music that much finer. Beca is used to working alone, making mixes on her computer. She doesn't want to put on a short, sky-blue dress and heels and warble "The Sign" behind Aubrey (Anna Camp), an authoritarian blonde who's so neurotically overcontrolled ("Aca-scuse me?" she will query dissenters) that she compensates by projectile vomiting. Ordinarily, Beca wouldn't be a candidate for "the Bellas," but the group had a bad previous year thanks to Aubrey's shaky stomach, and Aubrey and her sidekick, Chloe (Brittany Snow), have to lower their standards from "super-hot girls with bikini-ready bods" to anyone with two X chromosomes. Among the recruits is Aussie Rebel Wilson as "Fat Amy" — what the character calls herself so that, she matter-of-factly explains to Aubrey and Chloe, "you don't do it behind my back." A great joke: a layer of funny over a world of hurt.
Director Jason Moore is a Broadway hand (Avenue Q) who knows how to sell a number without assaulting the audience, and, right from the jump, he and a cappela "godfathers" Ed Boyer and Deke Sharon and choreographer Aakoman "AJ" Jones nail the tone: silly-exquisite, too hyperbolic to be straight, too emotionally pure and, well, pitch-perfect to be camp. Lisa Zeno Churgin's editing is brilliantly off the beat, Julio Macat's camera at just the right distance for us to savor all those different bodies — petite, fat, willowy, beefy — in motion. I wasn't looking forward to remakes and mashups of songs that make me long for deafness when my daughters blast Z100 in the car, but I was humming along with "Titanium" and "Don't Stop the Music" and even "Party in the U.S.A." (The soundtrack is a joy.) The cast includes a full-time songwriter, Ester Dean, who wrote Rihanna's "S&M" (which she sings a piece of), and the only thing wrong with movie's centerpiece — a "riff off" in which rival a cappella groups bring it on (and then get loaded and fall into bed) — is that it ends too soon. Pitch Perfect is the sort of overstuffed piñata in which even the bad guy sparkles: As Bumper, leader of the all-male Treblemakers, Adam DeVine is an overgrown baby swaddled in self-love.
There are so few clunkers in Pitch Perfect — even the attempt of Beca's Treblemakers suitor (Skylar Astin) to make her love movies by watching the end of The Breakfast Club has an emotional payoff. The device of ill-matched TV commentators is obviously swiped from Christopher Guest's Best in Show, but I loved every boorish misogynist interjection of John Michael Higgins and acid rejoinder of Elizabeth Banks (who co-produced the movie). Cannon doesn't go in for rococo hipster badinage in the vein of Diablo Cody. She can pare down a joke to its essence, as in all the shots of Lilly (Hanna Mae Lee), a Bella with a teeny-tiny mouth out of which comes sounds so faint even Horton couldn't hear them, or the frat boy who listens to the Bellas' first public performance and says, puzzled, "This makes my beer taste bad." Pitch Perfect made my soda taste aca-mazing.