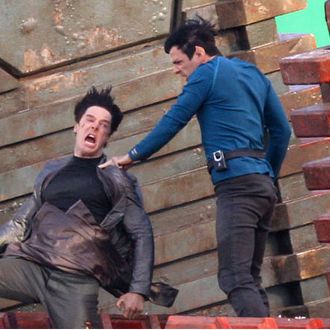 As super-fans continue to debate the meaning of Star Trek Into Darkness, the recently revealed title for J.J. Abrams's Star Trek sequel, everyone else should welcome it as the rare movie title not weighed down by distracting punctuation marks. Sure, the lack of a colon after Star Trek raises questions about parts of speech (is trek being used as a verb?), but it also makes this one of the few recent sequels to eschew dots and dashes. Remember, we're living in a time in which studios release movies called The Twilight Saga: Breaking Dawn - Part One. Naturally, there are exceptions to the anti-punctuation rule, but not many. Herewith, a non-comprehensive breakdown of the good, the bad, and the ugly of movie-title punctuation.
The good:
The Chronicles of Narnia: The Lion, the Witch, and the Wardrobe
Tora! Tora! Tora!
Dr. Strangelove or: How I Learned to Stop Worrying and Love the Bomb
Who's Afraid of Virginia Woolf?
The bad:

Percy Jackson & the Olympians: The Lightning Thief

Star Wars: Episode I - The Phantom Menace

Ballistic: Ecks vs. Sever

To Wong Foo, Thanks for Everything! Julie Newmar

Wallace & Gromit: The Curse of the Were-Rabbit

The ugly:

(500) Days of Summer

Waiting…

L!fe Happens