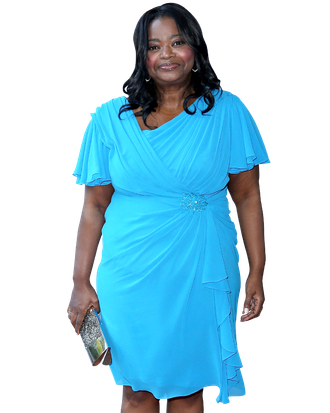 Octavia Spencer.
Photo: Alexandra Wyman/Getty Images
Octavia Spencer won a Supporting Actress Oscar for her work in The Help, and she's continued to stick to strong ensemble work since. First up, she's playing an AA sponsor in Smashed, a dramedy about alcoholism and addiction with a ridiculously stacked cast that includes Mary Elizabeth Winstead, Aaron Paul, Nick Offerman, and Megan Mullally. Past that, Spencer's already shot more supporting roles in films as varied as Diablo Cody's next comedy (with Julianne Hough and Russell Brand), the Joon-Ho Bong sci-fi drama Snow Piercer (with Chris Evans and Tilda Swinton), and the fact-based racial drama Fruitvale. So has Spencer's career gone like she thought it might after picking up that Oscar? Well, yes and no, as she told Vulture last week at the Toronto Film Festival, where she was promoting Smashed.
Were you a fangirl for anybody in the cast before you joined?
Oh my God. Well, I'm a huge fan of Aaron on Breaking Bad and of Mary, so when I heard they were doing it I said, "Absolutely! Sign me up." I found out about Nick and Megan afterwards. I'm a huge fan of both of theirs. I'm thrilled.
How much did you get to shape your character?
The beauty of having the writer and the director be the same person is that he's not married to the words. He liked us to kind of invoke our own personalities and our take of the character. That's the beauty of independent filmmaking, if you have the time, because the films are more character-driven. There are no explosions because they can't afford them.
And you get to have the camera on you for a long time when you talk!
[Groans, laughs.] Well it's a Catch-22, you know. That I could do without. But I really, really love that I got to be a part of this amazing project.
So what did you bring to the character?
The character was already there on the page to me, but I had to go back and fill in what type of addiction she had, the backstory. And the thing that's paramount in my mind was that she was transferring her addiction. She's no longer an alcohol and drug addict, she's a food addict. And she's okay with that. And I think for a sponsor to say, "Look, I did alcohol, I did drugs, and now I'm doing [food] and it's okay" … is it healthy? I don't know. It is commendable? Yeah, because it's honest.
This is the first project you shot after The Help came out, right?
I shot it after The Help came out, but I got the part before The Help came out.
While you were on set, did you have a sense that your career was in the middle of a big shift?
No, the reality for me was that I thought my phone would be ringing a lot, and it wasn't. And this project came along, and it was a great film, and it was [prior to] the success of The Help. Now, looking back, they get huge kudos from me. So no, because my phone wasn't ringing off the hook, I didn't feel like anything was changing.
Well, it must have started ringing at some point, because you have some pretty great projects coming up, like Diablo Cody's movie and Snow Piercer.
Well, the funny is thing is that I got the Diablo Cody movie and I got Snow Piercer before I got any nominations, so I knew I had both of those projects in November. I don't want to sound as if [I'm complaining]. The reality is that there are so few roles out there for women and for women of color, and I'm a character actor, this I know. And I'm getting to see more of the roles that are out there, but there aren't many. And zilch have been studio movies. Zilch. So my challenge and my opportunity now is to take the opportunity to create my own work. I'm fine with that.
So what you're saying is that you booked a lot of roles off The Help, but winning the Oscar — lovely though it may have been — wasn't necessarily a big needle-mover.
It's a needle-mover in the sense that I get to go into room and meet with really important people. If that translates into job offers, then we'll see. It's a needle-mover, but not that much.
It was a needle-mover in another way, at least: During the Oscar season, you wore — and I know you're going to be modest about this — a lot of gorgeous Tadashi Shoji dresses.
I'm not going to be modest: I did! [Laughs]
… And now everyone is wearing Tadashi Shoji! It's blown up.
I'm glad. What I love about Tadashi is that he isn't a designer that designs only for a double-zero. He designs for double-Ds, you know? Women of all shapes and sizes can wear him. I'm actually wearing him tonight to our premiere. He was amazing. He's my fashion muse and I'm going to keep wearing him.
What advice would you give to the stars who are about to embark on that Oscar gauntlet of press and promotion and parties, like you did last year?
See, for me, I've been doing this for seventeen years, so I just looked it as an opportunity to meet people and enjoy myself. I would say: Be kind to yourself, get rest, but go and enjoy yourself. Don't look it as a job, because if you go into it expecting anything and it doesn't happen, then you've lost a lot of time. If you go into it without a lot of expectations, you can enjoy the process and enjoy the fact the George Clooney's going to walk through that door, Brad Pitt's going to walk through that door, all these people that you ever dared to dream of meeting. I was always excited: Oh my God, there's George! I'll be right back, I'm going to say hi to George. That's how I took it, and enjoyed every moment of it.
Snow Piercer sounds exciting … do you know what it's going to look like?
Yeah, [Joon-Ho Bong] was actually cutting it while we're doing it. It's gonna be amazing. Chris Evans is ah-mazing. Tilda Swinton, ah-mazing. The director saw The Help and was a huge fan, and wanted me for the part.
You've been doing sci-fi, you've been doing drama. I'm assuming the Diablo movie is more of a comedy?
It's a dark comedy. It's in her vein.
So did you get some of that classic Diablo Cody dialogue to say?
You get a lot of that. There's no departure there. That's her signature; that's her voice, and she doesn't stray from that at all. Like all of her projects that she wrote, there's a journey that you go on, and somehow learn a little more about yourself. But it's funny and it is dark as hell. What I will say is you will see Julianne Hough in a way that you have never seen her before.
And what can you tell me about Fruitvale, where you play the mother of a real-life man who was shot in the back by police while unarmed?
Actually, when I read the script, I thought I'm not going to be the right person for this role. I'm going to be angry. This role requires more than anger, because the mother isn't angry in the film. I think people will go into it thinking, "Oh, it's gonna be a movie about blah blah blah." And it actually isn't. it's just documenting the last day of this young man's life. And knowing the story, knowing that the guy is going to be dead at the end of it — I was just really really angry, and I didn't know if I could get past the anger. Then I read it a second and third time and thought, Well, putting me aside — because I never try to put me in the headspace of the character — I realize that these types of occurrences are happening more than our society can handle, and the one way to draw attention to the fact and perhaps make people see their own behavior is to do a film and document it. And it's not being done in a preachy sort of way, or an accusatory way. It's just being done in an enlightening way, and I love what the writer-director did with it. I've worked with a lot of writer-directors.
Yeah, you have.
Joon-Ho Bong, Diablo, and now Ryan Coogler. And James, who wrote and directed Smashed.
And obviously Tate Taylor, who did The Help.
And Tate Taylor. Wow, I do enjoy the writer-directors! But the thing is, they know exactly what they want, writer-directors. I think that's why they gravitate towards me, because you have to know you want to work with me. When there are a few other actresses out there, you have to know who you want to work with, and these guys obviously, absolutely knew that they wanted to work with me, which is a good thing for me.