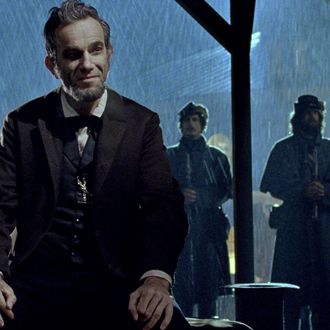 Every week between now and January 10, when the nominations are announced, movies and stars will help themselves — or sometimes, hurt themselves — in the Oscar race. Vulture's Oscar Futures will listen for insider gossip, comb the blogs, and out-and-out guess when necessary to track who's up, who's down, and who's currently leading the race for a coveted nomination.
Best Picture

Lincoln
The trailer confirms that this movie could have been designed in an Academy lab. But will screenwriter Tony Kushner be able to bring some swerve to the project, or will it be a straight-up, impressively lit hagiography?

The Best Exotic Marigold Hotel
During our deeply dire summer movie season, it looked like this Judi Dench sleeper might have a shot at a Best Picture nomination. But with more prestigious product coming, if Oscar voters have to choose between the acclaimed summer trio of Marigold, Moonrise Kingdom, and Beasts of the Southern Wild, we think Beasts will have the edge.
Current Predix
Amour; Argo; Beasts of the Southern Wild; Les Miserables; Lincoln; Silver Linings Playbook; Zero Dark Thirty
Best Director

Tom Hooper (Les Miserables)
Have you seen that recent video where Hugh Jackman and Anne Hathaway are falling at their feet to praise Hooper's innovative way of shooting Les Miz live? Yeah, he's in.

Kathryn Bigelow (Zero Dark Thirty)
Bigelow won in this category last time she made a movie, yet she's weirdly underrated by most Gold Derby pundits, who are taking a wait-and-see approach to her under-wraps Hurt Locker follow-up.
Current Predix
Ben Affleck (Argo); Michael Haneke (Amour); Tom Hooper (Les Miserables); David O. Russell (Silver Linings Playbook); Steven Spielberg (Lincoln);
Best Actor

Anthony Hopkins (Hitchcock)
Welcome to the party, Sir Anthony. Hopkins as Hitch promises to be a juicy match of actor to role, but this category may be tough to crack …
Bradley Cooper (Silver Linings Playbook)
… And that's why we worry for Bradley. He's stardom-cementingly great in Silver Linings, but the Best Actor category is stacked with literally transformative performances. Will there be room for his no-singing, no-prosthetics role?
Current Predix
Daniel Day-Lewis (Lincoln); John Hawkes (The Sessions); Hugh Jackman (Les Miserables); Joaquin Phoenix (The Master); Denzel Washington (Flight)
Best Actress

Jennifer Lawrence (Silver Linings Playbook)
Conventional wisdom has it that she's the frontrunner in this category. Most actresses wouldn't want to bear that burden so early … but it's a strong performance and there isn't much coming down the pike to usurp her.

Naomi Watts (The Impossible)
Both Watts and Amour's Emmanuelle Riva have deceptively difficult performances to give as ailing mothers. But now that Hitchcock's Helen Mirren may be entering the race, we can't help but feel that Watts (who's off-screen for whole swaths of The Impossible) is the vulnerable one here.
Current Predix
Marion Cotillard (Rust and Bone); Jennifer Lawrence (Silver Linings Playbook); Helen Mirren (Hitchcock); Emmanuelle Riva (Amour); Quvenzhane Wallis (Beasts of the Southern Wild)
Best Suporting Actor

Philip Seymour Hoffman (The Master)
Hoffman is nearly a co-lead and could easily swamp his competitors. As indelible and dangerous as Joaquin Phoenix is in the film, his most memorable scenes are opposite Hoffman.

Bryan Cranston (Argo)
It's always good to see Cranston, but if anyone's getting nominated from this movie, it's Alan Arkin. (And after that, John Goodman.)
Current Predix
Alan Arkin (Argo); Russell Crowe (Les Miserables); Leonardo DiCaprio (Django Unchained); Philip Seymour Hoffman (The Master); Matthew McConaughey (Magic Mike)
Best Suporting Actress

Amy Adams (The Master)
This Academy-friendly perennial is picking up additional strong notices for her work in Trouble With the Curve.
Jacki Weaver (Silver Linings Playbook)
Weaver and Robert De Niro do a good job as Bradley Cooper's parents in this crowd-pleasing dramedy, but Weaver (nominated for Animal Kingdom) doesn't get quite as much to work with.
Current Predix
Amy Adams (The Master); Samantha Barks (Les Miserables); Sally Field (Lincoln); Anne Hathaway (Les Miserables); Helen Hunt (The Sessions)