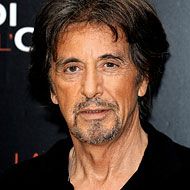 Pacino.
Photo: Pascal Le Segretain/2008 Getty Images
Well, this was inevitable: ICM Partners will begin shopping a movie about the Penn State scandal next week, reports Deadline. Al Pacino is said to be attached to star as the late Joe Paterno in the project, which is based on Joe Posnanski's current New York Times bestseller Paterno, a biography of the beloved and disgraced football college coach. While the book is a comprehensive chronicle of Paterno's life and career, it seems likely that the movie will focus heavily on the events of the last year, when he became a household name due to his failure to take appropriate action against defensive coordinator Jerry Sandusky, who he knew to have sexually abused participants in a Penn State-affiliated program for underprivileged kids. 
Unsurprisingly, Paterno's supporters — and many still remain — are unhappy about the idea: Deadline's Mike Fleming claims that since he originally posted the story, "some claiming to have clout in Hollywood" have already emailed to "say they will try to squash this project." However, they're unlikely to succeed — though the film still doesn't have a script or a director (Pacino's manager Rick Nicita will produce), a story like this is sure to be snapped up quickly.