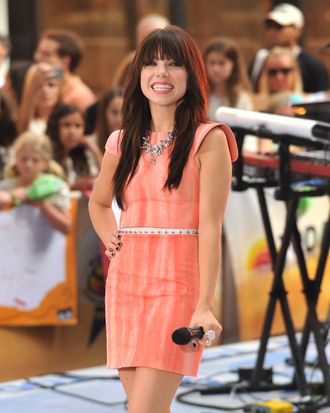 Carly Rae Jepsen performs on NBC's "Today" at Rockefeller Plaza on August 23, 2012 in New York City.
Photo: Theo Wargo/Getty Images
So how did Carly Rae Jepsen's new album sell on its first week in stores? Just … okay. Kiss debuted at No. 6 on the Billboard 200, with 46,000 copies sold. That put her behind Pink's The Truth About Love (No. 1, at 280,000); Kanye and crew's Cruel Summer (No. 2 at 205, 000); and the Killers' Battle Born (No. 3 at 113,000). But she beat out Grizzly Bear and Ben Folds Five, so, small victories.