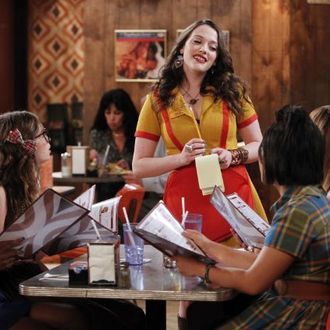 The new fall season has officially begun! All this week, Vulture will be breaking down how the networks' new and returning shows fared in their first at-bats of the year. First up: Monday.
What clicked
Replacing Two and a Half Men in the 9 p.m. slot, Michael Patrick King's 2 Broke Girls got off to a solid start Monday, despite some handicaps (more on that later). The show's sophomore premiere averaged 10 million viewers and earned a 3.7 rating with adults under 50. It was the top scripted series on the night in the younger demo and averaged just a tad below what Men had been pulling in last spring in said demo. NBC's Revolution is also delivering encouraging Nielsen numbers: Its second episode was down an acceptable 15 percent vs. its premiere among viewers under 50, and it easily trounced ABC and CBS in the hour. (The Peacock also released data showing Revolution scored the biggest DVR bump of any new series ever, with its ratings rising more than 35 percent in just three days.)

What didn't
Critically trashed comedy Partners (6.5 million, 2.4 demo) crashed and burned in its debut outing. While it didn't help that lead-in How I Met Your Mother (8.7 million, 3.4 demo) had its lowest-rated season opener in five years, Partners lost nearly 30 percent of the HIMYM audience and gave CBS one of its least-watched 8:30 p.m. Monday half-hours in years. Over at ABC, not even bringing back past contestants could boost viewership for Dancing With the Stars. The show still does well with older folks (hence its night-winning audience of 14.5 million viewers), but among those under 50, the show managed a weak 2.7 rating. That's down 33 percent from last fall and the show's lowest-rated opener ever. Over at Fox, The Mob Doctor (4 million, 1.3 demo) continues to flatline. And CBS execs might want to change the name of their 10 p.m. drama to Hawaii Five Uh-0: The island cops began season three with less than 9 million viewers and a 1.9 rating with those under 50, down 44 percent from last fall and the show's least-watched episode ever.

Instant Analysis
It was not a good night for CBS, despite the nice debut by 2 Broke Girls. HIMYM is clearly showing signs of age (though compared to most other 8 p.m. comedies, it's still a giant), and Partners' performance was just embarrassing for a network as well-managed as CBS. It's possible the Eye will give the show another week to turn around, but don't be surprised if repeats of The Big Bang Theory (or some other CBS comedy) pop up in its place well before Halloween. Fox might also be mulling some moves on Mondays after another weak showing by Mob Doctor. The newbie will either be sleeping with the fishes or exiled to Fridays in short order; expect either Gordon Ramsay's Hotel Hell or Keifer Sutherland's Touch to take over the 9 p.m. timeslot soon. ABC is also in trouble on Mondays, though the situation isn't exactly a crisis: DWTS still gets lots of viewers, but the show's incredibly old skew just doesn't fit with the rest of ABC's young female target (though the competition series remains strong with women 25–54). As for NBC, while adding an extra edition of The Voice in the fall has weakened the show overall — last night's sixth episode was down a whopping 32 percent vs. the same episode last spring — the shift has turned NBC from also-ran on Monday to the No. 1 network on the night. While it'll be interesting to see if the sci-fi premise of Revolution can hold up over time, for now at least, Peacock suits can be proud.