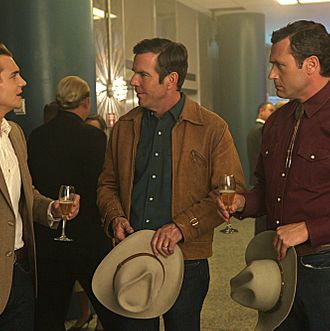 Photo: Lorey Sebastian/CBS Broadcasting
What clicked

CBS's Vegas had the night's best debut: The cowboy crime drama notched 14.7 million viewers and averaged a 2.5 rating with viewers under 50. While the show skewed older than the premiere of last year's Unforgettable, in terms of overall audience, the Eye says Vegas is on track to be its biggest 10 p.m. drama debut since Judging Amy a decade ago. As noted earlier, Mindy got off to a decent start behind New Girl, holding on to about 90 percent of the latter's lead-in and doing very well among the females 18–34 that Fox is targeting with its Tuesday comedy block. (Of course, Fox's overall Tuesday performance is down sharply from last fall; more on that below). NBC continues to have some mini-momentum: Among viewers under 50, The Voice dominated ABC's Dancing with the Stars at 8 p.m. and came close to tying CBS's NCIS. That helped Peacock newbie Go On do decently at 9 p.m.: While it declined 20 percent from last week, its 2.7 demo rating tied The New Girl. As ever, NCIS and NCIS: Cool J crushed all comers in overall audience, with the former reaching over 20 million viewers. Both shows won their respective hours among adults under 50.


What didn't

Great reviews weren't enough to get viewers to check out Fox's Ben and Kate (4.2 million, 2.0 demo). Despite a special New Girl lead-in (2.7 demo), the sibling sitcom lost more than 25 percent of that audience. As for New Girl, its numbers were dramatically lower than last fall — almost 50 percent lower, if you're counting. But that's not a total shocker, since Zooey and Friends was one of last fall's biggest premieres and began last year behind Glee. When Fox tried out New Girl sans Glee last spring, the show did roughly the same as it did last night; what's more, NBC is now in the comedy game on Tuesdays (with ABC jumping in next month). NBC's New Normal hit a speed bump this week: While it only dropped 9 percent from its last episode, the show is retaining barely 75 percent of its lead-in. Not awful, but Normal might not be the best fit with Go On. Meanwhile, Dancing with the Stars (11.5 million, 2 demo) continues to struggle with anyone under 50.

Instant Analysis

Fox execs have been privately predicting that their new Tuesday comedy block wouldn't be an instant home run, and that certainly seems to be the case. The numbers last night were far from awful, but they weren't great either ("soft" is how some of the Hollywood trades are characterizing them today, and we'd agree). Things figure to only get tougher next month when ABC joins the comedy fray with Happy Endings and Don't Trust the B. But the good news for Fox is that its comedies are doing very well with women under 35, and while that might not be where the bulk of the ad dollars are, it's historically been the most important demo building block for Fox. As far back as the days of Beverly Hills, 90210 and Party of Five, the network has tended to build hits on the backs of under-35s, then broaden out. On the other hand, there's a case to be made that Fox is forcing New Girl to grow up before it's ready; in an ideal world, the show would be getting a Glee or X Factor lead-in for another season before being drafted to anchor a four-comedy block. Elsewhere, NBC has to be happy about its early Tuesday performance: The Voice, while down from last spring, has made the network a player on Mondays and Tuesdays this fall, and it seems to be giving Go On some time to find and build an audience. New Normal needs to stabilize in the weeks ahead; last night's relatively small week-to-week decline is a good sign. As for CBS, the hardiness of the NCIS franchise never ceases to amaze. The 8 p.m. mothership had its second-most-watched premiere ever last night, drawing almost 60 percent more viewers than the show's Sept. 23, 2003 series premiere (13 million). What's more, NCIS is a spin-off of JAG, which averaged just under 12 million viewers during its first season on NBC … back in 1995. Seventeen years later, NCIS is regularly pulling in nearly twice as many viewers, despite exponentially more competition and the advent of DVRs. Damn!