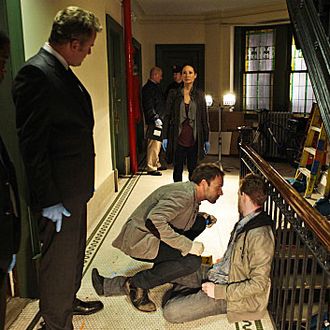 Photo: Giovanni Rufino/CBS
What clicked

CBS's Elementary got solid reviews from critics and a strong response from viewers: The new twist on the Baker Street badass opened with 13.8 million viewers and a 3.1 rating with viewers under 50 at 10 p.m. last night. It dominated it timeslot with demo numbers 10 percent better than how The Mentalist performed in the same timeslot last fall. It also built upon its 9 p.m. lead-in, Person of Interest (14.3 million, 2.9 demo); while POI had more viewers than its fall 2011 bow, it was actually down a tick from last year's opening demo rating of 3.1. CBS had a strong night overall, with The Big Bang Theory (15.3 million, 4.8 demo) still a juggernaut at 8 p.m. and Two and a Half Men (12.3 million, 3.5 demo) doing sharply better at 8:30 than last fall's post-Bang flop How to Be a Douchebag Gentleman. Fox, meanwhile, has to be pleased with the relative hardiness of The X Factor (9.2 million, 3.2 demo): The singing show was a solid second from 8–9 p.m. and barely declined vs. its week-ago rating opposite much less intense competition. Over at ABC's, Grey's Anatomy (11.5 million, 4.3 demo) was not only up vs. last fall but delivered its best numbers since March 2011. Given how many returning shows are returning to lower numbers this year, Shonda Rhimes has a right to be beaming today.


What didn't

Over at ABC, it brings us no joy to report that while Last Resort did okay in overall viewership (9.1 million), its 2.2 demo rating was just a tick higher than last year's timeslot bomb, Charlie's Angels. ABC's had no luck in this timeslot for years (remember My Generation two years ago?), so this number isn't a disaster. It just isn't cause for celebration. Likewise, despite a summer of buzz, Scandal managed only a 2.2 demo rating, losing almost half its Grey's audience. While that's up 10 percent from last spring's debut, it's not the stuff of which hits are made. Finally, NBC's Thursday night is pretty much a disaster. We don't have reliable data to report just yet because two big Peacock affiliates (in Cleveland and Baltimore) opted to preempt network programming for football). There's a good chance, however, that when the actual numbers are out, the only show to even crack a 2 demo rating will be The Office; in terms of overall viewership, none of NBC's shows will likely get above 5 million viewers.

Instant analysis

CBS's rejiggered Thursday lineup won the night in viewers and demos; that's always good. What's more important is that BBT is still red-hot and the network has improved its 8:30 and 10 p.m. timeslots thanks to Men and Elementary. You don't need to be Sherlock to figure out that this is all very good for the Eye. Fox also has to be a bit relieved: While Glee (6 million, 2.5 demo) fell 14 percent from last week (blame Grey's), the pairing with The X Factor seems to be working out okay. Early DVR data also indicates Glee is getting a massive (as in 40 percent) boost from DVR viewership. Over at ABC, Grey's remains a Thursday night island: ABC's numbers at 8 and 10 are far from disastrous, but they're not good, either. Finally, as much as we love NBC's Thursday comedies, the network's decline on the night is nothing short of breathtaking. "Come on," you might be thinking. "NBC's suffered low ratings here for a while now. Is this year much worse than last year?" Well, yes: During premiere week 2011, The Office had nearly 8 million viewers and flirted with a 4 demo rating, while Whitney came close to 7 million. Now, 5 million  is considered a good night. Fact is, NBC's once signature night is now filled with shows which draw smaller audiences than big shows on USA Network and MTV. Blerg.