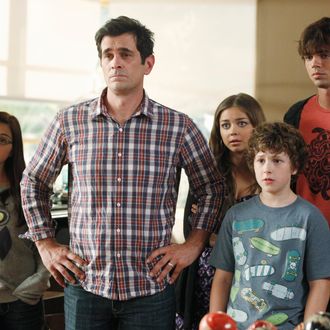 Photo: Peter "Hopper" Stone/ABC
What clicked

As Sunday's Emmy sweep underscored, ABC's Modern Family remains a phenom even in season four. And Nielsen agrees: Last night's opener attracted over 14 million viewers and notched a 5.5 rating with viewers under 50. The latter figure reps a scant 8 percent year-to-year decline, which is pretty incredible given the show's age and the declines some other big sitcoms have been experiencing this fall. What's more, MF is one of TV's biggest DVR gainers, which means the show's actual audience was probably much bigger than these overnight numbers show. Wednesday was also a good night for Fox's The X Factor (9.4 million, 3.3 demo), which managed to hold on to 94 percent of last week's audience, despite much tougher competition. The show will likely never be the smash hit Simon Cowell wanted (and Fox needs), but it is at least a solid utility player which allowed Fox to claim a Wednesday victory among viewers under 50. CBS's Survivor (10.2 million, 3.0 demo) also continues to impress, winning the 8 p.m. hour in viewers and finishing a strong second with younger viewers. Finally, there's The Neighbors (9.3 million, 3.3 demo). It lost roughly 40 percent of its MF lead-in and finished behind the final half-hour of X Factor in the demo. So why is it in our "clicked" section? Because its performance was on par with what Happy Endings did in the slot last year, and last night's airing was really just about getting viewers to "sample" Neighbors before it shifts to its regular 8:30 p.m. slot. That mission was accomplished.


What didn't

On the other hand, The Neighbors lost 40 percent of its lead-in and did no better than Happy Endings, a show which ABC has shifted to Tuesday because it doesn't make sense on Wednesdays. This cannot be described as a "good" result for a show which ABC chief Paul Lee had pegged as his best new comedy of the season, and which execs had privately hoped would turn into a high concept hit for the network. (By contrast, while Fox's The Mindy Project had much lower ratings than Neighbors, it held on to nearly 90 percent of its lead-in. That matters in TV, folks.) Lee sort of conceded defeat a few months ago, when he reversed his original plan of making Neighbors the regular timeslot companion to Modern Family. Wednesday's performance indicates Lee made the right move shifting the show to 8:30 p.m. Indeed, it's possible Neighbors could yet prove to be a solid performer in that less-high-profile slot, where the ratings bar is much lower; if it does anywhere close to last night's numbers at 8:30, ABC execs will be overjoyed. Meanwhile, Wednesday's biggest losers were NBC's new comedies Animal Practice (5.2 million, 1.4 demo) and Guys With Kids (4.7 million, 1.6 demo). The former was way down from what Up All Night did in the slot last fall, while the latter barely did better than last fall's instant flop Free Agents. They hurt Law & Order: SVU (7 million, 2.1 demo), which began its fourteenth season with its lowest premiere numbers ever.  

Instant analysis

It's probably wise to avoid drawing too many conclusions from last night's numbers, since ABC has't really rolled out its full lineup yet. But it's not too soon to declare NBC in trouble on Wednesdays. The Peacock actually has a good story to tell this season, with Sundays, Mondays, and Tuesdays all in decent shape, especially compared to where the network has been. But NBC's Big Mo looks to come crashing to a halt on Wednesdays, with the night's comedy numbers likely to be downright ugly now that ABC is back in the game. NBC could shift Whitney or Community (or both) from Fridays to Wednesdays, as we've suspected, though it's not clear that either show would do that much better than the newcomers. CBS and Fox, meanwhile, don't have blockbuster numbers on Wednesdays, but they're solid and steady, which could prove to be a good thing long-term as both ABC and NBC make significant shifts on the night.