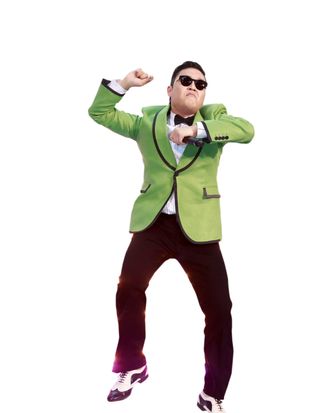 Photo: NBC NewsWire/Getty Images
We hope that each virus might immunize us from the next one, but then something like "Gangnam Style" happens. It was an instant hit when South Korean rapper Psy released the video to YouTube on July 15. Within a couple of weeks, the clip — in which the portly Psy struts and gallops through Seoul's poshest quarter, playing Korean-pop video tropes for psychedelic camp — had colonized the rest of the world too. Is "Gangnam Style" any good? Anything involving a pompadoured 5-year-old channeling Michael Jackson is probably good. But there's a point, somewhere between the 10 millionth view on YouTube and the appearances on Ellen, Saturday Night Live, and the Today show, when such a question becomes irrelevant.
To underscore the accident of "Gangnam Style": Prior to all this, Psy — who grew up in South Korea but attended Boston University and Berklee College of Music — was a bit player in the world of K-pop. Polished, ballad-driven Japanese and Chinese idols ruled the region from the eighties on, and K-pop could have easily remained a minor tributary in the Asian music scene. But it emerged in the early nineties as something distinct: Under its sleek angles, R&B hooks, and dance beats, K-pop was omnivorous to the point of all-at-once, Technicolor delirium. Today, the influence of Korean pop culture throughout Asia interests Lou Pearlman–type aspirants, economists, and politicians alike.
Which makes the song's triumph beyond Asia so fascinating. Many of Psy's 264 million (as of this posting) views came from the United States. There are the aspects of the video that translate well through any screen: the eccentric fashions and swirling visuals, the horseback-drummer dance steps and seemingly absurd set pieces, the sense that the song's vigorous euphoria is the attempt by someone who's never been on uppers to imagine what that must feel like. As a circa-2012 dance tune, it rations out its drama with loud-quiet-loud efficiency, the wall-of-buzz-saw wallop giving way to Psy's brash-in-any-language sneers.
What makes "Gangnam Style" unique is its acerbic, self-aware edge, which is something of a novelty in earnest, unsarcastic K-pop. And just as someone who is garishly dressed can still com­municate a sense of style, one doesn't need to understand a word of Psy's raps to recognize that he's sneering for a reason. Gangnam, as many have pointed out, is an actual place, a style-obsessed, nouveau riche neighborhood of Seoul that Psy is simultaneously saluting (kind of) and mocking (mostly). Not quite a call to class warfare, but when you're not from Gangnam, maybe satire, irony, and swagger are the only strategies left to you.
There's always been something campy about East Asian pop culture — the TV hosts whose only currency is total eccentricity, the over-the-top melancholy of the soap operas, the context-less pastiche of styles. Psy claims that the "Gangnam Style" video, full of hyperlocal imagery and reference points, wasn't engineered for worldwide domination. It was made for kids who would just think it was funny and awesome, not strange and exotic. But maybe that distinction is meaningless now. Psy recently signed on with Scooter Braun, Svengali of Biebermania, and you wonder whether the subtlety of "Gangnam Style" will merely become a career-long sight gag. At the very least, you hope he isn't forced to lose his freshman fifteen.
An Anatomy of Where Psy Gets His Material, by Sam Lansky
The Moves
The simplest choreography in videos by five-piece boy band Shinee (below) would put even the best Western dancers to shame: Complex moves are a prerequisite for K-pop stardom. But Psy outwits the genre's standard gymnastics with moves as memorably stupid as the Macarena.
The Excess
Compare "Gangnam Style" with Girls' Generation's glossy, grit-free videos, where everything is slickly over-the-top expensive. With Psy's pastel suits, red Benz, and stabled Thoroughbreds, "Gangnam Style" hyperbolizes the genre's flash.
The Scenery
The breakneck pacing of "Gangnam Style" has a precedent in the diverse, madcap imagery of videos by girl group 2NE1. But the quick cuts in Psy's video from one dramatically vivid set (horse stable, boat, party bus) to the next (spa, wind tunnel, bathroom stall) take that hyperactive flamboyance to the next level.
The Physiques
"Gangnam Style" opens with Psy lolling on a beach, making clear that he's a man of leisure. His huskiness, a sharp contrast to the ranginess of bands like South Korea's TVXQ, suggests a slightly less steely work ethic than that of most K-pop acts.
The Youth
At 34, Psy is older than most Western pop stars—but he's way older than most K-pop stars, like the ones in Chinese-Korean supergroup EXO, composed of a dozen fresh-faced young boy-banders in their teens and early twenties.
The Special Guests
Celebrity cameos are a hallmark of K-pop videos, and Psy shoehorns plenty into "Gangnam Style," including
the guys in the elevator and the sports car (both South Korean TV personalities) and Hyuna, Psy's dancing love interest, who had her own viral hit last year with the clip for her song "Bubble Pop."