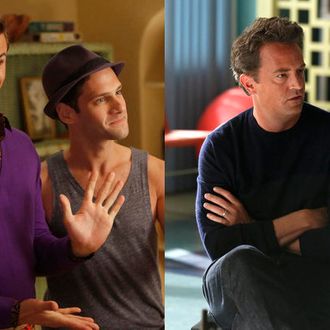 It's still early, but NBC has reason to be hopeful about its new Matthew Perry comedy Go On. Following several airings of its pilot, the show made its official time period debut Tuesday behind The Voice, and it did quite well. Per Nielsen, Go On drew 9.6 million viewers and, more importantly, earned a 3.4 rating among adults under 50. That made it the Peacock's most-watched comedy premiere since 2002's My Name Is Earl (another great show prematurely killed by Jeff Zucker mismanagement, if you're keeping score) and NBC's best demo performance by a debuting comedy since 2009's Outsourced (no comment).
Go On was boosted by lead-in The Voice (11.3 million viewers), which continues to show signs that it has quickly transformed itself from ratings phenom to run-of-the-mill "decent hit" status, with ratings down double digits from last season's early episodes. If The Voice fade-out continues, Go On will likely have to make due with lower lead-ins in coming weeks, not to mention increased competition once New Girl, Happy Endings, and NCIS: LA return. But for now, people are actively sampling Go On, which is a good thing (unless, of course, they don't like the show).
The news was less encouraging for Ryan Murphy's The New Normal. After an okay preview airing Monday, Tuesday's official debut attracted 7 million viewers and earned a 2.5 with adults under 50. It lost about one-quarter of its Go On lead-in, which ordinarily wouldn't be a terrible thing; given the lack of competition around the dial last night, however, it indicates the show isn't attracting much viewer curiosity. Or, perhaps, everyone decided to DVR it and watch later: We might as well point out here that these are simply overnight numbers, and in a world of DVRs, middling numbers like those posted by Normal could end up looking much better once all data is in. (It's much easier to make snap judgments about shows which totally bomb or soar in overnights). Finally, one last Nielsen note from Tuesday: Parenthood (5.6 million viewers) did what it does.