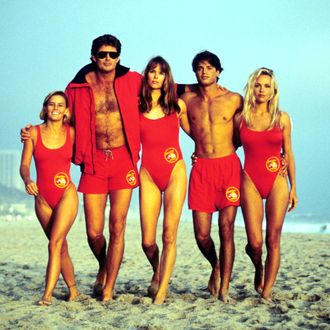 Photo: Everett Collection
Summer may officially be over tomorrow, but that doesn't mean you shouldn't grab your rescue can and head for the beach, anyway: Our spies tell us that Reno 911! co-creator and star Robert Ben Garant will direct Paramount Pictures' comedy adaptation of the David Hasselhoff–Pamela Anderson series, Baywatch, doing for that long-running series what Reno 911! did for COPS.
The script is courtesy of Peter Tolan (creator of Rescue Me), who only a year ago had said that his take on the material was more akin to Stripes than the self-serious syndicated series' mien, which makes sense, since Baywatch is being produced by Stripes director Ivan Reitman. Less clear is what Ben Garant's arrival means for the Tolan script, as Ben Garant is also the screenwriter of Fox's Night at the Museum franchise and may have ideas of his own.
In the meantime, Ben Garant is in post-production on Hell Baby, a macabre comedy he co-directed and co-wrote with his old Reno 911! co-creator and co-star, Thomas Lennon; in it, Lennon and Leslie Bibb play an expectant couple whose new home is haunted by a demonic baby.