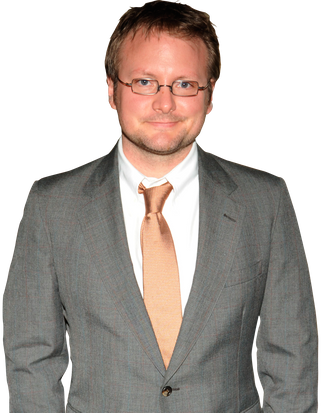 Rian Johnson.
Photo: Billy Farrell/PatrickMcMullan.com
Rian Johnson gave Joseph Gordon-Levitt one of the first significant roles of his post-sitcom career with the 2005 high-school noir Brick, and now the director and star have reteamed for Looper, an ambitious, heady time-travel flick where Gordon-Levitt plays a young Bruce Willis with the help of some convincing (yet unnerving) prosthetics. It's a muscular bit of filmmaking, but it's also got brains and a soul, and the film ought to do for Johnson what the last year has done for Gordon-Levitt: vault him to an upper of echelon of Hollywood talent. We sat down with the director last week to discuss the tricky nature of time travel, sensitive Dark Knight secrets, and the downside to helming two acclaimed episodes of Breaking Bad.
Both Bruce Willis and Jeff Daniels have lines in this movie that essentially say, "Don't think too much about the particulars of time travel, or your brain will hurt." Is that a directive to the audience, or is it born from your frustration as the screenwriter who's got to sort all this out?
[Laughs.] A little bit of the second one. I hope that to a certain extent I'm speaking for the audience there, too. We don't really want to hear a twenty-minute blackboard scene where everything is explained to us, but it's odd because, as a sci-fi nut myself, I'm always nervous that those lines will be interpreted as an excuse to get messy with it. I did chart it to make sure everything works, but really, time travel does not make sense. If you dig deeply into anything where the character goes into the past, you're going to hit a wall where you say, "This doesn't exactly work." So as a storyteller, your job is to fool the audience, for lack of a better word, into believing in it for two hours.
You put Joseph Gordon-Levitt in a lot of prosthetics to look more like Bruce Willis. Did you ever think of tweaking Bruce's look, too, or did the financiers forbid you from messing with Bruce's face?
We considered it briefly, but there were logistical reasons why it wouldn't have made sense to have both of them do makeup. It was such a huge thing even just to have Joe do it, because it was three hours every morning to put that face on. But also, everyone knows so well what Bruce looks like and sounds like on film — almost the same way we know our mother's voice, we know what Bruce Willis sounds like — so not only would it have been odd to change that, but it gave Joe handholds to grab onto for his performance. Since Bruce is so recognizable, we wanted to use that instead of fighting it.
Even Emily Blunt looks a bit different in this movie, with her honey-colored hair and tan.
Basically, the whole movie was a makeover montage. [Laughs.] "I'm coming out …" That's the montage song, right? But Emily showed up on set like that, blond and tan with this accent she learned from watching Chris Cooper movies. Joe is the obvious transformation, but Emily is no less of a transformation. She looks so different than she ever has before, and she nails that accent.
You've been friends with Joseph Gordon-Levitt ever since the two of you made Brick. So, did he spoil the end of The Dark Knight Rises for you?
He didn't tell me shit! He didn't tell me a single thing. He knew better. I think he knew he would get a cell-phone bomb from Chris Nolan. But I did send him a 3 a.m. text after I saw the first midnight show, saying, "You bastard." [Laughs.]
Bruce Willis has a reputation for being tough on his directors at times, but you say that wasn't the case here.
No, he was incredibly easy and awesome, and I realized that from the first moment he showed up on set. In a cast full of easy actors, he was maybe the easiest actually. If you imagine the dream scenario of working with the Bruce Willis you grew up watching in movies, it was that. He's a serious guy and really understated, so it's not like there's a lot of joking around on set, but there was this fun feeling that we were all doing good work. And he was so concentrated on the work, to the degree that the part of me that was intimidated to work with him just disappeared when we showed up on set, because it was like working with a great actor who's trying to get at the heart of each scene.
You've directed two episodes of Breaking Bad, a show that you're a fan of. But when you come in as a director for hire, and you have to learn where your episode takes place in the season, does part of you regret spoiling yourself?
Oh yeah, totally! As great as it would be to work with those guys again, that's part of why I'm glad to not be doing one of the final eight episodes, since I get to just watch it as a fan. This season wasn't too bad because I did the fourth episode and only had to read up 'til there, so for the back half of the season, I didn't know how it was going to end. Although I guessed it! I think everybody did, though.
So, you get to read all the scripts that precede your episode?
Yes, but a horrible thing happened this season, because even after I did episode four, for a while, I was still on their automated system where they kept e-mailing me the scripts for five and six. I didn't read them! It was like radioactive material. But I managed to stay clean. Also, just as a fan of the show, it's surreal to show up on set and do my morning crossword at Walter White's kitchen table. Or you're sitting there talking to Bryan Cranston, who looks like this character that you're a fan of. It's something you never get to experience with a movie, because by the time you're a fan of it, all that stuff is gone.
I have to assume that studios are offering you big comic-book movies.
There's always conversations. It's flattering to be in that circle of people who are thought about for those things, and I'm a big fan of those movies, so it's fun to talk about them. Right now, I'm focusing on writing my next film, and it's an original thing I'm working on. Not that I'd shut down the possibility in the future, but I'm in this spot right now where I can get these original movies made, and that's not going to last forever. As long as that's happening, I want to get as many of my own things made as possible.