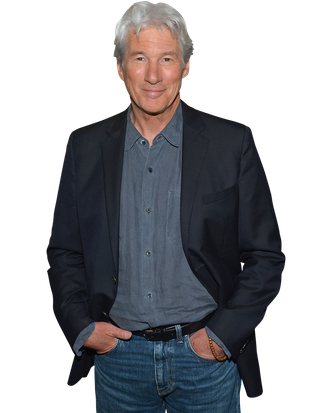 Richard Gere.
Photo: Mike Coppola/Getty Images
At the age of 63, with more than 40 films under his professional belt, Richard Gere is now the focus of some serious Oscar buzz (he's never even been nominated before). In Arbitrage, Gere plays a morally impaired Wall Street wizard whose shady manipulations threaten to capsize his deluxe lifestyle and rain down ruin upon his society wife (Susan Sarandon) and protégé daughter (Brit Marling). It's an unexpectedly free performance that's also tightly controlled. The actor has been slagged in the past for perceived self-infatuation as an actor, but when Vulture talked to him, he was generously complimentary about his co-stars and first-time feature director Nicholas Jarecki. He was even game to reminisce about Pretty Woman, which makes us love him all the more.
What do you make of all the awards buzz for this film?
You know, I've heard some, but they don't tell me everything, because I don't really want to hear it all, to be honest. I hear every three or four years, "This is the best performance he's ever done. Where's he been? What's he been doing?"
Well, they're recognizing your body of work. It's a career achievement.
I'll take it that way. I call them the dinosaur awards. You get to a certain age, and you've made so many films, they figure, "Who else can we get? Oh yeah, him." I think this all started about four or five years ago, when they put together this wonderful clip reel of my bits and pieces in San Sebastian. First of all, you're seeing yourself, and you're just flooded with memories, because I've been doing this, making movies, since I was what, 26? I think that's when I started. So what is that now? 37 years, almost. Is that possible? [Laughs] They did a really good job of it, too, at San Sebastian. To see the work — and obviously they used the good stuff — you're seeing stuff you're really proud of, from over a long period of time, I found it incredibly moving. It surprises me when I see the list of movies I've made.
If you do get an Oscar nomination, and if you win, it will be the first time in twenty years that you'll be on that stage.
[Breathes out] Has it been that long? Yeah, I think the last time I went — and you're right, I wasn't on the stage — was when Chicago won all those awards, and I was the only one who was not nominated in the entire cast. Whatever. I loved the film, I was happy to be there, and be part of the circus that was around the movie. But twenty years already? Wow. Okay.
When you presented the award for art direction in 1993, you went off-script and pleaded for China to have some love and sanity towards Tibet. If you win, would you want to use the occasion to make a similar plea?
I don't know. [Laughs] It hasn't happened yet. But I'm more interested now in the similarities between the Chinese people and the Tibetan people, both of them. They're fighting for the same thing: rule of law, basic rights, to get out from under a really oppressive Communist party. Still. The Chinese people were fed so many horrible things about the Tibetan people, they thought they were just animals, but now they know that's not true. Things are changing rapidly in China now. You can see it's disintegrating. The tenacity of the party trying to hold onto power now feels like the last gasp. It's on its way out.
This film marks the second time you've been married to Susan Sarandon.
She apparently has to marry me every time! She can't be the mistress. She has to marry me. [Laughs]
Did it take much convincing to work with a first-time director?
Yeah, because that was a real issue. I read the script on a plane, and the first phone call I made when I got off was, "What's the story with this?" So at one of our first meetings, Nick and the first few producers and I were sitting in my restaurant [in upstate New York], and Michael [Douglas] and his wife [Catherine Zeta-Jones] came down and sat down at the table next to us. One of our producers, Laura Bickford, had produced Traffic, and they came over to say hi to Laura, and I felt like that was a vote of approval for her. So at that point, I started focusing on Laura: "You got to be the adult here." I like to work at an extremely high level, and I like to have a degree of security with a director who really knows what he's doing, so I thought this wasn't ideal. But as it turned out, he really did know what he was doing. He was rock solid on the financial part of this, and very deep on the character work, which is difficult to do.
He said that at one of your first meetings, you two acted out a scene together, where he played the mistress, and by the end, even he wanted to kiss you.
Well, I wish he had! [Laughs] He had this scene he wasn't so sure about, and I felt maybe we could take it this other way, and I tend to flow pretty openly. "Let's try this. Let's go here." So what I did was tell him, "Look, I like a lot of rehearsal, and not a lot of rehearsal on the script, but time to play." That can be time to eat, hanging out, going and doing something together, talking about the script, or maybe not. So that one place in the script that we're not sure about, we can start rewriting it and start playing with it. It's a fluid process, and acting out is part of that process. [Laughs] He's a wonderful writer, but he's the world's worst actor. When people came into the movie, when we added actors, I would look over at them and go, "Don't do what he just did." [Laughs]
You have a great scene with Graydon Carter which reminded me of your negotiation with Julia Roberts in Pretty Woman, because in both cases, you reveal the figure you were really willing to pay or accept, with a sense of glee.
Oh, yeah, yeah. [Laughs] Graydon got taken, but he's delighted. And Julia was delighted. I think at that level, there's a sense of play, horsemanship, one-upmanship, and schoolyard stuff at that level. And you know, it occurs to me, I think I pushed it. When we shot it [in Arbitrage], we improvised, and I pushed it a little further. But yes, it's in the same world. Totally. And that was a good thing to do, to have Graydon do that part. I think it's such a good surprise for New Yorkers. It's a very New York movie. Look, I've lived in New York when I've had nothing, and I've lived in New York when I had money, and New York changes radically depending on how much money you have. It's the texture of life.
Which scene was more fun to shoot?
Both! [Laughs] Yes. Both. They're just fun. It was kind of the same stakes, although one was about money and one was about sex.   
So has any of this made you any better of a negotiator?
[Laughs] Yes! Because they always want more from me!